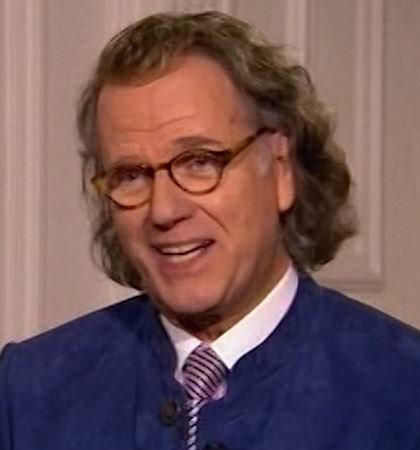 March 13, 2015.
Introduction to the 10 part road soap
series
broadcast on Dutch TV as from
Friday March 13, 2015.
Interview by Ivo Niehe.
Click on the video below to watch
the interview by Ivo Niehe.
English subtitles added.
On the road (March 20, 2015)
See André's and the JSO travelling all over the world. Scenes from Vienna, Istanbul and Buenos Aires and
astonishing performances of Kimmy Skota.
This episode (March 27, 2015) is about World War II (1940-1945),
the veterans and André's visit to Dame Vera Lynn, the former "sweetheart of the forces".
Why is André laughing? Well, he is in Vienna, the City of the Waltz. Here he is standing in the gardens of
the Schönbrunn Palace. This 4th episode shows scenes of the wonderful DVDs he recorded there.
This episode is about the preparations for the Maastricht 2013 concert:
"André Rieu and friends", with Jermaine Jackson and Trini Lopez.
Dress to impress!
All about the wonderful costumes and gowns for the performances.
Viva Mexico! Images from the concert in Mexico City in 2013 and an outrageous audience!
Down Under. See André's adventures in Australia.
The highlight in André's career: André was requested to lead the King's ball in Amsterdam on April 30th
2013, the day that King Willem-Alexander was inaugurated as the new King of the Netherlands.
This first episode is dedicated to the Maastricht concerts, interviews with André, the mayor of Maastricht,
and several orchestra members. Highlight is the performance of the Josti band, the only orchestra in the
world consisting of mentally challenged people. In the 2005 concert the unforgettable Benny Neyman.
made by Al Girard of the British buses arriving in Maastricht.
(Episode 1)
Photo by Govert de Roos.
Find the violin in this picture!!
Great editing! Although we attended concerts in
Australia in 2007, we were not there in this concert.
Do you know where we were on these images during
the Circus Renz act in reality??
April 30, 2013. Bye bye Beatrix and thanks for 33 years of being our Queen.
Welcome King Willem-Alexander and Queen Maxima.
It was soooooo cold!!
Celebration in Amsterdam.
The Josti
Band.
Music from the
heart.
Benny Neyman
1951 - 2008.
Most of the
photos by
Ineke.