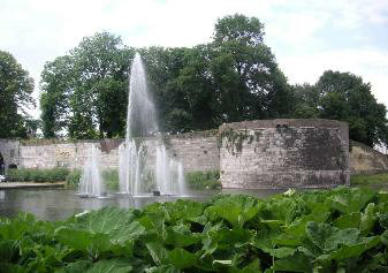 Throughout the years the tradition of a fan
gathering in the Maastricht Stadspark (City park)
remains. In 2024 the fan picnics will take place on
Saturdays: July 6, 13, 20,
between 12 and 2 pm.
Please bring your lunch, drinks and something to
sit on (blanket, chair, etc).
Each year we welcome many fans from all
continents, every Saturday afternoon, during the
July concert weeks by André Rieu.
Opposite the bastion "Five Heads".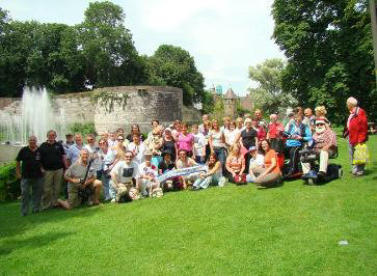 For the fan picnic we recommend
wearing a name tag
with your name and country.
There is no registration, just come to the park and
meet a lot of fan friends. In case of inclement
weather, we'll cancel. But we are not afraid of a little
drizzle, we are Dutch. Umbrellas allowed. And you
know the Limburg custom…. We'll bring a sausage
to Saint Clara, or place a call to Saint Peter, to ask
for nice weather!
During the picnics you may find Sonja Harper (USA), creator of the website www.andrerieutranslations.com;
John de Jong (USA), one of the managers of the www.harmonyparlor.blogspot.com.
Ineke and Ruud Elshout - Cornelissen from the Netherlands, hosts of the www.andrerieumovies.com
web site and organizers of the fan dinner and picnics. We look forward to meet you all!!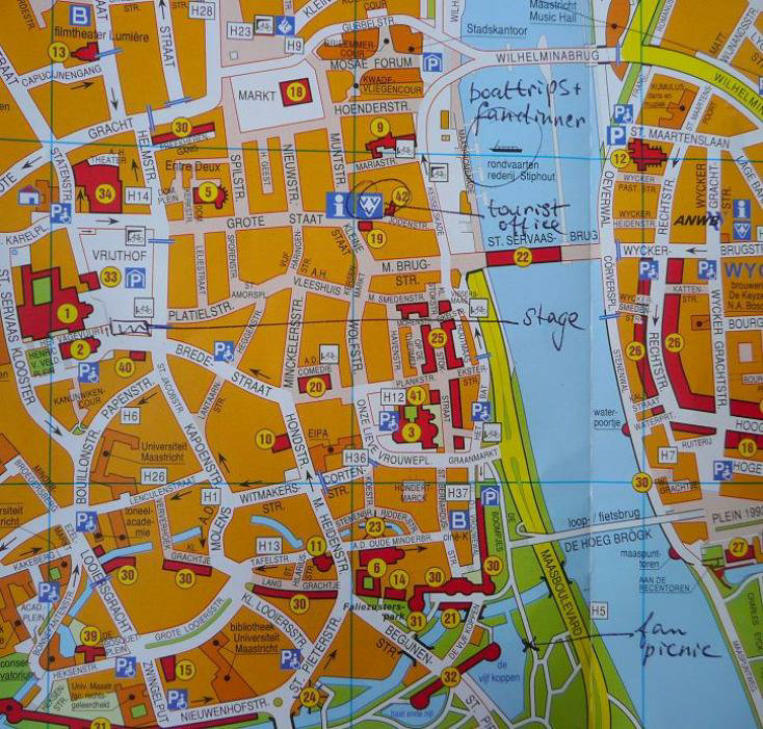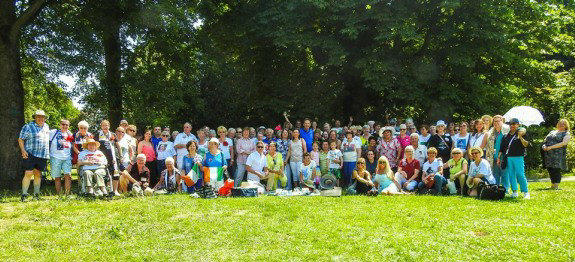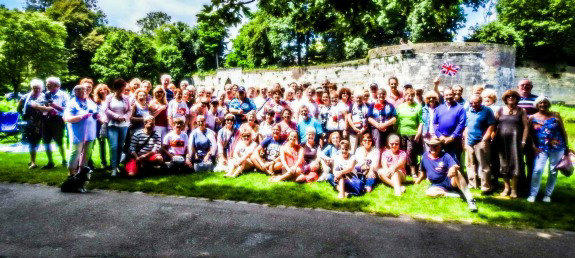 In 2015/16/17 we set up a new record
with about 100 fans who attended the fan picnic!!
Photo by our Canadian cameraman: Al Girard.
And in 2016 we had another 100 attendants!
Photo also by Al Girard.
The fan picnic place is located in the City Park, near the pond with the fountain and the historic city wall
(from the 15th century) with the bastion (the round part) "The five heads". During the night of March 24,
2019 the ancient wall suddenly collapsed (photo to the left) and some of the stones fell into the pond. In
July 2019, when our usual Saturday fan gathering took place, the wall was propped up (photo to the right).
In March 2019 the ancient city wall suddenly collapsed. In May 2021 Ruud and Ineke visited Maastricht
and checked on how the wall was doing. It looked awful. During the fan picnic in 2022 it still looked awful.
Even the round part showed a danger of collapsing and was propped. We heard rumors that the city
council plans to rebuild the entire wall. The construction works give a lot of problems. Read the latest
information by the city board of Sept. 2023, click HERE. We wonder what we'll see in July 2024!!

Update: since 2023 there is a new kiosk in the city park, not far from our fan picnic area. The lady sells
sandwiches, drinks and ice cream there. So you don't even need to bring your lunch, you could buy it
there.