February 14, 2017.
In Memoriam: Elke Bliefering,
web host of the German André Rieu Fan website "Rieutreff", since
2005.
Today we received a message that Elke Bliefering, host of the German
Fan Web site "Rieutreff", has passed away. She had suffered heart
failure during the night and was taken to a hospital on December 23rd
2016 and placed into an induced coma from which she never awoke.
May she rest in peace.
Wir sind sehr traurig über die Nachricht vom Tode Elke Blieferings und
sprechen der ganzen Familie unser aufrichtiges Beileid aus.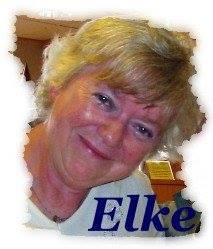 April 21, 2017.
In Memoriam: Charlie Leung (89).
Facebook message by Alice Leung.
"My family is deeply saddened to inform you that my
handsome good old Charlie passed away in his
sleep yesterday, April 20 2017.
As some of you know, dad has been sick since
2012 but the tough guy managed to stand up again
everytime after checking into emergency. He still ate
a lot at buffet with his gall bladder removed, he
climbed onto a chair last October trying to fix the
curtain just before he reached the age of 89, fell,
laid flat on his back but superdad wasn't hurt....
For the past week, however, his condition with duct
cancer had deteriorated sharply, but we are thankful
that his passing was peaceful and painless, and I
was right there with him.
I know many of my relatives and friends love my
dad a lot, but when seeing my dad couldn't eat the
food he liked, couldn't swallow his favorite milk tea
properly, I think it's the best for him to say goodbye
before he suffered more.
So long, Farewell, Adieu! We love you, dad!!!"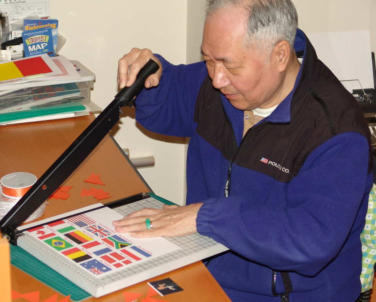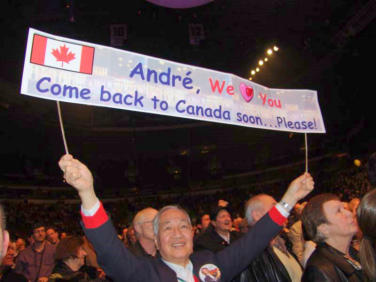 Charlie was a great André Rieu fan and he helped
his daughter Alice make flags at their home in
Vancouver, Canada. We continue to decorate the fan
dinner ship in Maastricht with these flags. So thank
you Charlie, we'll think of you every year in July and
you'll never be forgotten by the André fans.
Our deepest condolences go to Alice, her Mum,
Simon, Wendy and all of the family.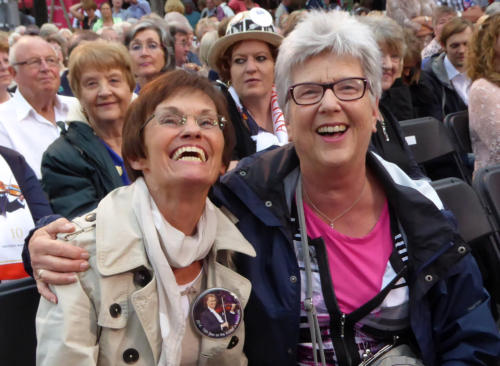 June 18, 2017.
In Memoriam:
Sigrid Münstermann (74).
Today we received a message
from Sigrid's son in law stating
that Sigrid passed away this
weekend after a short but severe
illness.
Sigrid attended André Rieu's
concerts in Maastricht often,
which she enjoyed to the utmost.
She lived in Aachen, just across
the border in Germany and from
what I understand is that she
devoted her life with her heart and
soul to care for her disabled
grandson. May she rest in peace.
The photo is from 2014.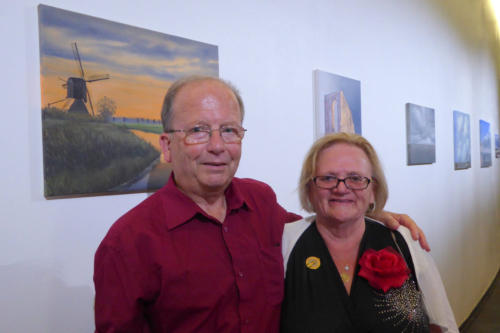 June 28th 2017.
In Memoriam:
Muriël Martin, 73 (UK).
Today we received the shocking
message that Muriël Martin
suddenly passed away. Yesterday
she posted her last message on
Facebook. We knew that she had
not been well lately but did not
realize she was so bad. Our
thoughts and condolences go out
to her husband Colin and the
family. We met Colin and Muriël in
Maastricht in 2013 and 2015.
May she rest in peace.
July 15th 2017. In Memoriam:
Annette de Waal, South Africa.
From Facebook:
Gary de Waal (her son): My Dear Ma.... After a long battle your journey
has come to its end. You have reached your destination and now the
Angels have one more to add to their choir, your voice will once again
bring joy! Now it is time to rest and be at peace... We will all miss you
sorely, however the memories and joy you've given us will live
forever...
Jennifer Anne Fourie (SA) (her best friend): For 6 months you put up a
brave struggle after facing one stroke after another my dearest friend.
Finally you are at peace and in a place where there is no more pain or
suffering. This is how I will always remember you - a happy, smiling
Annette. Rest now. You are safe in His arms.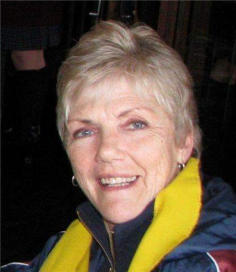 Annette was an enthusiastic
André Rieu fan. Our sincere
condolences go out to the family.
Chris Fowler wrote a lovely tribute on Facebook:
Our Good Friend and Fan Muriel Martin 1944 - 2017.
Today, Monday 24th July, I undertook a journey of around 40 miles, from my home to Plymouth. For today at
10.00 am it was the funeral of our dear friend and Harmony Parlor member Muriel Martin. I attended as not
only a dear friend, but representing all of us on the Harmony Parlor. As many of you will know, we lost her
recently, and very suddenly. A number of us had been chatting to her the day before she died. It was a great
shock to those of us that knew her and of course to her family. She was 73 years old. Muriel, Colin, Pat
Thomas and myself used to meet for coffee in Exeter, and we had been trying to find a time when we could
meet again, but sadly, that can't happen now.
Muriel was born in a village, which has grown into a large town, not many miles from where we were today.
She was what we in Devon call a Devon Maid. Muriel had various jobs in her lifetime, as well as being a
loving mother and gran. Her last job was a school dinner lady, where she was very popular will the children.
Those children are now adults and still remember her with great affection.
Muriel's first love was, of course Colin, her husband, who she had known from primary school; and Darren,
their son; Shelley, their daughter; and their grand-children. Sadly, Darren passed away well before his time,
something that weighed very heavily on all the family.
As the priest said, Muriel's other love was André
Rieu and his music. We entered the chapel to the
sound of André, and when we came to the time to
reflect on Muriel's life, we did so accompanied by
The Second Waltz.
Muriel had so many "André" friends. We will miss
her and her contributions to the groups she
belonged to and her private chats.
Colin has asked to thank everyone for all the love
and kindness shown to him, Shelley and their
family. They were overwhelmed by the lovely
messages and cards they received.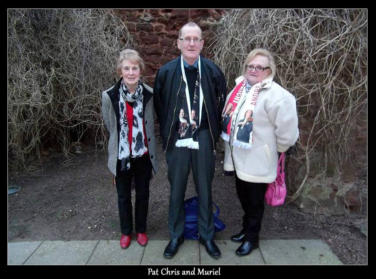 Martine Calvinhac (France): How can I say goodbye to my dear Annette?
My Julie Andrews, full of laughs, always ready for a song. I remember our meeting in Wilro.
Your warm welcome. Our trip in Pilanesberg... our arrival at the lodge. You were wearing a hat and holding
your guitar..... the song in the night close to the braai.... of course The Sound of Music...
I know how your life was a long and difficult one and a hard way since many years. You will be missed by
many people... your students, your friends.
My heart is broken for Liam your little poor boy, Gary your son, his wife, their boys and for your heart family
Jenni and Jac. Rest in peace my sweet Annette.
Love you forever and ever.
Martine.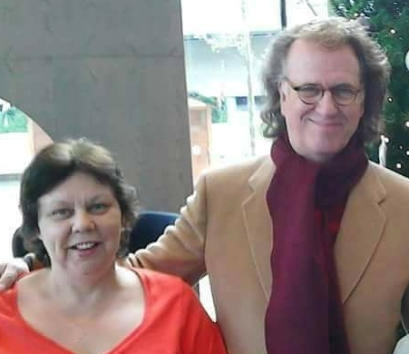 February 6, 2018.
In Memoriam
Julia Smith, 57 (UK).
Regretfully we received a message advising us
that Julia Smith passed away on February 6th
2018. In October 2017 Julia visited her family in
Canada, where she experienced a severe
asthma attack. Her heart had stopped and blood
clots went into her brain. While in a coma she
was flown back to Scotland in November and at
first she made some progress. We had hoped it
would continue well into 2018. We are so sorry to
hear that she has now passed away. Julia was
an enthusiastic André Rieu fan and together with
her best friend and soulmate Paul Atyeo they
attended Maastricht concerts for five years in a
row. Our thoughts and prayers go out to Paul
and the family. Rest in Peace, Julia Smith.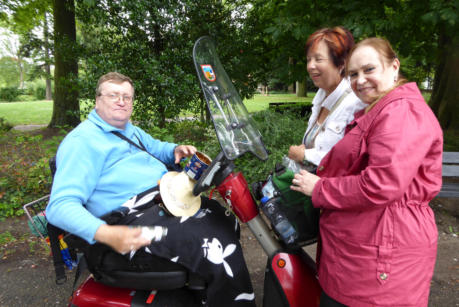 February 26, 2018.
In Memoriam
Johann Sieckmeijer, 67. (NL)
With sadness in our hearts we are
announcing the passing away of
Johann Sieckmeijer. Although he had
lost both legs, each year he traveled
with his scooter and by train from his
hometown of Enkhuizen to Maastricht
to attend a concert. He also came to the
fan picnics, always smoking a pipe. We
admired him a lot for his positivism.
Dear Johann, we'll dearly miss you at
the fan picnics. Rest in Peace.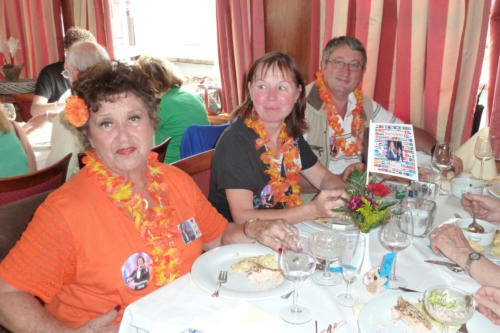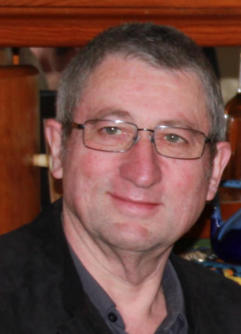 April 11, 2018.
In Memoriam:
Christian Heurtin, France (60).
We were shocked to read the notification that Christian Heurtin passed away on April 11, 2018 after a long
battle against cancer. We met Christian and his wife Gisèle in 2013, 2014 and 2015, when they attended
the Maastricht concerts and also the fan dinners, together with their friends Marie & Joël Guilmand and
Mireille Jourdan.
Mireille expresses to write the following: "Christian and Gisèle have been faithful André Rieu & JSO fans.
They live in France, near the beautiful city of Nantes and are neighbors and friends of Marie & Joël
Guilmand. Christian was a very good and generous person, always smiling, taking care of friends and all
people in general. He often invited me, Marie and Joël and we always spoke of André's music. We had
many music parties together enjoying André's DVDs, CDs etc... Christian's biggest wish for many years,
was to attend a live Andre concert on the Vrijthof and to join a fan dinner! His dream came true in 2013. He
was so entranced that he installed a picture of the Vrijthof on his computer and watched it every day before
going off to work. He loved the beautiful city of Maastricht and returned in 2014 and 2015. We are so sad.
We have lost a very good friend. We'll keep Christian in our hearts forever.
Condolences to his wife Gisèle, their three children and seven grand-children".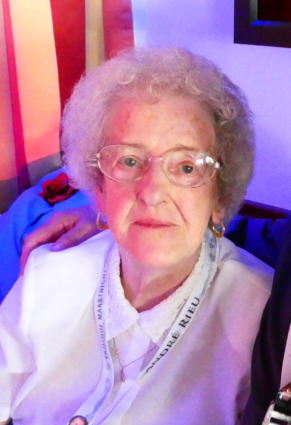 May 30, 2018.
In Memoriam:
Barbara Johnson (82), UK.
We were totally shocked by Kevin's message that
Barbara had passed away on May 30th 2018.
Barbara and Harold visited Maastricht every year as from
2014. After Harold's passing in 2016, her son Kevin
joined her on her visits to Maastricht and this year (2018)
she would even have brought her two sons (Kevin and
Robert) and three grandchildren with her.
She had so many plans and was so proud to bring three
generations of her family to André's concerts and also the
fan dinner in July. She looked so much forward to that!
We wish Kevin, Rob and the entire family much strength
during this difficult time. Our thoughts and prayers will be
with you. She is with Harold now.
May she rest in peace.
Kevin just informed us that the family will still travel to
Maastricht in July, as it was Barbara's wish.
We feel honored to welcome them all to the fan dinner.
Kevin on Facebook:

Finally I have the strength to post about my Mother...... Gone but will never be forgotten
.... a loving wife, mother, grandmother, great grandmother ... a lady who was passionate about Birmingham
Air Raids leading from the front to take their history into many schools to educate our youth...
Music ! Anyone who knows Mum, knows she lived for Music ....André Rieu in particular ... We will celebrate
your life I promise Mum and the memories will be with us all forever .... You've been a rock to me and Ned
as we struggled as a single parent family. From the bottom of my heart I love you, will miss you until we
meet again. It's "Time to Say Goodbye" ..... life will go on .... and in the words of Dads and your favourite
song ... I will remember with a "Smile".
Kevin on Facebook, June 26, 2018.
On behalf of Barbara Johnson and her family, I want to thank each and every one of you that attended
Mums "Celebration of Life" yesterday. We were blown away by the amount of people who came to show
respect to this amazing lady. Yes there was sadness but also a lot of smiles, laughs and joy. Mum would
have been so proud of you all who came to stand side by side with her..... to say goodbye..... Your support
was immense.... I thank all friends and all the André Rieu fans from every corner of the Globe for their
messages of love and sympathy. The list goes on..... Ineke Cornelissen, your tribute on the web site was
read out during the service .... we thank you for that..... Barbara Johnson, you may have gone, but you will
never ever be forgotten. You are a legend and we will party and celebrate your life in Maastricht ... your
"happy place" where you will be reunited with your beloved Harold ...God Bless you all xxx.
Click HERE to go to
"In Memoriam" page 3.
(second half of 2018).
Click HERE to go to
"In Memoriam" page 1
(2012 - 2016).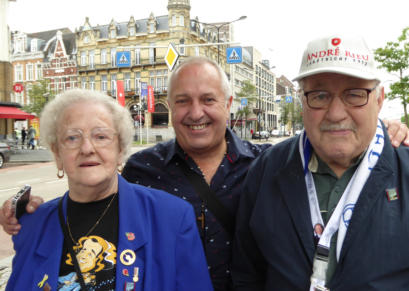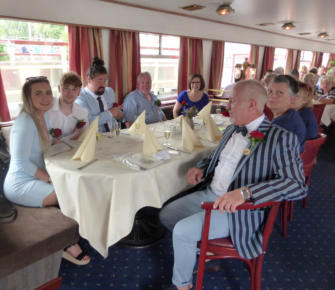 Barbara, Kevin and Harold Johnson, in 2014.
July 2018. Three generations of the Johnson
family attended the concerts and the fan dinner.
It was Barbara's wish.
Video and article by RTV Maastricht-in-English. May 18, 2020.
Thousands make the journey to Maastricht each year to attend the world-famous André Rieu summer
concerts on our Vrijthof. For the Johnson family, their annual journey has added meaning. Descendants of
Harold and Barbara Johnson make the pilgrimage each year in honour of their parents and grandparents,
whose ashes are scattered in the gardens behind our Sint Servaas basilica.
Kevin Johnson, an NHS superhero based in Birmingham, UK, follows the News in English - RTV Maastricht
Facebook page, to keep up-to-date with the goings on in Maastricht. He contacted us to let us know that
due to the COVID-19 Corona Virus travel restrictions, he couldn't make it to Maastricht this year and we
offered to lay flowers in remembrance of his parents.
The Limburg Newspaper: April 2017:
In Memoriam: Thérèse Marie Henriette Rieu.
André's second sister Teresia died unexpectedly after a short illness, on April 3, 2017.
She was a brilliant harpist. She was born in Amsterdam in 1947 and passed away in Genk, Belgium,
in 2017. The funeral mass took place on April 8, 2017 in Maastricht.