Events calendar of "Your Market booth", during the André Rieu concerts (from Thursday July 6 to Sunday
July 23, 2017).
AGNES FIZZANO
, violin player with André Rieu's orchestra, will during the concerts create special
jewelry of gold and silver in combination with Swarovski crystals. Every Thursday through Monday Agnes
will be in the shop making jewelry based on orders received at the Marktkraam. Would you like some
ideas? Then visit www.agatelier.com. If you see a piece you like, please make an arrangement with her via
her website. Agnes will be in the shop July 6 through July 9, from 1 - 3 PM and from July 10 to July 23
(only Thursday through Monday) from 3 to 6 PM.
Friday July 7th from 1 to 2.30 PM: Meet and Greet with
LAURA ENGEL
, soprano with André Rieu. The
Chilean-Dutch soprano Laura Engel knows how to touch audiences around the world with her charisma
and passionate singing. Being internationally educated in countries like Chile, the Netherlands and Italy,
she enjoyed a versatile musical education that produced many years of collaboration with André Rieu and
his orchestra. Her passion and musical versatility from classical to pop will be evident in her own concert
production 'En Canto' which premieres in Maastricht on July 12 in the Bonbonnière. Click HERE.
Sunday July 9th from 1 - 2.30 PM: Coffee tasting with
CORD MEYER-LUESINK
, violinist with André
Rieu. Besides music Cord presents here his other great passion: Italian coffee. You may taste his self-
roasted and mixed coffee brand DoLa FaFa Mi, in espresso or cappuccino for free.
Sunday July 9th and 16th at 2 - 3.30 PM: Meet and Greet with
DONIJ VAN DOORN,
star soloist with
André Rieu. "The Dutch born soprano Donij van Doorn is internationally celebrated on opera-, operetta-
and oratorium stages. She also performs with André Rieu and has been traveling the world with him and
the JSO for the last 3 years. Her extraordinary voice in the Vilja song and "Meine Lippen sie küssen so
heiss", moves the audiences to tears and gives her standing ovations."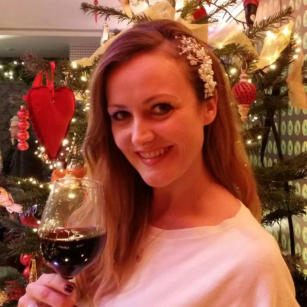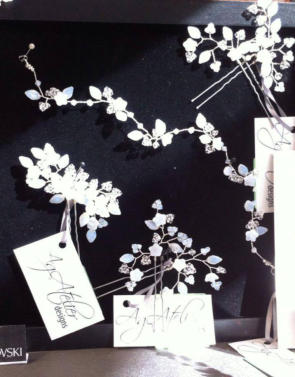 Apart from the annual fans dinner on Friday July 7th 2017 and the usual fans picnics on Saturdays
July 8, 15 and 22 in the Stadspark (City Park) from 12 - 2 PM, there are many more activities to
experience during your stay at Maastricht.
Marc Rieu's exhibition.
Every year, during his father's concerts,
Marc Rieu brings together his most recent
paintings on a summer exhibition in the
Theatre on the Vrijthof.
Admission is free on every concert day in
July (from 12 to 5 PM). Marc is there in
person and the paintings are on sale.
The shop "Your Market Booth", Jodenstraat 32, Maastricht (near the Tourist Office).
Below a video impression of the Meet and Greet event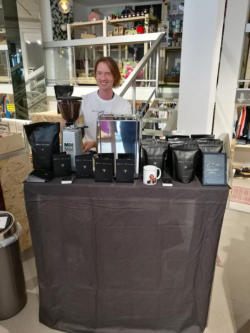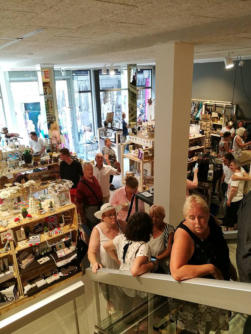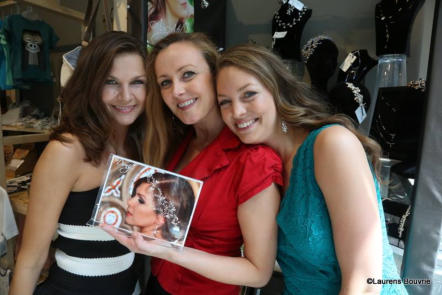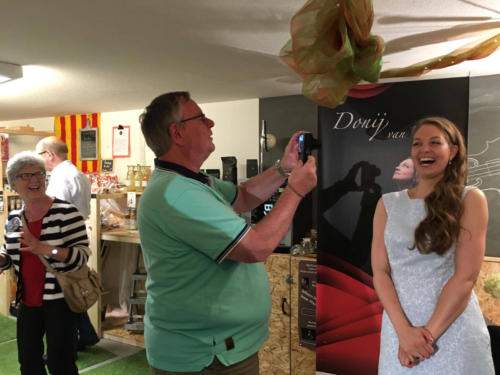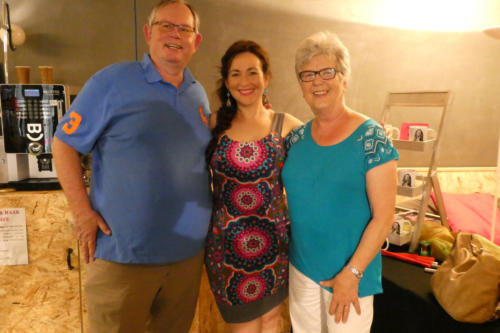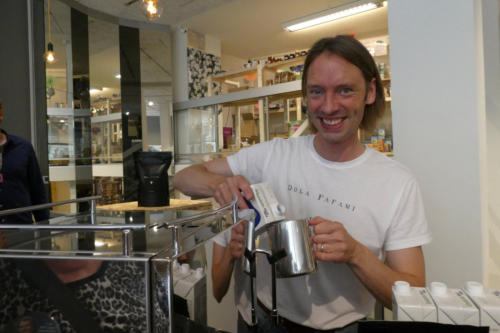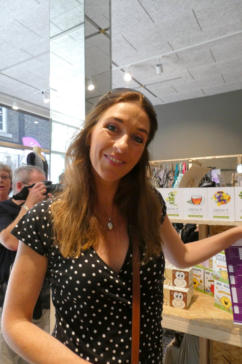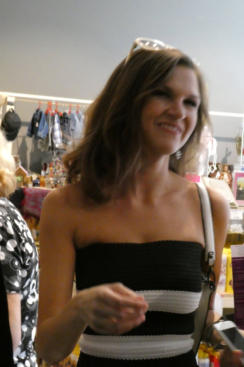 Who did we meet?
Agnes Fizzano-Walter,
Michel Fizzano,
Gosia Loboda,
Laura Engel
Donij van Doorn.
Judith and Cord Meyer-Luesink,
and their two children.
Dola Fafami is Cord's coffee
brand. Free coffee tasting for the
fans. And photos of course!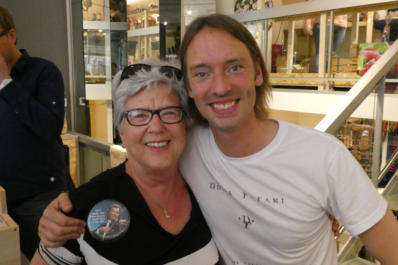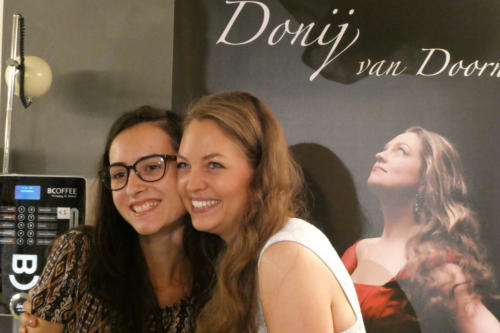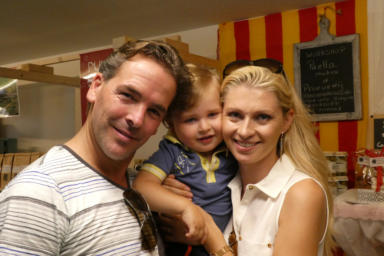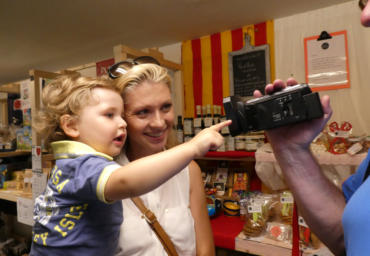 Photo to the right:
Irina Z. Matei from Romania and
Donij.
Photos below:
The proud parents
Jozef Leenhouwers (cameraman)
and Giedre Mundinaite (violinist)
with their almost 2-years old son
Auris Rafael, who is already
interested in cameras. (Photos
posted with permission).
It was a big surprise that the manager of the "Your Market Booth" shop, announced another
"Meet and Greet" by soprano Anna Majchrzak
on the last concert day: Saturday July 22nd, at 2.30 PM.
From Facebook: "Anna Majchrzak, born in The Netherlands with a Dutch mother and a Polish father, has
felt her calling already in the very early days of her childhood. She developed her musical skills in a broad
way to connect to the Dutch market of question and demand before she came to work with André Rieu.
Here Anna felt that her inner calling could be heard and so she is blooming inside and out for which she
offers her sincere gratitude to you, André's audience! More: Anna is always drawn to the inner world of
feeling, dreaming, imagination and is drawn to the outer world by the beauty of music. Between those
worlds is where she wants to stand, as a translator between the dreams and imaginations of the creative
composers, and the audible result of it. In order to share of the Love and Richness that lays in the inner
world of the endless potential, Anna has taken the highest education possible in The Netherlands as a
classical opera singer, while traveling the world for masterclasses and experience. And she has the desire
to always continue her education by life experience and interaction with likeminded colleagues and people."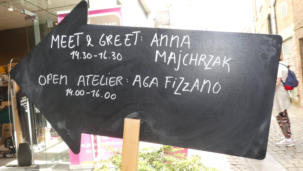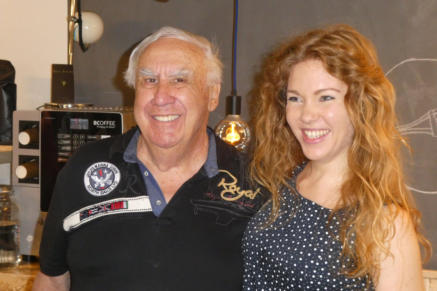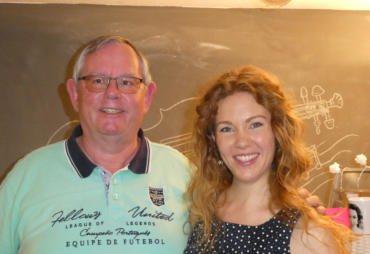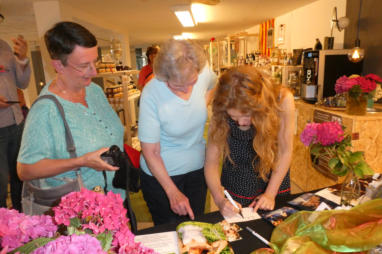 July 25th 2017: From "HashtagMaastricht".
The Rieu take-over.
(Super) Fans.
When we were invited by the owner of the Jouw Marktkraam store in Maastricht to be present during the
meet 'n greet with members of the Johann Strauss Orchestra we expected that there would be some fans,
but not that we would meet super fans of André Rieu; not that we were biased about whether we like the
music of André Rieu or that we doubt Rieu's unmistakeable talent to entertain people with classical music,
but when you think of 'super fans' you think about young teen girls who are really into Harry Styles or
teenagers who like contemporary artists like Katy Perry, but were we wrong or what?! There were super
fans of André Rieu who have caps, hats, T-shirts, mugs, scarves, wine and more. Great to see how
classical music is very much alive among the already existing fans of Rieu, and that Rieu's fanbase is
growing annually. Critics and experts might spill their criticism by the dozens about Rieu not being a
genuine musician and that he has a cheap way of entertaining the masses with classical music, but when
you see the live-recordings of the Vrijthof concerts year after year, and you see the audience of these
concerts dancing and singing along than we strongly hope that the train which is the career of André Rieu
does not come to a halt just yet…
We would like to congratulate the Jouw Marktkraam store for organizing this fan day, and it is great to see
how many fans and enthusiasts actually came to this event. Great marketing is knowing the ins and outs of
the city where your establishment is located, and organizing an international-oriented event accordingly.
There were people from the Netherlands present, but we also spoke to Rieu fans who came all the way
from Australia just to see their idol live in his hometown.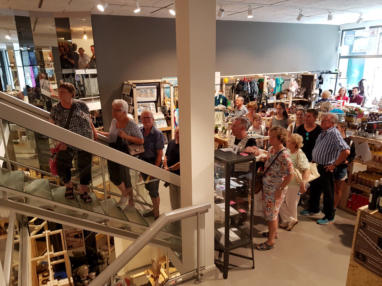 Johann Strauss Orkest & Co.
HashtagMaastricht got the unique chance to
interview three out of the many (classical) musicians
which are part of the Johann Strauss Orchestra: Aga
Fizzano-Walter (violinist), Donij van Doorn (soprano,
solist) and Cord Meyer-Luesink (violist). We got the
chance to ask how they became part of Rieu's
posse, how they discovered their talent for music,
and what their plans for the future are. Luckily all
three of them were just as spontaneous and open as
we had hoped them to be, and did we get the
chance to get three great interviews.
Aga Fizzano-Walter (violinist)
This violinist joined the Johann Strauss Orchestra
thirteen years ago. Quite the accomplishment,
because each Rieu concert has incredibly high
standards for all musicians and crew involved.
Aga started out as a substitute in the orchestra, and for
that position she needed to audition for the man of the
hour himself, André Rieu. This audition got the best of
her nerves at the time, but this situation also taught her
to control her nerves and to enjoy the moment and rely
on her know-how and musicality, she knows how to
give a top-notch performance concert after concert,
and that it takes great discipline and a lot of practice.
Aga was educated clasically in the conservatory of
Maestricht, where she perfected her first love, which is
playing the violin.
Aga thinks of the Johann Strauss Orchestra as one big
family which travels together and has got each other's
back in the good times and the bad; this is necessary
because everyone can have an off-day, and when you
are far away from home it is good to have people
around you who you can rely on, and that is where the
members of the orchestra and the patriarch of the
group, Rieu himself, come in. In the beginning of her
career in the Johann Strauss Orchestra Aga was
insecure about her starting role in the group, because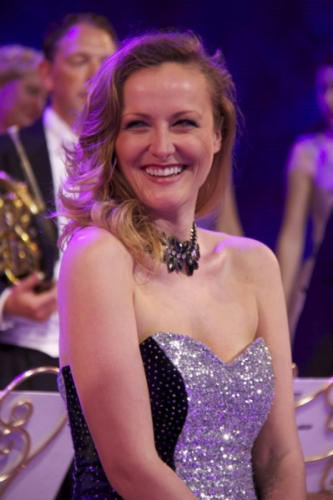 she was the newbie, but these doubts were gone quickly because of the atmosphere among the members
of the orchestra, and the role of Rieu who treats each and every member with the respect they deserve on
and off-stage; he does not treat his orchestra as second-in-line musicians, but he treats them as full-
fletched members of a team. Rieu is very approachable on a professional and personal level, and Aga
mentions that she would not hesitate to ask Rieu questions whenever she needs some professional input,
because he wants his team members to feel good, as it enhances their performance.
As stated before, Aga is already part of the orchestra for thirteen years, and thus she has seen every world
continent at least once, but she would really like to perform in China again, because she is fascinated by
this country.
HashtagMaastricht also wanted to know whether a concert in André Rieu's hometown is still special and
maybe even nerve-wrecking, but Aga told us that a home match is always special, but that nerves became
a feeling of excitement over the years which start a rush of adrenaline through the head.
Next to obviously being a gifted musician Aga makes hair jewellery, a side-project of Aga. The hair
jewellery of 'Agatelier', which is the name of the brand, are also worn by the female members of the
Johann Strauss Orchestra, and this jewellery gives every Rieu concert that special kind of sparkle that
these concerts deserve. The latest collection of Agatelier is put on display in the Jouw Marktkraam store
and these pieces are also for sale.
Donij van Doorn (soprano, soloist)
We also spoke to soprano Donij van Doorn, a fair lady
with origins in the Dutch province of Twenthe, the city of
Enschede to be more exact. Donij's voice reaches across
a multitude of soccer fields whenever she sings, and it
knows how to move people and strike them in their core.
When we first met Donij we thought it was not possible
that the voice we heard during the rehearsals of Rieu's
concerts could be coming from this almost fragile, and
most of all, very modest woman. Donij started out as a
pianist, but because of her participation in a choir her love
for singing started to develop. Her singing was perfected
during a classical education in a well-known Dutch
conservatory. The steps to take from starting out as a
pianist to becoming a soprano seem a bit of a stretch, but
key-factors for this transition are talent and a genuine
passion for music, and these two are the factors which
Donij seems to have heaps of.
During Donij's phenomenal solo performances at Rieu's
Vrijthof concerts she sings an aria from the classic opera
'La Traviata', which is a dream come true for Donij,
because playing one of the leading roles in this opera is
what Donij is aiming for, and putting a solo song of that
specific opera during André Rieu's international concerts
on her CV might just be the key to fullfilling that life-long
dream.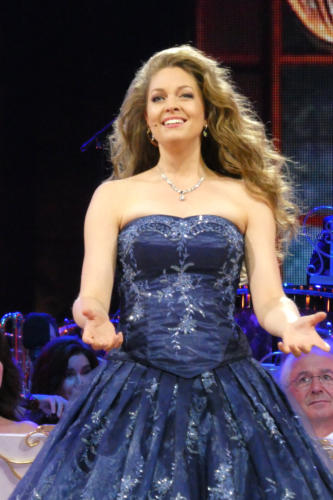 The Johann Strauss Orchestra is like a family to Donij, and André himself has the role of the father of the
group, and most certainly not the part of the strict boss who is not approachable by anyone. Donij tells
about two examples which show that Rieu is really the dad of the group: One time the whole team of the
Rieu concerts had to perform in Mexico, but because of multiple reasons, the flight had been long and
excruciating, and although the whole team arrived quite late at the hotel in Mexico, André Rieu was there to
pat them on the shoulder and to see if they were all alright. The other example revolved around a
performance in a South-American country where the normal caterer of the team did not travel along, and
local people only made sure that they had a bowl of soup for Rieu. He refused the soup, because he only
wanted to eat soup whenever the whole team would get a bowl. Comes to show that Rieu is part of a group
and not necessarily the big leader of the pack, he shows empathy, mutual respect and team spirit, which
are elements that are hard to focus on when you are part of such a big group of different individuals. The
whole interview that we had with Donij showed the respect for Rieu as a professional and as a human-
being. Donij also works as a teacher, and because of that she also knows the importance of motivating
people in a respectful way. Donij would love to perform in South-Africa, a land which is of special
importance to her, because her father grew up there; next to this, she would also like to perform in China,
Japan and in different countries in South-America.
During the concerts of Rieu in Maastricht Donij enjoys the energy which resonates of her fellow musicians
in the orchestra and from the audience.
Cord Meyer-Luesink (violinist)
Cord Meyer-Luesink was quite busy during the fan
event, because he was promoting his second
biggest passion after music, which is 'coffee'. He
even came up with his own coffee blend, a project
which he worked on for nine years. The name of
the coffee blend, 'DoLa FaFaMi', is a very
appropriate one and can be linked to the names of
different notes in music. You can buy Cord's coffee
blend at the Jouw Marktkraam store in Maastricht,
and you can also drink this special coffee in the
coffee corner of the Jouw Marktkraam store. As
stated before, Cord was quite busy talking to fans
and handing-out samples of his own coffee blend,
getting some alone-time for an interview was
increasingly difficult because of this, but
nevertheless we found out a couple of nice facts
about this violinist.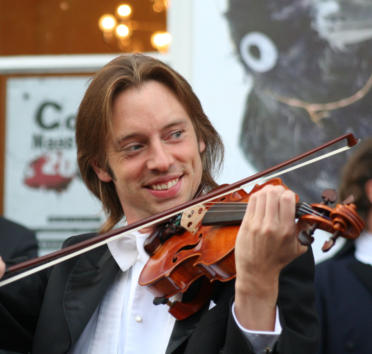 One of the things that Cord's fans asked him about during the fan event was how he learned to speak
Dutch so fluently, because Cord's roots are in Germany. We have to admit that we could not hear a single
tone of an accent when Cord talked to his Dutch fans, it even sounded more like he had roots from the
Dutch Holland provinces, and this is not a really surprising thing, since Cord's wife is Dutch; her name is
Judith Luesink, and she is part of the choir of the Johann Strauss Orchestra. Recently Cord and his wife
moved more to the north of the Netherlands after having lived in Maastricht for quite some time. The plan to
move was because of future endeavours, because Cord's wife is also a Mediator, and the job market for
these types of professions is scarce in the Limburg area of the Netherlands. Next to that Cord wants to
expand his coffee business, so moving was a must. When Cord entered the premises of the Johann
Strauss Orchestra he was worried to not learn Dutch quick enough to hold up with the pace and
professionalism of the group, but Cord was a quick learner, and he even picked up the huge variety of
Dutch dialects, he could even impersonate them, which made him one of the jokers of choice of the team.
We would like to thank the Jouw Marktkraam store of Maastricht for this unique opportunity, and we would
like to recommend this store yet again. For more information about this store, visit
http://hashtagmaastricht.com/en/2017/04/03/jouw-marktkraam/.