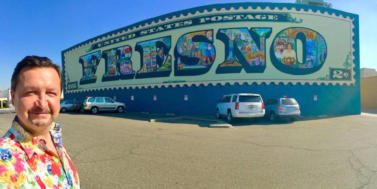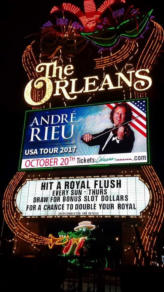 October 2017.
Touring the
West Coast: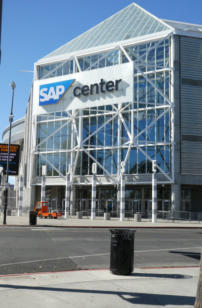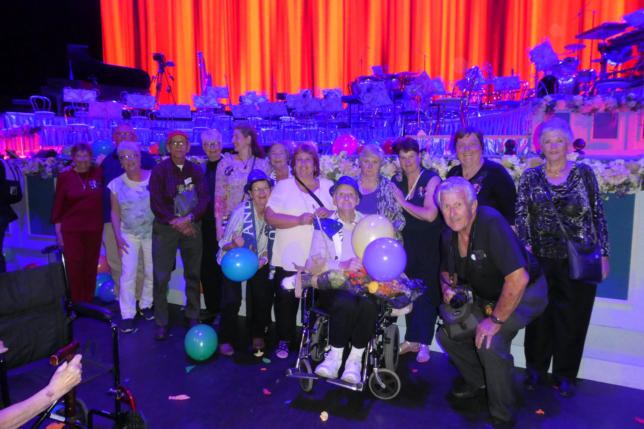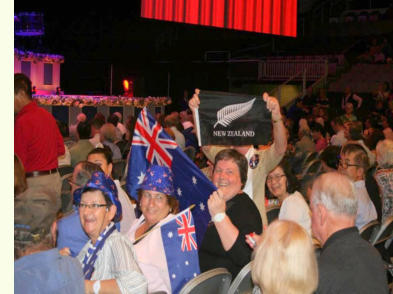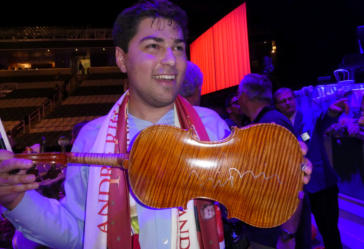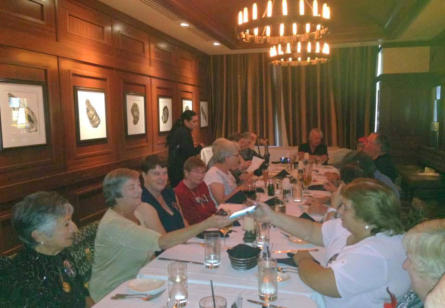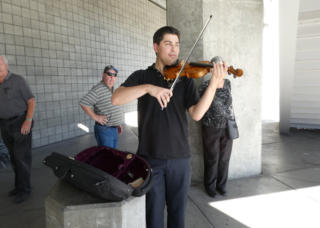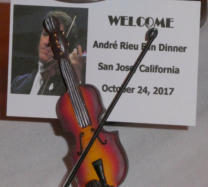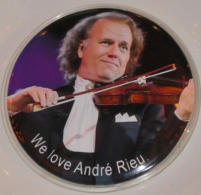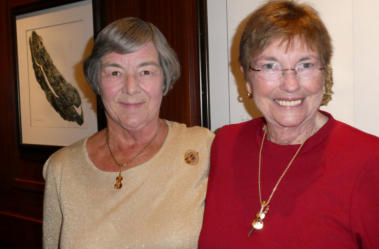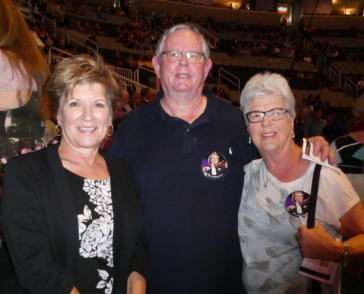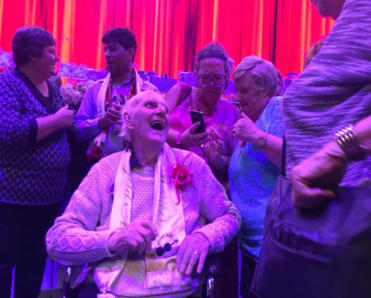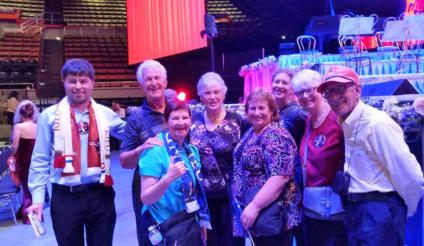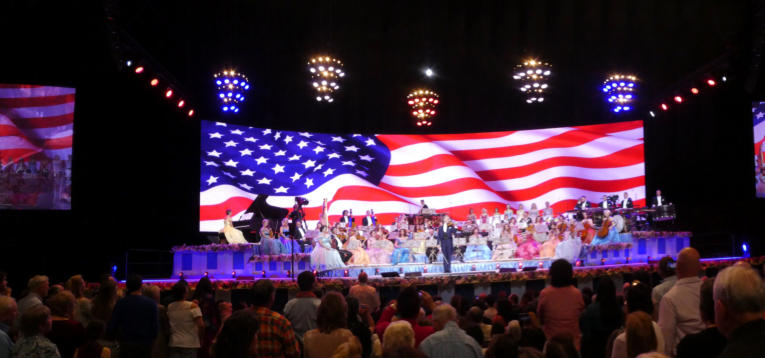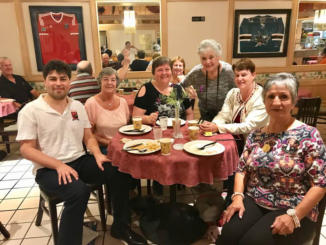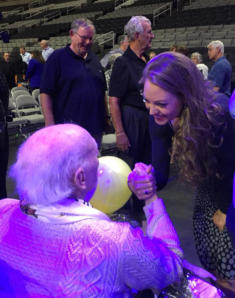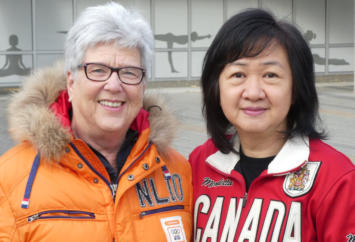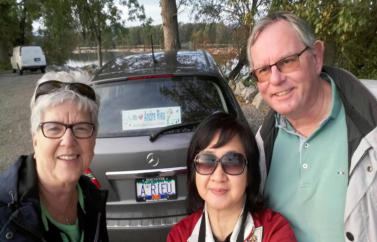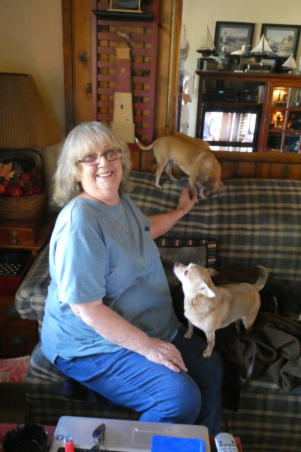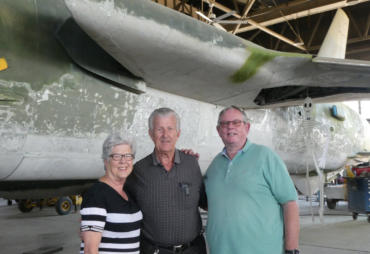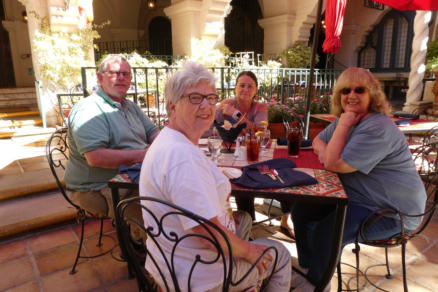 Many little Rieu birds flew from all across the world to the United States and combined their annual holiday
with sightseeing parts of the US, visiting fan friends and attending one or more concerts on the West Coast.
The British TV Channel Sky Arts joined André and the Johann Strauss Orchestra on their tour and the
camera crew even recorded some fan activities. So hopefully we'll see our friends again in the new road
soap, which will take about a year to be broadcast, first in the UK and later on all over the world. We also
saw that Ruud Pansier, André's personal trainer, was with André during the USA tour. André looked young
and energetic and the audiences were very enthusiastic. Ruud and Ineke attended the San José concert.
Kay and Jennifer Berman were the perfect hosts and organizers for a fan dinner (18 persons attending with
4 nationalities) prior to the concert. They also provided some very nice table decorations in the forms of
violins. Ruth Morgan again made the special "We love André Rieu" buttons. Kyle Craft was over the moon
with happiness, when André autographed Kyle's violin.
Walk of fame: Los Angeles.
Kyle Craft played the violin for us.
(the restaurant manager did not allow him to do so during the fan dinner)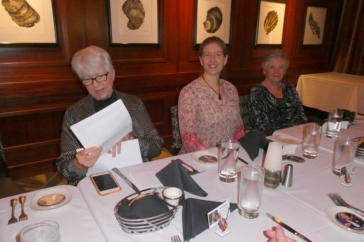 Kay and Jennifer Berman.
Kathy Prater (NZ) and Ruth with violin jewelry.
Dein ist mein ganzes Herz.
(You are my heart's delight).
Meeting up with friends we had not seen for
a long time. We have known each other
since Maastricht of 9 or 10 years ago.
Suzie Henise (who brought her mother Julie
Spengler) and Sue Berry with her daughter
Heather. Sue runs the Harmony Parlor
website and the Facebook page.
Ineke, John de Jong, Ruud (NL).
Translators Dutch / German to English.
John, Bobbie, Ruud,
Liz Baker, Edwina Morgan (Australia), Ineke (NL).
Barbara and
her 93 year old
father Bill
Henderson,
from NZ.
Donij van
Doorn came to
say hello to Bill
Henderson and
as she put it:
all the other
familiar faces.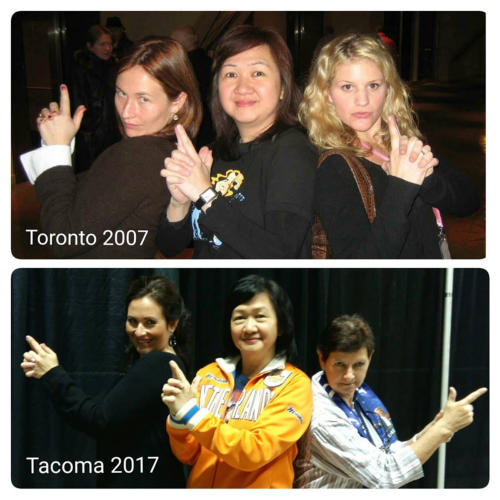 Laura Engel and Alice Leung, this time assisted by Mrs.Ed,
did the "Charlie's Angels" act again.
Alice Leung, who lives in Canada, attended the Tacoma (Seattle) concert
and has a special license plate on her car
(not unnoticed by the camera crew).
October 10th 2017.
Radio Interview. KFMB San Diego.
Great interview!
André as well as the interviewer have great sense of humor!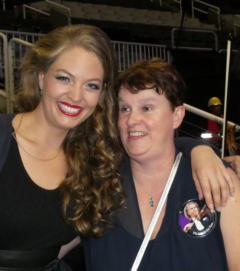 All Dutch: Donij van Doorn
(soprano), Ruud, Ineke and Ingrid
Groenendijk.
Kyle Craft on Facebook:
This was the moment that changed me forever. My meeting with my biggest inspiration, the modern Strauß
and King of the Waltz, the maestro André Rieu. Thanks to my friend Ineke, I got the chance to be a part of
the TV series: "Welcome to my world." I was filmed with an interview, playing, my collection and driving
around blasting music in my car. During the intermission, the producer Mike comes up to me and says: "Im
going to grab you before the last encore." Then he gets me and we go backstage. Carmen Monarcha
greets me with a big smile and hug. I wanted a pic but Mike said: "No get over here, next to the violin case".
Then there he comes, the maestro André Rieu. Mike introduces me to him and asks if he could sign my
violin. He signs it and greets me with: "Hello Kyle". At first I couldnt speak, then I said: "Hello Mr. Rieu" and
was ok. We first joked about trading violins and if mine was a Strad. lol. Then I told him: "I was inspired by
Strauß waltzes to play violin but you have inspired me to become a professional musician". He smiled at
me. Then he asks: "Do you practice everyday?" I answer: "Yes, my scales, etudes". Then asks, making sure
I'm doing what I'm supposed to, "and waltzes?" I answer: "Of course". Then I thank him for the concert.
These three minutes changed me forever. Mr. Rieu's music has always and will always play a big roll in my
life. Thank you so much Mr. Rieu for everything you have done for me and yes, I promise you: I will practice
my scales, etudes and waltzes every day!
Kyle: I've been a fan for over 13 years and never thought I would get a chance like this!
By the way: The violin is now in the shop being varnished and repaired, so the signature will stay on
forever.
Comment Ineke: It was my pleasure. I'm glad I had the opportunity to be the connecting link between the
producer of the roadsoap and you, Kyle!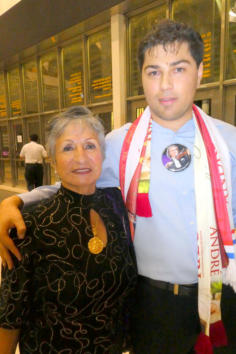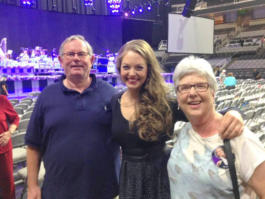 Kyle with close
family friend and
André Rieu fan:
Elena Hernandez
(left),
and with soprano
Donij van Doorn
(right).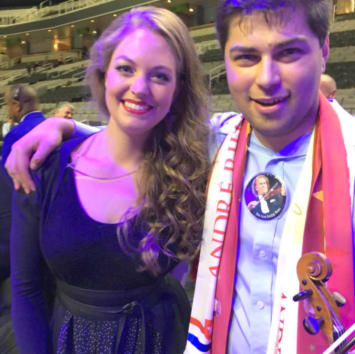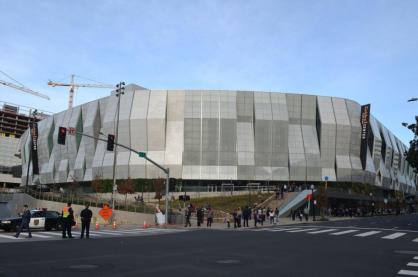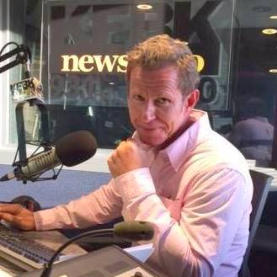 Sacramento, Golden 1 Center.
I
nterviewer: Dan Mitchinson.
October 25, 2017.
Interview by Dan Mitchinson for NewsRadio KFBK,
Sacramento.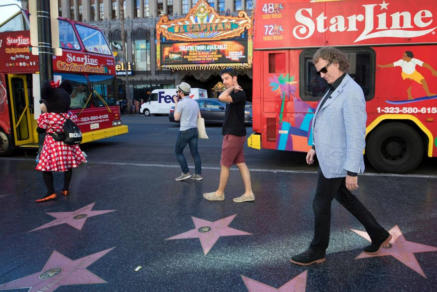 Set list of the USA concerts:
76 Trombones, Blaze Away, Tales from the Vienna woods, Third Man, Marie, Maxim's, You're my heart's
delight, Hava Nagila, America the Beautiful, You'll never walk alone, Balade pour Adeline, Think of me,
Poliushko Polie, Madam Butterfly, Sportpalast Waltz, My lips kiss like wine, Blue Danube, Bolero, Radetzky
March, encores.
Kyle wrote a wonderful report about his experiences with three
California concerts, the filming for the road soap and meeting the
Maestro himself.
Click HERE to go to the Harmony Parlor to read his report.
Above you may watch a photoshow, created by Alice Leung.
About the Tacoma Concert of October 28, 2017. Thank you Alice!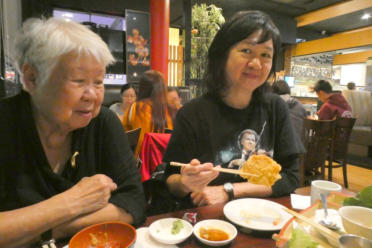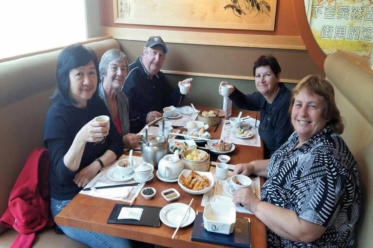 And click HERE to read Alice's wonderful "novel" ,
as posted in the Harmony Parlor.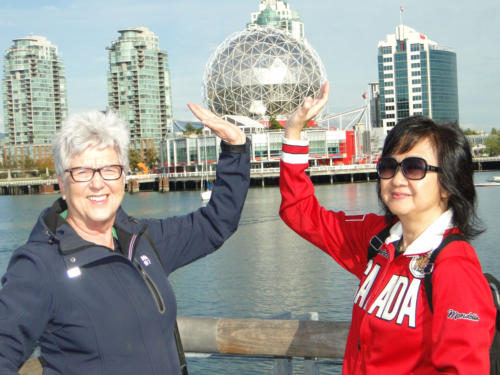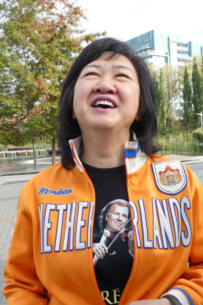 On November 23rd 2017 this very special video appeared on YouTube.
It's been taken in Orlando, during the november 2017 USA tour, where André tries to comfort a crying baby!
This is Kyle playing the violin on another occasion.