April 24, 2020. ITV. UK.
André Rieu delivered a special surprise message to the 86-year-old.
Just one week ago, 86-year-old Barbara Briley was returning home after spending three months in hospital
following two falls and developing Covid-19.
During her time in hospital, she desperately missed her cat along with her hobbies and other interests,
including listening to the world-famous Dutch violinist and composer, André Rieu.
Barbara has been to see him in concert twice and she told ITV Central that her ultimate dream would be to
speak to the musician that she calls 'her man'.
Little did she know, her dream was about to come true...
April 25, 2020.
On Dutch TV: the royalty Program "Blauw Bloed" (Blue Blood) was in Maastricht because of the
cancelation of the festivities on King's Day (April 27th), the birthday of King Willem-Alexander. If the
corona virus would not have happened, the King and his family would have celebrated his birthday 2020
in Maastricht, the capital of the province of Limburg. Now the celebrations in Maastricht have been
postponed to April 27th 2021. To watch the video click HERE.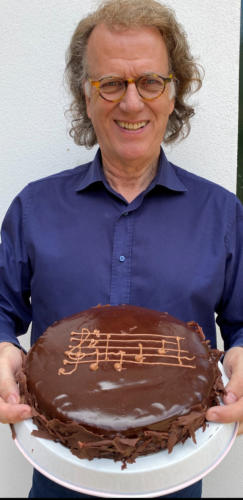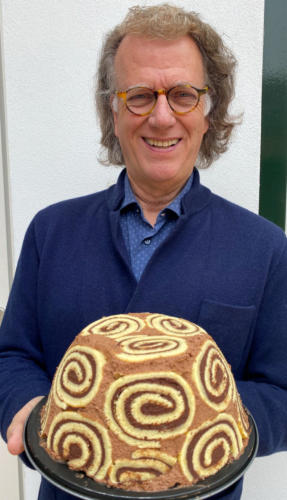 In the meantime the Maestro is baking, baking and baking…. Viennese Sacher Torte (with the notes of the
Blue Danube) and a "Royal Charlotte" for Marjorie. The cakes become bigger every day!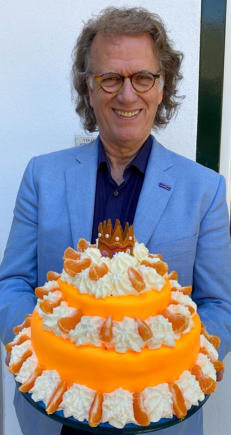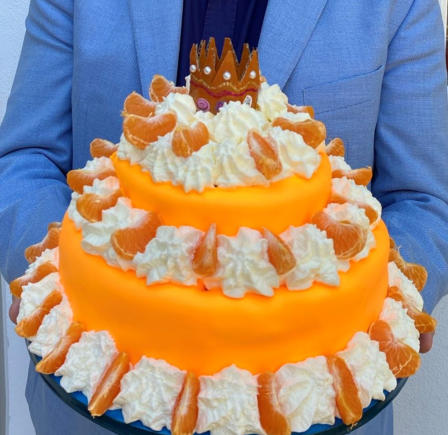 And… Oh my goodness!! A crown cake in orange for King's Day April 27th (the King celebrated his 53rd
birthday at home in the Palace in The Hague, instead of Maastricht!). We wonder: What will André's
personal trainer think when he watches all these cakes come by on Social Media….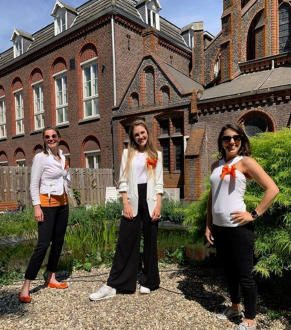 Christina Petrou on Facebook: April 27th 2020.
So wonderful to do some social distance singing
today with Madieke Marjon and Joline Soomers.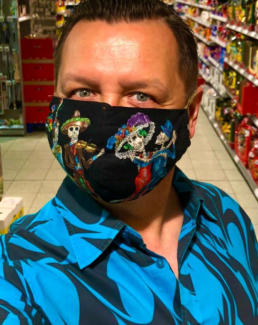 Béla on Facebook: In Germany (he lives in Cologne)
we have to wear a face mask when we go to a shop.
I wanted something a little different, so I had masks
custom made from fabric I bought in Mexico.
Donij van Doorn and Fabian Egli.
From local newspaper "Tubantia".
It was not the least of artists who put a smile on the faces of the residents of two residential care centers
on Saturday April 12, 2020 in Losser and Oldenzaal, NL. Donij van Doorn, soprano soloist in the orchestra
of André Rieu, and her partner Fabian Egli surprised the residents with a half-hour performance. Behind
glass.
"I was told on Friday that they would come," says Erwin van der Woning, volunteer coordinator at Sint
Maarten Care Group in Losser. "They performed in two different places on the courtyard with us. The
approximately eighty residents sat on the balcony or behind the glass. "They loved it. It is also very
special to receive such a celebrity. Losser is not unknown territory for Van Doorn. She was born and
raised in this region. Her grandmother lives in Losser. After she performed with us, she also treated her
grandmother to a private concert," says Van der Woning.
According to Van der Woning, the soprano often sings disinterestedly for residents of nursing homes. This
group is now extra vulnerable because they are not allowed to receive visitors during this Corona crisis.
They can therefore use such a musical boost.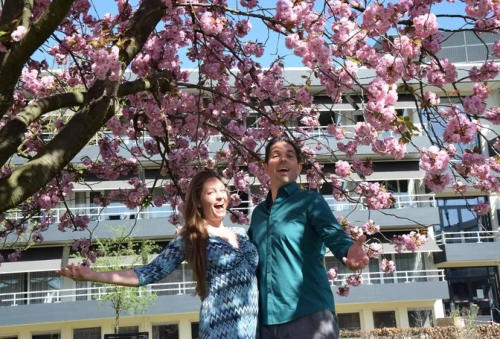 photo credits: Erwin van der Woning.
May 2020. And the Maestro….. he keeps on baking!
75th Liberation Day in the Netherlands: May 5th 2020.
Sanne Mestrom, Joline Soomers, and Christina Petrou performed the famous song of Vera Lynn:
"We'll meet again", together with Fanfare Eensgezindheid from Maasbracht-Beek (Limburg).
May 2020: You raise me up.
This is an Australian video production (with Mirusia) as a tribute to thank the Covid-19 frontline workers
across the world. Source: Arts Center Melbourne.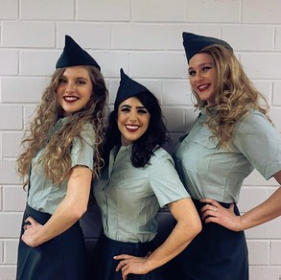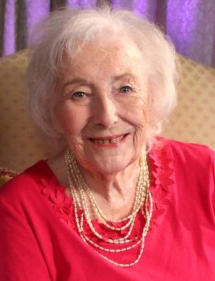 Dame Vera Lynn, 103 years old.
The sweetheart of the Forces (1940-1945).
Liberation songs on the
75th Liberation anniversary: May 5th 2020.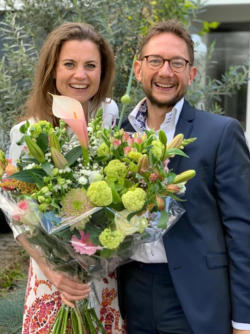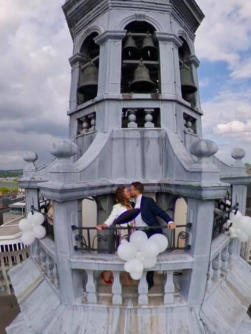 Frank Steijns (violinist and carillon player) and Madieke Marjon Schoots (soprano)
celebrated their corona proof wedding in the bell tower of the Maastricht townhall.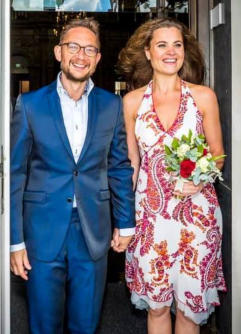 May 2020.
New CD and ALMEH COOK
. A recipe for each of the 11 songs on the new album.
Cooking and music, very funny videos by Carla Maffioletti and Jutta Maria Böhnert, to present and
promote their first ALMEH LUZ album: Les Chemins de l'Amour" (the paths of love) in a very special way.
Click on the pictures above and you'll go to Carla Maffioletti page 8 and further to the Almeh Luz website.
Carla joined André Rieu and the Johann Strauss Orchestra as a soloist from 2002 - 2014. After that she
worked with opera houses in Giessen, Germany and Lucerne, Switzerland.
Since 2017 she performs with Jutta as the duo Almeh Luz. https://www.carlamaffioletti.com/almeh-luz/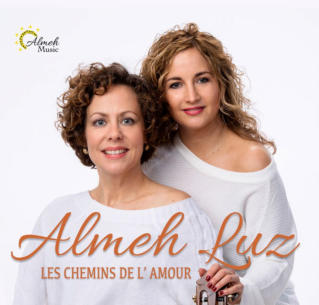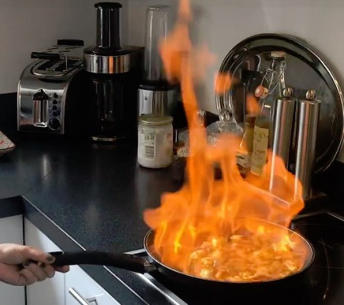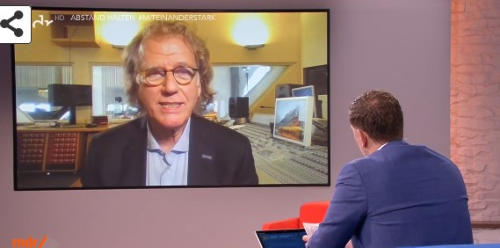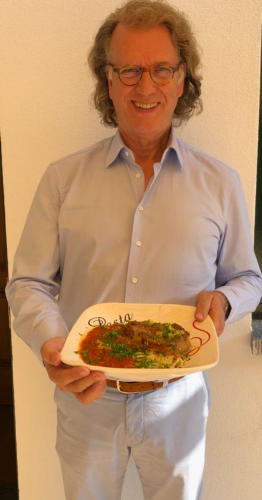 May 15th, 2020: The Maestro, still baking cakes for his grandchildren en Osso Buco (Italian recipe) for
Marjorie. He appeared in a short German interview on MDR Um 4, Germany, from his studio in
Maastricht. He informed us that everyone in his family, team, orchestra, is healthy and that he is creating
a movie for the cinemas (as soon as they are allowed to open their doors again): a compilation of 15
years Vrijthof concerts. This, instead of the Live Maastricht 2020 concert.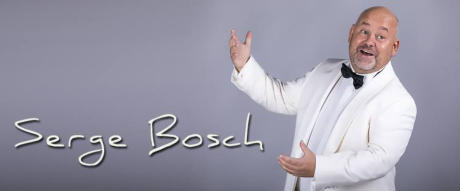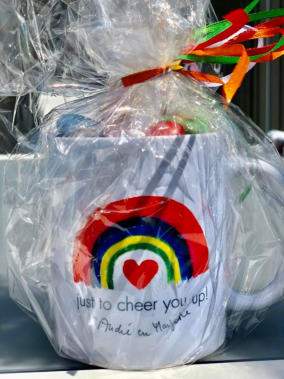 May 16th 2020. Serge Bosch, one of the Platin Tenors posted on
Facebook: "I Just received a nice surprise from André and
Marjorie. That gives hope for the future."
Afterwards more members of the Johann Strauss Orchestra
showed their mugs on Facebook.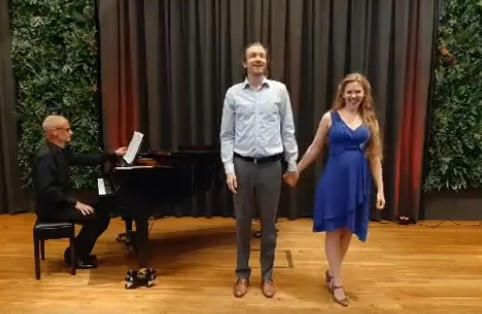 May 20, 2020.
No touring with André Rieu, due to
the Corona virus.
Love duets,
by Anna Majchrzak (soprano) and
her husband Vincent Spoeltman
(bariton), accompanied by Arjan
Breukhoven, piano. Live Facebook
performance from "'t Manneke"
in Berkel en Rodenrijs.
http://www.annamajchrzak.com/en/
home/
Click on the picture
to watch the video.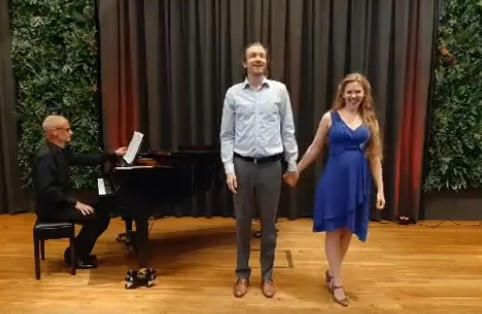 May 2020.
Frank Steijns is very active in
the several bell towers in
Limburg.
More about Frank,
click on the picture.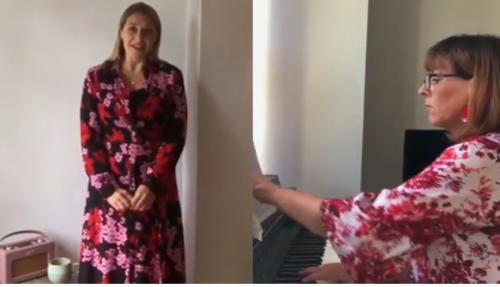 June 10, 2020.
From the UK:
Elinor Jane Moran, soprano.
Ellie: "Thank you so much to
everyone who watched our little
concert "live" today. It was so
lovely to feel part of a musical
community again and to perform.
So many lovely comments
afterwards thank you!! You can
watch the concert for a month
following the link.
https://www.operaupclose.com/cof
fee-break-concerts-10-june
June 18, 2020.
From his hometown in Cologne, Germany:
Béla Mavrak on Facebook:
I have missed performing and traveling so
much, but now I am on my way to sing at an
open air concert this Sunday!
It will be an evening of movie melodies with the
Vojvodina Symphony Orchestra to celebrate
World Music Day.
Sunday at 20:30 in Novi Sad (Serbia),
entrance is free!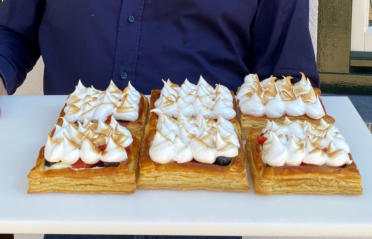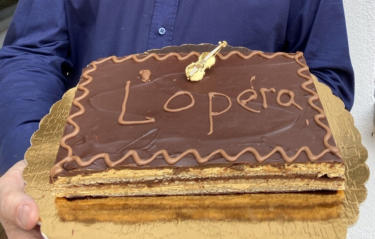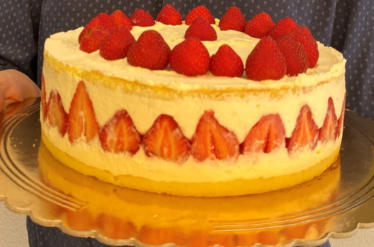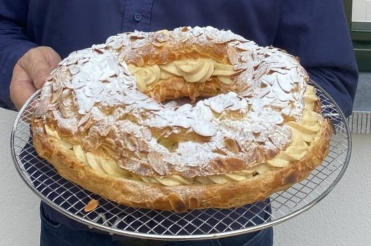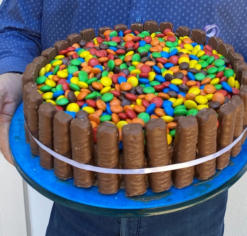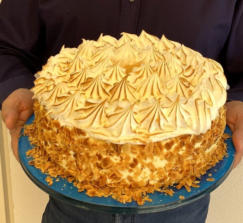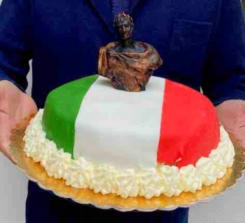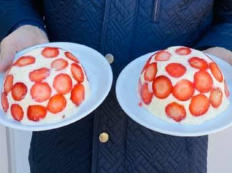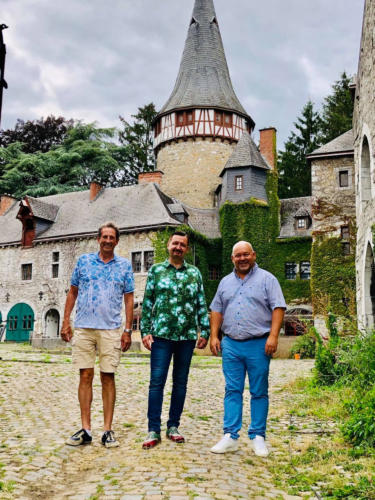 July 25, 2020.
From Serge Bosch on Facebook:
A fantastic day in private with
Gary, Béla and our partners.
We had the privilege to visit the castle in
my home country (Belgium).
How nice to be together again.
Maybe soon on a stage again ...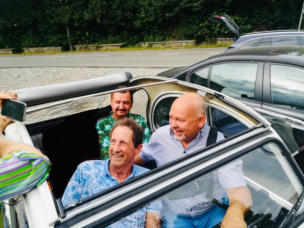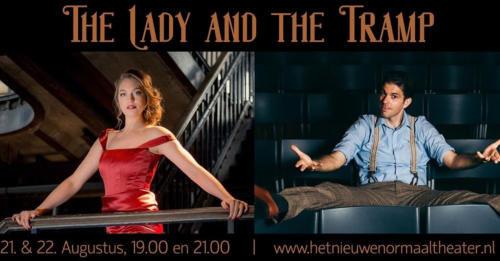 July 23rd 2020.
Donij van Doorn and
Fabian Egli present: "The
Lady and the Tramp"
a new corona proof performance
in the "New Normal Theater" in
the Dutch city of Leusden.
Click on the picture for more
information.