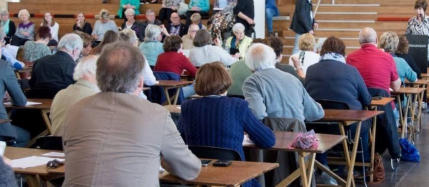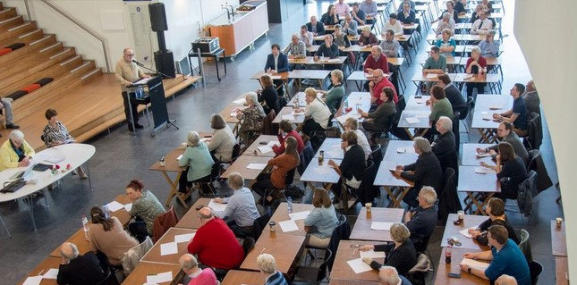 Veldeke Krink. (Association to keep the Maastricht dialect alive).
The Limburger, September 14, 2022. Translation: Ineke/John.
Great Maastrichts Dictation 2022: on October 30, 2022.
Starting September 13th, anyone can sign in to participate in the Great Maastrichts Dictation, which will be
read by none other than André Rieu. His wife Marjorie wrote the dictation. The event will be held that day
(30 October) in the MECC (Conference Hall) in Maastricht. Due to the pandemic, this special edition was
postponed for 2 years, but shortly it will happen again!
Doors open: 10.30. Start 11 am.
André Rieu and his wife have a warm heart for the Maastricht (dialect) language and hope to have several
well-known and prominent Maastricht people to participate in the dictation. During the intermission the
participants will be treated to a performance of the Maastricht Salon Orchestra.
After the delivery of the dictation by André Rieu, the dictation just like in previous years be carefully and
slowly repeated one more time. The winner of the dictation contest will get a place in the gallery of honor
and receive an award. There is also a possibility to join outside the competition. A perfect occasion to
practice the written Maastricht dialect (language). These participants may participate in the dictation and
correct their work afterwards themselves.
Participation is free.
After the debriefing and award ceremony, the event will end at 1.40 PM.
Dictation.
August 5, 2022. RTV Maastricht.
Translation: Ineke/John.
By Lilian Limpens, director of the "Veldeke Krink Mestreech".
The unsurpassed Veldeke Krink Mestreech, the most important champions and guardians of the Maastricht
dialect (language), managed to persuade André Rieu to conduct the annual test of "our native language" on
23 October 2022. His wife, Marjorie, will write the text of the dictation.
"We had to keep this a secret for two years. Before Corona struck, we had already approached Marjorie
Rieu. For years, a well-known Maastricht native had been reading "the big Maastricht language dictation".
Well, André Rieu was of course always on our wish list. How to do that, was the question. And guess
what… when we asked Marjorie Rieu, she was immediately and very enthusiastic and let us know that she
would like to write the text.
No doubt the directors of Veldeke Krink Mestreech danced a number of waltzes for joy. Until the moment of
deception came. But that was then. To speak with the Templers (order of brotherhood): "On October 23 it
really will happen!" "Where and what time is at a later order. We can imagine that the interest in
participating is greater than usual," says Lilian Limpens. Well, in time we will officially announce that André
Rieu will be dictating his fellow citizens in their native language, on a dictation that undoubtedly will have a
waltzing undertone...
PS. The date of 23 October had to be changed to 30 October, due to André's rehearsal schedule for the
Christmas concerts in December 2022.
September 2, 2022.
The Maastricht Dialect Dictation has been postponed again, due to Rieu's rehearsals. Currently "t Groet
Mestreechs Dictee" is organized a week later than originally planned. André Rieu, who is going to
administer the language test, is unable to do so on the original date. On October 23, 2022, he rehearses
with his orchestra for the Christmas concerts he gives in the MECC in December 2022. That is why the
"Mestreechs Dictee" is now organized on October 30, 2022. Good news for the participants, they have an
extra week to practice.
To read more about the annual Maastricht Dialect Dictation in 2020, click HERE.
To read another nice story about the Rieu family and the Maastricht Dialect in 2021: click HERE.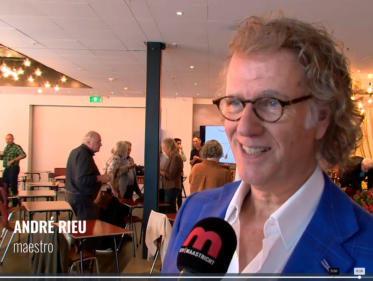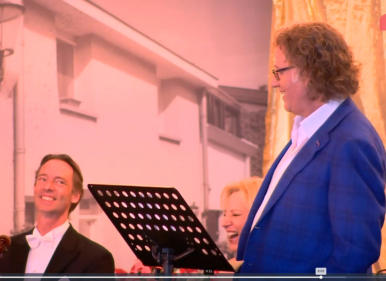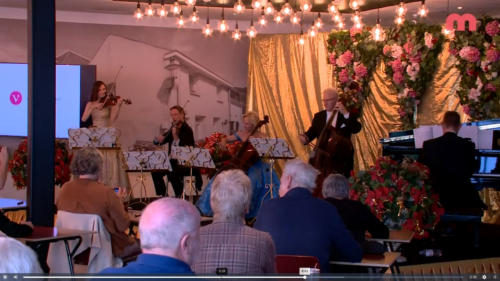 By RTV Maastricht. October 31, 2022.
With only three mistakes, Lei Bovens wins 'Groet Mestreechs
Dictee' 'André Rieu' dictation 2022.
It happens rarely. Three participants who immediately finished in first place at 't Groet Mestreechs Dictee.
And that with only three mistakes! Fortunately, Veldeke Krink Mestreech had linked a bonus round to the
linguistic calf biter. That was completed by Lei Bovens, the amiable team leader of MVV Maastricht (soccer
club), slightly better than Stefan Gybels and Thea van Thor. Mayor Annemarie Penn te Strake's
spokesperson and the latest winner of the dictation before the corona pandemic came in second and third,
respectively.
On Sunday, October 30, 2022, 115 people came to the MECC catering establishment SAAM to participate
in the prestigious Maastricht language competition. Whoever knows how to write 't Groet Mestreechs
Dictee to his or her name, will gain eternal fame inside and outside the city walls. And that certainly applies
to the 2022 edition. After all, it was read by none other than André Rieu. And he didn't just read a story on
Sunday morning. His wife Marjorie - not devoid of any writing talent and mastery of that damned beautiful
language, managed to entrust a beautiful story about the first weeks of life of her husband and world star
André Rieu to the paper.
Before the King of the waltz started to read the dictation with taste and pleasure, the special tone of 't Groet
Mestreechs Dictee 2022 was set by the Maastricht Salon Orchestra. The contagious chamber music was
highly appreciated by the participants, the many volunteers of Veldeke Krink and André Rieu. While still
sitting at a lectern, he cheerfully tapped along to the rhythm of, among others, 'der Fliegermarsch'.
After that wonderful musical introduction, it got serious. Also for André Rieu. Although used to full stadiums,
squares and arenas, he saw reading a dictation in the dialect as a major challenge. Maastricht purists are
simply very critical when it comes to their own language. Rieu, however, read Marjorie's story entitled Inkel
Reis Amsterdam - Mestreech (one way trip Amsterdam – Maastricht) with verve.
It is true that 't Groet Mestreechs Dictee was won by Lei Bovens - and yes also a bit by Stefan Gybels and
Thea van Thor; The number of average errors made Rieu's birth story a difficult birth for many participants.
This conclusion could be drawn when the number of average errors became known. There the counter
stopped at 30! Sunday morning, October 30, it turned out once again that speaking the Maastricht
language well is of a different order than writing it.
Discussing that was something for later in the afternoon, however. Participants, organizers and André Rieu
sang in the MECC, accompanied by the unsurpassed Maastricht Salon Orkest, first of all Hooray Vivat
Mestreech! (the Maastricht anthem).
Veldeke Krink Mestreech's ideal is that Maastricht should continue to live on as a contemporary, modern
language. Spoken and written by young and old, with attention to spelling, style, and grammar. That is why
Veldeke is passionate about enthusing people to go to Maastricht and to continue speaking, writing and
listening. This is achieved, among other things, by promoting Maastricht language and by helping people to
learn to understand, speak, listen, read, and write Maastricht language.
Groet Mestreechs Dictee 2022
INKEL REIS AMSTERDAM – MESTREECH
Gesjreve door Marjorie Rieu (2022)
1.
't Waor in de zomer vaan 1949 in Amsterdam tot iech besloot Mestreechteneer te weure.
2.
'ne Sjoene werme zomer waor 't, dao in 't hertsje vaan Amsterdam, en iech zwumde ederen daag op
m'n èlfendaartegste e paar rundsjes door de stad.
3.
Geer dink noe mesjiens tot iech tösse de kano's en woensjeper door in de Hiere- of Prinsegrach
zwumde, meh daan verdaolt geer uuch.
4.
Nein, iech dobberde gans op m'n eige rösteg en lösteg door 't vröchwater in de boek vaan m'n meer.
5.
't Zouw neet mie lang dore, daan zouw iech es klein Mokummerke gebore weure.
6.
Sjijns hadde ziech evels tösse m'n Amsterdamse en Haarlemse gene toch ouch e paar Mestreechse
verstoompeld, want iech druimde toen al devaan 'ne Mestreechteneer te zien.
7.
Stiekem stangde iech m'ne peer op ziech e pöske in Mestreech te zeuke.
8.
Gelökkeg wouw me häöm dao gere höbbe en heer woort dirizjent vaan 't Mestreechs Stedelek
Orkes.
9.
Iech spróng e gaat in 't vröchwater en vaan sjrik beveel m'n meer op d'n daag vaan de verhuis nao
Mestreech.
10.
't Erm mins waor zoe vaan slaag tot ze de Spaonse en Hollandse griep devaan kraog en nog 'n
aander vreiseleke krenkde – dat rappeleer iech miech neet perceis.
11.
In eder geval had ze de klets eweg en laog ze flink veur merakel, wie ze miech dao in Mestreech
obbins in ein vaan de verhuisdoeze zaog ligke.
12.
Zie kós ocherm neet veur miech zörge, meh gelökkeg kinde häör naoberse 'n gooj Mestreechse
wijsvrouw, die de zörg veur dat dik gaminke gere vaan häör euvernaom.
13.
M'n ma bleef get krenkelek, zoetot die wijsvrouw jaorelaank veur miech bleef zörge.
14.
Vaan häör lierde iech m'n ierste Mestreechse wäördsjes.
15.
Zie verweende miech mèt slók, en zoe lierde iech neet allein de smaak, meh ouch de oetspraok
vaan pestielkes, zjuzjuubkes, mentakes, 'ne sjroepstek, krissiewater, peperkokemennekes en 'n tuut
snitsels.
16.
Daankzij de wijsvrouw woort iech 'nen echte Mestreechteneer.
English translation by Ineke/John:
1.
It was in the summer of 1949 in Amsterdam, that I decided to become a Maastricht resident.
2.
A nice warm summer was it there in the center of Amsterdam, I swam every day at ease a few laps
through the city.
3.
You are probably thinking that I was swimming between the canoes and the houseboats through the
Heren- and Prinsengracht (names of Amsterdam canals), but then you are mistaken.
4.
No, I floated happily and quietly all by myself in the amniotic fluid of my mother's belly.
5.
It would not last long before I would be born as a little Amsterdam boy.
6.
Indications were that a few Maastricht genes had hidden between my Amsterdam and Haarlem genes,
because back then I already started to dream of becoming a Maastricht resident.
7.
Secretly I convinced my father to find a job in Maastricht.
8.
Luckily they wanted him there and he became the conductor of the Maastricht City Orchestra.
9.
I jumped for joy in the amniotic fluid and from the shock my mother gave birth on the moving day to
Maastricht.
10.
The poor woman was so shocked that she became ill with the Spanish- and the Dutch flu and yet
another terrible illness, which I cannot quite remember anymore.
11.
At any rate her flu was gone and prayed hard for a miracle when there in Maastricht she suddenly saw
me lying in one of the moving boxes.
12.
Sadly she could not care for me, but luckily one of the neighbors, a nice Maastricht midwife, took over
the care for this little creature.
13.
My mother remained sickly so that the midwife cared for me for many years.
14.
From her I learned my first Maastricht words.
15.
She pampered me with candy and that way I not only learned the taste, but also the pronunciation of
lozenges, and …… (several typical Limburg and Dutch sweets).
16.
Thanks to that midwife I became a real Maastricht resident.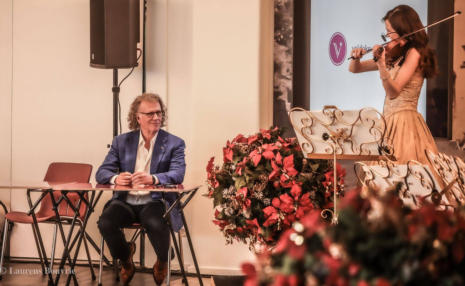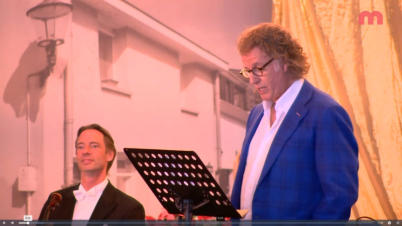 Video Limbourgeois, L1 TV, November 7th 2022. Duration: 10 minutes.
Translation: Ineke/John. Subtitles: Ruud.
May 21, 2023:
The annual tradition of the great Maastricht Dictation was in 2023 enriched by another added tradition:
The presence of the Maastrichts Salon Orchestra and André Rieu.
Laurens Bouvrie posted on Facebook:
"Soon André Rieu will be on the Square again for three weeks. In the month of July - starting Thursday
the sixth - the maestro of light classical music will entertain tens of thousands of fans twelve times with
his Johann Strauss Orchestra and choir, The Platin Tenors, the still unnamed trio of sopranos and various
guests. As everyone knows after all these years of Rieu on the Vrijthof, Rieu enthusiasts are only too
happy to come to Maastricht. Dieu (God) Rieu has turned the city of Sint Servaas into a true place of
pilgrimage. You are only a real Rieu fan if you have attended a concert in his home town.
In the early Sunday afternoon, a select group of people from Maastricht were served a Rieu hour, for
which the true Rieu-tifosi would kill. After a wonderful hour of spiritual self-flagellation for Maastricht
purists - also known as 't Groet Mestreechs Dictee (The great Maastricht Dictation)- the participants were
mentally patched up by a performance in living room atmospheres by the Maastrichts Salon Orcestra.
With visual and audible pleasure, the Stand-Alone Violinist presented the quintet's performance. With the
announcement of the first issue - Rendez-Vous - I automatically wandered back to the year 1982. At my
employer - also my education in how to enjoy life in combination with doing what you like at work - one of
my tasks was organizing parties. One of them was musically framed by...... you guessed it: the Maastricht
Salon Orchestra. The company had just released the album Rendez-Vous. An album in 1920s Berlin
atmosphere; or Great Gatsby if you prefer. What I liked most about Rieu's announcement? It was a great
credit by him to mention Gemma Serpenti as the one who asked him to join the chamber orchestra. You
know the rest of Rieu's career".
For our page about the Maastrichts Salon Orchestra, click HERE.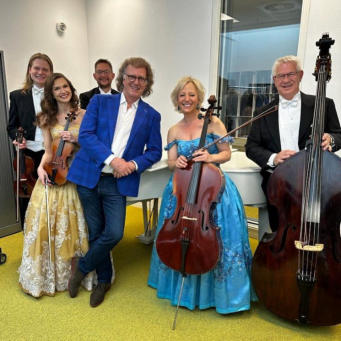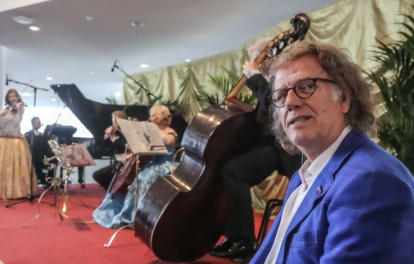 Photo credits: Laurens Bouvrie.
We see that Justinas Kaunas is replacing Cord Meyer-
Luesink