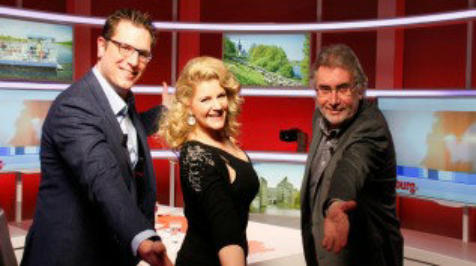 February 15, 2016:
TV Limburg
Interview with Mirusia.
See the video below to watch this
interview. English subtitles added.
My Favorite Things
- Don't cry for me Argentina
- This time Tomorrow
- O Mio Bambino Caro
- Different Worlds
- Morgen
- Unusual Way
- For Good
- Wishing you were somehow here again
- How can I wait
- Falling
- Pie Jesu
- He was beautiful
- Secret Garden
- La Vergine Degli Angeli
- If
- I dreamed a dream
- Tomorrow
- Softly as I leave you
- Ave Maria
- Memory
Bonus features:
- Behind the scenes
- Journey
- Als jij niet van mij houdt (Dutch)
Arrangements: Graeme Press, Chris
Brindley, Ruud Merx.
The video is recorded with a small pocket camera from the 4th row, so the images and the sound are not
perfect. Sorry! It is just to give you an impression of the performance. You may buy the official DVD after
April 29, 2016 on www.mirusia.net .
In the concert Mirusia is speaking Dutch and English. Enjoy!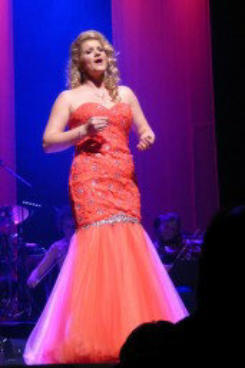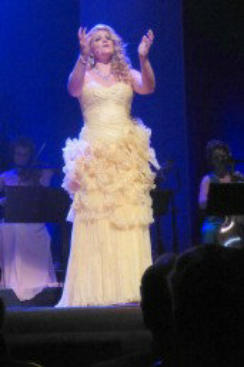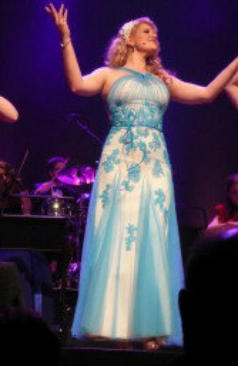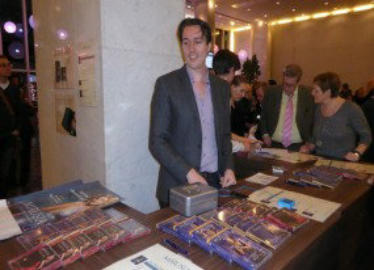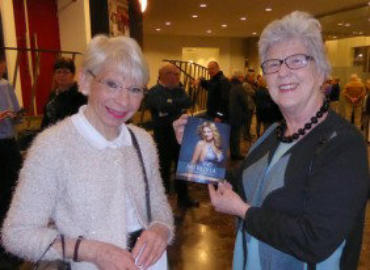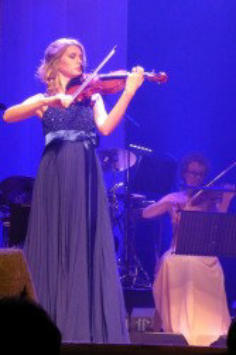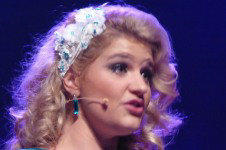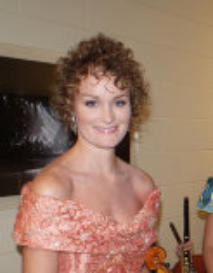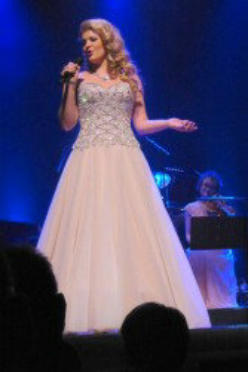 With the pictures:
Marthijn Graafland in the merchandise stand. Francine from Liege (Belgium) and Ineke.
Violinists: Giedre Mundinaite-Leenhouwers, Sophie Gabriels (in 2009 Sophie toured with André and the
JSO through Australia/New Zealand). Hair fascinator: AgAtelier Maastricht.
Guitar player: Martijn Buijnsters.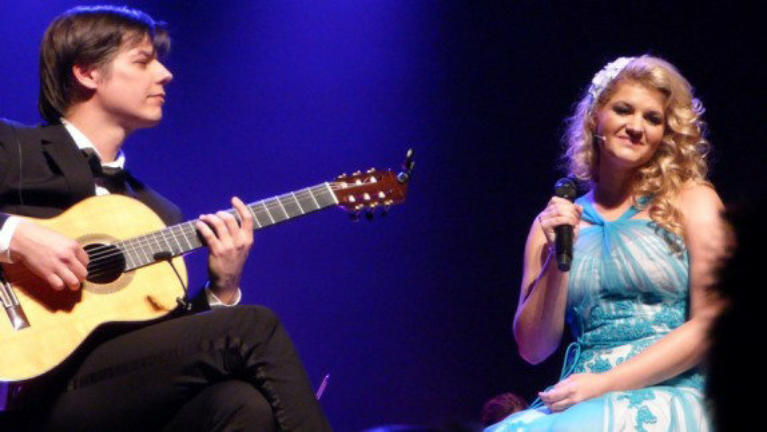 February 13th 2016:
Mirusia launched her third solo tour
"This Time Tomorrow"
on Saturday Febr. 13th in the Netherlands,
in the Limburg town of Heerlen. In February, March and April 2016 she'll perform in: Veldhoven, Oss, Venray,
Terneuzen, Roermond, Eindhoven, Waalwijk, Purmerend, Roosendaal, Breda, Veenendaal, to finish in
Gouda on April 8, 2016.
Tickets: www.mirusia.net/calendar
Ruud and Ineke attended the premiere concert in Heerlen and enjoyed every minute.
In April 2016 a CD and DVD of the "This Time Tomorrow" concert will be released.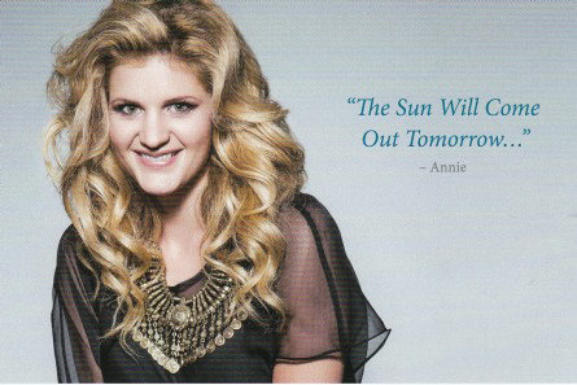 Australian "This Time Tomorrow" Concert tour coming up:
28 November 2015 - Mirusia - Coffs Harbour, Australia
12 December 2015 - IGA Lord Mayor's Christmas Carols, Brisbane, Australia
20 December 2015 - Starlight Christmas Carols, Redlands, AustraliaFor more info, go
to www.mirusia.net/calendar
Update by Mirusia, November 23rd 2015:
Hi Everyone!
Last week I was listening to the radio and I heard a Christmas song - the first one I have heard this year!
And it made me realize that this year is already drawing to a close.
It's been a really incredible 2015 and I have enjoyed singing for many of you all over the world in Germany,
Australia, The Netherlands, Switzerland, Mexico, Peru, Chile, Belgium, France, Romania, Poland, Czech
Republic, Hungary, Denmark and Sweden.
I am very much looking forward to Saturday when I will launch my 'This Time Tomorrow' Tour in Coffs
Harbour, Australia. The 2016 tour, which takes me throughout Australia and The Netherlands, is my
dedication to my fans and friends and to wish them a brighter tomorrow. I have been busy writing the theme
song for this tour and would already like to give you a preview of some of the lyrics, which in these times of
worry, really mean a lot to me: "We'll face tomorrow, hand in hand, together, makes us strong." I will be
giving the debut performance of this song next Saturday the 28th of November, and I really cannot wait.
Joining me on tour through Australia is Graeme Press, my Musical Director, who many of you already know,
and well known Australian guitarist Anthony Garcia, who will be playing some special songs with me which
we have selected especially for you all.
Something else I am looking forward to is being able to spend some time with my parents over the
Christmas period. Can you believe the last time I saw them in person was at Youri and my wedding in July?
I am certainly looking forward to a Summery Christmas back home and singing at the outdoor carols events
held annually. I am sure you all have exciting plans too - anything you would like to share?
So for now, I leave you with a Christmas song (Video below) - perhaps it will be the first one you hear this
year? It really is the most wonderful time of the year!
Love from,
Mirusia
www.mirusia.net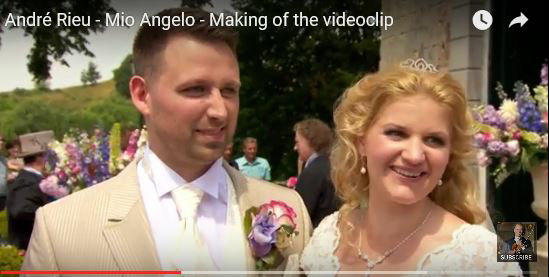 A real treat from André's
Advent Calendar on
December 23:
The Making of
"Mio Angelo".
Click on the picture to
watch the video clip.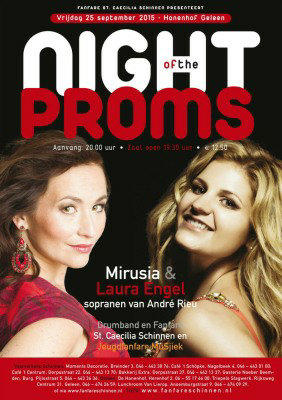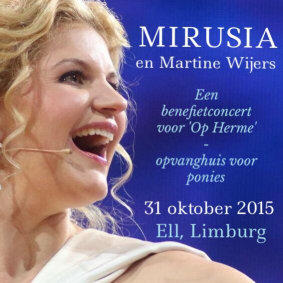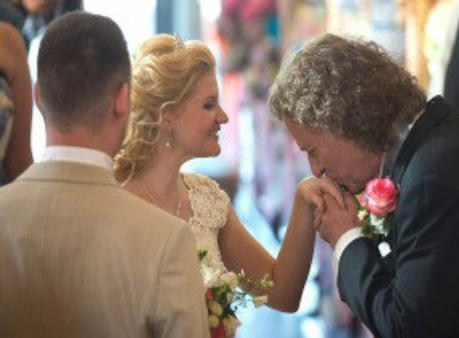 Other concerts
performed at spare
time:
Night of the
Proms
in Sept.
2015, with Laura
Engel (click on the
picture) and a benefit
concert at
"Op
Herme"
with
Martine Wijers. "Op
Herme" is Veronika
Jong's (Lin's mother)
pony rescue farm in
Ell, Limburg.
DVD "Roman Holiday".
Mirusia on Facebook: André Rieu and
Frank Steijns wrote a beautiful song,
with the lyrics by Marjorie Rieu, called
Mio Angelo. They presented this song to
me to celebrate that Youri and I were
getting married. And I sing it on André's
latest album Roman Holiday which will
be released on Nov. 13, 2015.
We filmed an accompanying video clip
in June, which was a great "dress
rehearsal" for Youri and myself as we
got married a month later! Click picture
to hear the song.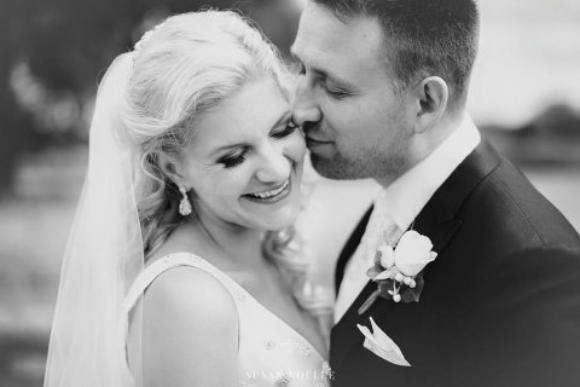 Mirusia and Youri
got married on July
27, 2015.
Mirusia on Facebook:
I am the happiest girl in
the world! Last week I
married the love of my
life, Youri. We had a
beautiful day
surrounded by family
and friends in The
Netherlands.
Photo: Susan Noëlle.
Click on the picture to
go to the Harmony
Parlor.
Do you like to read more articles about Mirusia and Youri? You can find them in the Harmony Parlor.
Just click HERE. And for another one: click HERE. And don't forget Mirusia's website: Click one HERE.
In the L 1 program "Avondgasten" (Evening guests)
of May 27th 2015, Mirusia announced her
third solo tour through the Netherlands in February, March and April 2016.
Tickets are on sale now, click http://www.mirusia.net/ for more information and tickets.
Via Facebook Mirusia shared her family history with us, while performing with André in Poland. She wrote:
"Today (May 28, 2015) is a very special day for me. I will be visiting Poland, and singing there, for the first
time with André Rieu. Poland has always been a very special country for me as I have Polish heritage. My
late Grandfather Johannes came from Poland. In World War II he helped free Breda, a city in The
Netherlands, from the Nazi occupation. It was in Breda that he met my Dutch Grandmother Maria. When I
was born my parents gave me a Polish name: Mirusia. And my middle name Joanna is in memory of my
Grandfather. I have always been proud of my Polish heritage and I just cannot wait to sing for you all in
Poland!"
Mirusia's and Youri's real wedding on July 27, 2015, in the Netherlands.
Written by wedding photographer Susan Noëlle as a blog and published by Bride Magazine on June 30,
2017. Mirusia published the link to the article on Twitter. It is about her real wedding on July 27, 2015.
"This awesome wedding was published in 'Bride magazine, yay! It's the wedding of Youri and Mirusia. And
since I have not blogged that wedding at all, I would like to show it to you now.
Mirusia e-mailed to ask me me if I was available for their wedding in July 2015. She told me they lived in
Maastricht but were going to get married at Castle Heeswijk, in the province of North Brabant. We had
arranged a meeting and immediately I felt a 'click'! Mirusia told me she's from Australia and that she's a
professional singer. That still did not ring a bell for me, oops! When I called my parents on my way back
home to tell them about my meeting with Youri and Mirusia, they sure knew who Mirusia is... She's one of
André Rieu's opera singers!
My parents told me how amazing she is, so when I got home I searched for Mirusia online. The videos I
came across were amazing ... People call her voice "the voice of an angel"... And they are so right. The next
day Mirusia called with some good news; they wanted me as their wedding photographer! I could not be
more excited!
The weather on the day was pretty big changing. Sunshine, rain, clouds, wind... We saw it all. Typical Dutch
weather. It was too bad that because of the weather the outdoors ceremony had to be moved inside, but the
indoor venue was beautiful as well. My second shooter Hendrik and me drove to N-Brabant and he dropped
me off at Castle Heeswijk where I started to photograph the girls' getting ready. Hendrik went to Youri's hotel
to capture the guys getting ready. I took my time to photograph all preparations and details like the pretty
peach bridesmaids dresses, the shoes...
Suddenly we heard some cheering outside... Oh, the boys just arrived! Time for the ceremony!
The ceremony firing place in a beautiful, dignified place. Outside it rained cats and dogs ... After the
ceremony, we were so glad that the rain had stopped, so we could have a toast outside. We shot some
useful group shots in the beautiful gardens but when it started to rain again, we went inside the castle to our
continuous shoot with the bridal party. The weather was changing so, but we managed to make a beautiful
photoshoot both inside the castle and outside, in between the showers. When I finished up some outdoor
shots, second shooter Hendrik started to photograph the beautiful dinner tables in the basement of the
castle. It was a lovely dinner with emotional and funny speeches between the courses. I was secretly trying
to hide my tears behind my camera as well. While Hendrik kept an eye on the guests, I sorted out some
pictures to edit them and show them on a projector to all the guests that evening. A same-day edit, like we
call it. It's so nice to have two photographers on the big day... I never have to be worried to miss a moment!
The party in the evening was spectacular. Just like I expected it to be! They danced non-stop and we all had
a blast. I feel so fortunate that we got to be a part of this wedding. The couple and their family and friends
were so sweet, they kind of stole my heart... Tired but satisfied, we started on our two hour journey back
home. This wedding was the last wedding I shot in 2015, because of my pregnancy. In August I had the
time to finish up all the weddings we shot all ready and in September it was time for my maternity leave. I
could not have asked for a better way to end my season.
THANK YOU!"