June 29th 2016.
Carla Maffioletti
announced her first solo tour
from January 2017 - May 2017,
through the Netherlands, Belgium
and Germany.
Photo left: Richard Oswick.
Headdress creation by AgAtelier,
Maastricht.
Watch the video below.
Tourdates:
Jan. 6, 2017: Veldhoven, NL
Jan. 7, 2017: Aalst (Belgium)
Jan. 14, 2017: Hoogeveen (NL)
Jan. 15, 2017: Purmerend (NL)
Jan. 20, 2017: Terneuzen (NL)
Jan. 25, 2017: Uden (NL)
Feb. 3, 2017: Harderwijk (NL)
March 25, 2017: Maastricht Bonbonnière theatre (NL)
May 14, 2017: Wegberg (Germany).
Tickets available: www.carlamaffioletti.com
The initial tour announcement
December 18, 2016.
The classical evening on L1.
Radio Interview with Carla Maffioletti (in Dutch),
by Emile Szarcowicz, L1 Limburg Radio. Program: Evening Guests.
A summary. Translation by Ineke, edited by John.
Tonight Carla Maffioletti is our guest, to share her favorite music with us.
Carla was born in 1973 in The Brazilian town Porto Allegre, which means: Cheerful harbor.
She has the Italian and the Brazilian nationality. She hails from a musical family and already played the
guitar as a child. Mama Leda, a music teacher, is the source of the musical passion of this family. She plays
the piano, trumpet, guitar, accordion, and 4 percussion instruments. Papa Carlos is a financial advisor.
Carla is the oldest child and she has two brothers, Fabio and Casio, who are rappers, hip-hoppers and
DJ's. The family lived in a big house with a big garden with swimming pool, dogs, cats and a parrot. As a
girl Carla played the guitar in the dark, in her little room and she dreamed to be a classical guitar player and
composer of theater music.
The name Maffioletti means: Little Danger. Carla is little: only 1.54 ½ m (5 ft and almost 1 inch). She is
proud of the "½ cm". Little and dangerous, that fits her.
For two years she lived in Switzerland in Lucerne, performed in the opera house there. Now she is back in
the Netherlands, in Limburg, where she feels very comfortable. She now lives in Horn, a little town near
Roermond. She speaks 7 languages: Portuguese, Spanish, Italian, French, English, German, Dutch and a
little bit of the Limburg dialect as well.
She started her career with classic guitar but was discovered as a soprano.
In 2000 she had been invited to study opera at the Maastricht conservatory, where André Rieu discovered
her. For over 10 years she traveled the world with André Rieu and the Johann Strauss Orchestra. Later on
she joined the opera houses of Giessen in Germany and Lucerne in Switzerland.
She is a member of "the Strings", a mandolin ensemble in Limburg and in 2017 she started touring on her
own with a theater production called "A dream". It has always been her dream to tour with a varied program
consisting of classical music, tango, fado, and other music styles, guitar pieces, and her own compositions.
She tells about a dream she had about a little girl in a yellow dress who was singing in a house. Carla woke
up with the melody of "Amore". She composed the song and it is in her show now.
Carla is 43 now and she feels good. Her character and voice matured under André Rieu's wings and the
opera houses. Her life has had its ups and downs, but she feels free and secure, likes to be her own boss,
and compose her own music.
The first musical choice for this program is the title song of the movie The Walking Stick (1970):
"Cavatina." Carla plays the guitar.
The second choice is "Quando m'en vo" from La Bohème by G. Puccini, where Carla is accompanied by
the mandolin ensemble and Manoe Konings on clarinet. Carla feels touched by the sound of the mandolins.
She created a CD with the ensemble. Playing the guitar, besides singing, keeps her in balance. In her new
tour she is accompanied by the salon orchestra El Capo, which she loves very much.
The third piece of Carla's choice is "Pieno" (in Corso), with the Brazilian ensemble Camerata Ontoarte.
The fourth choice is "Melodia Sentimental" by Heitor Villa-Lobos. A very well-known song in Brazil.
The interviewer asks Carla why she planned only one concert in Limburg: on March 25 in the Bonbonnière
in Maastricht. That happened to be the only concert in Limburg. Maybe there will be more concerts in
Limburg during a second tour. The program is autobiographical, it is about her life, a living dream. For the
future she likes to produce her own shows with her own compositions and some classical pieces.
The program ends with her last and favorite piece: "Oblivion", composed by Astor Piazzola.
The end.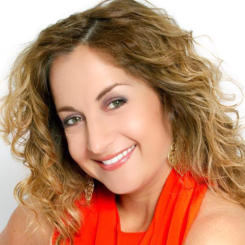 Carla with her mother Leda.
Some highlights of this tour
March 18, 2017.
L1 Cultuurcafé. Radio program from Limburg:
Announcement of the Maastricht concert of this "Dream" tour on march 25, 2017.
Below you may hear three musical pieces from the show.
Carla Maffioletti is a Brazilian/Italian singer, living in Limburg. Can we speak in dialect?
Oh yes, we can!
Carla you are well-known in your job with Rieu. Have you left Rieu?
Yes, I left André Rieu, but I still feel connected in my heart. I always loved to sing opera and I joined an
opera house in Switzerland since 2014.
This year I started something different which I have been wanting to do all my life: I started my own show as
a soloist. Now I have time to do what I like best.
Your first solo-tour with musicians. How is that going?
Wonderful! I am accompagnied by the Da Capo Salon orchestra, led by Ernest Frissen.
With Ludo Mariën on the accordion and soprano Jutte Maria Böhnert.
We have a lot of fun on stage, traveling through the Netherlands, and we perform in beautiful theaters.
In this show you were seated and singing. Is that normal?
I am seated because I play the guitar and I also sing. Singing in this position is hard, because the lungs
need air to sing arias, so I had to practice a lot. It was not easy.
We announced you as a singer, but actually your are a guitar player.
I was educated in playing the guitar and I did not play it for a long time. When I travel, I always have the
guitar with me. In my own show I finally had the chance to show this other side of me.
You traveled the world. Now you travel solo through the Netherlands which is smalller.
Why was this the ideal next step for you?
I feel at home here. The Netherlands has become part of me. In total I have lived here for 18 years.
The Netherlands is a part of me. They supported my career. I have two homelands: Brazil and the
Netherlands.
How do you see the future?
I hope I may continue touring through The Netherlands, Belgium and Germany with my own project, my own
compositions, and make my own CD. Now I have time. I'd like to stimulate my creative side.
Next Saturday you'll perform in the Bonbonnière in Maastricht with a varied program.
My favorite songs from Opera, Operetta, Brazilian music, Samba, Tango…. and of course a few surprise
pieces. Instrumental and passionate pieces which accompanied my career.
So it'll be
the story of your life in the theater. We look forward to that!
Carla Maffioletti, it was nice to have you here. Thank you very much.
March 20, 2017.
Interview with Carla Maffioletti
at the L1 TV program "Avondgasten" (Evening Guests), by Sander Kleikers.
Translation by Ineke/John.

Below a radio interview by L1 with Carla Maffioletti.
Translation by Ineke, assisted by John.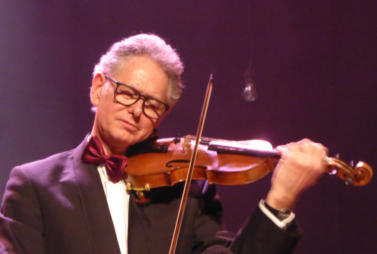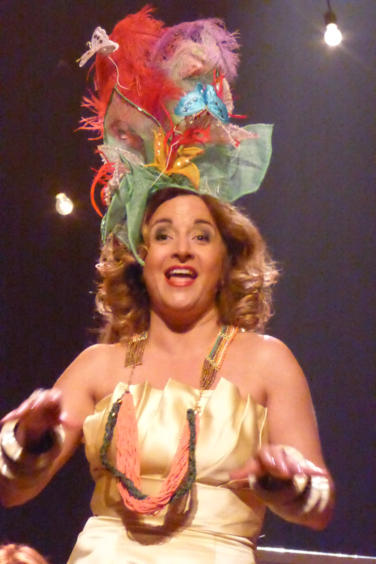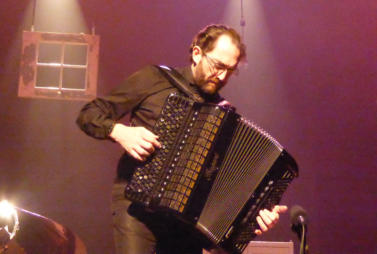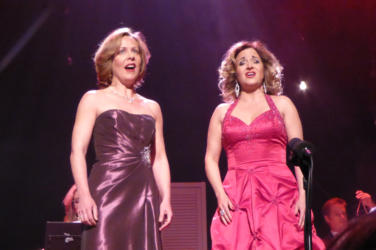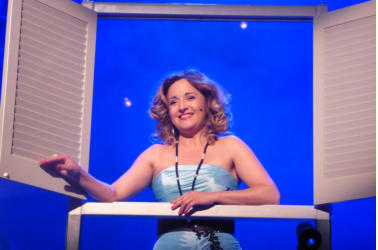 With soprano Jutta Maria Böhnert.
Carla's headdress creation was designed by
Agnes Fizzano-Walter.
Carla Maffioletti's tour "A Dream" on March 25, 2017 in theater La Bonbonnière, Maastricht.
We loved the varied program, the singing, the guitar playing, the dancing, and last but not least: the
beautiful dresses and artistic headdress creation. Below a video for the fans to enjoy!
Thanks to Nino Freitag for the Barcarolle video.
Pre-order her CD "Sentimental" on www.carlamaffioletti.com
Release preview on December 2017.
Ernest Frissen, violin, fighting with his bowtie.
In August 2017 Carla Maffioletti posted a nice surprise on Facebook: a video portrait by Isabelle Häcki
about her time with the Lucerne Opera House in 2015 / 2016, titled:
Spielzeit Nachtigall (Play of the Nightingale).
Carla speaks perfectly German in here, but English subtitles are added.
This is what Carla wrote on Facebook:
A very special memory and great video portrait by Isabelle Häcki about my life during my engagement at
the Lucerne Theater in Switzerland. In this video you can see the backstage of the musical Sweeney Todd.
In my last year, I remember working very hard, sometimes I was tired, with huge changes in my life.
I remember the challenges, but at most, the hope and the strength to follow my heart.
I can say I got everything I wished for, and have so many beautiful plans. I'm very grateful! (August 2017).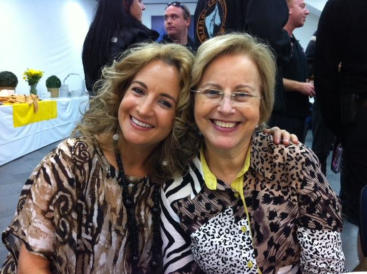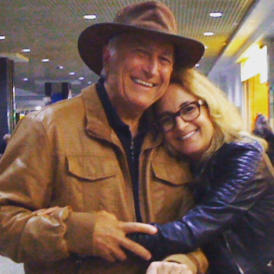 Carla with her father Carlos.