Kimmy Skota suddenly disappeared from the Johann Strauss Orchestra in 2014.
Many fans wondered what happened to her, where she was, what she was doing now. This video answers
the questions. It looks like Kimmy joined a religious group.
She obviously wanted to share this, because in November 2014 she posted this video on her Facebook
page. The song "Heaven is our home" was composed by T.B. Joshua, the Nigerian leader of the Ministry
Organization "the Synagogue Church Of All Nations" (SCOAN). The song is about an incident which
happened in September 2014 in Laos.
A religious guesthouse of this organization collapsed, killing at least 84 South African followers of the
congregation.
SCOAN runs a TV station of their own, called Emmanuel TV.
This is what we found on Wikipedia: T.B. Joshua is a Christian Minister, televangelist,
faith healer. He founded SCOAN, which is controversial both in Nigeria and abroad, claiming regular
occurrences of divine miracles. SCOAN is also controversial for the "deliverance" of those allegedly
possessed by evil spirits.
From D-Sam Igho's Blog of Sunday December 29, 2013:
Professional opera singer Kimmy Skota got delivered through the Anointing Water. This happened in the
Anointing Water Service of SCOAN (Synagoge Church of All Nations). Before she went to the Anointing
Water Service, she was having nightmares and facing challenges of tension whenever she wanted to
perform, which was bad for her career. This was almost running her career down, until she came to the
Anointing Water Service, where she was delivered by one of the evangelists. She just finished giving her
testimony in the SCOAN Sunday service in Lagos, Nigeria.
We realize that Kimmy must have gone through a hard time. As a result she chose for a totally different
life. We wish her all the best and the fans will miss her shiny appearance in the Johann Strauss
Orchestra, announced by André as his "Black Diamond".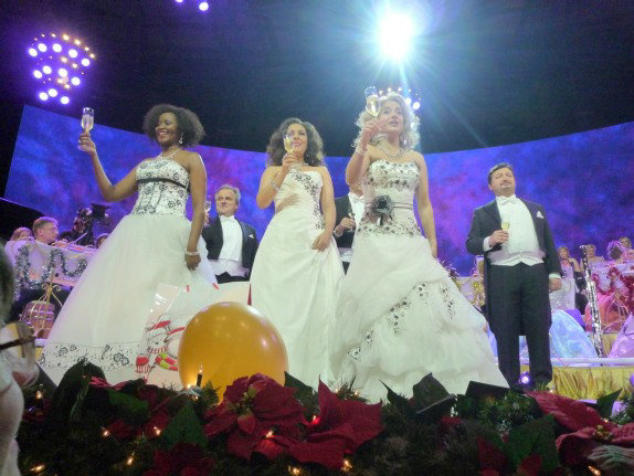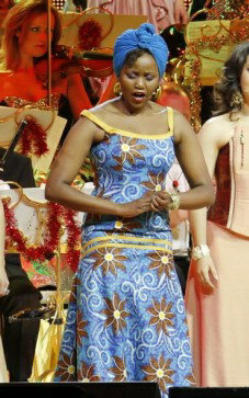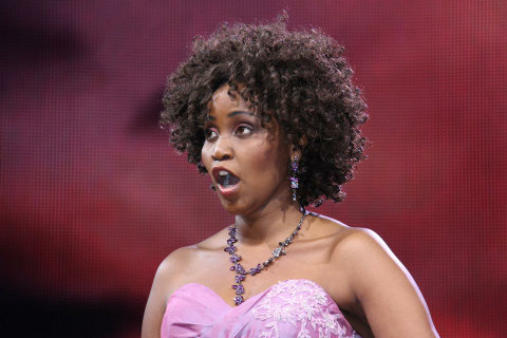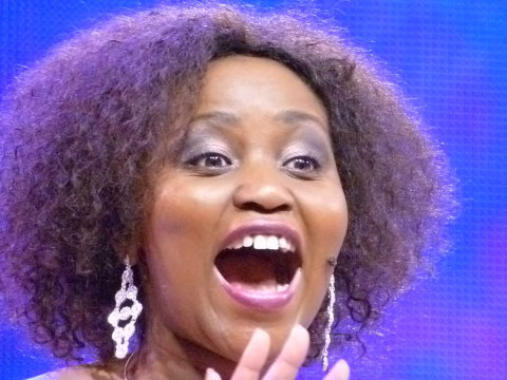 Johann Strauss Orchestra.
Photo above: FM Arena
Nottingham,
England, December 2013.
Photo by Jill Baggaley
Sixty to eighty visitors will be able to enjoy the compositions of Bellini and Lehar in the living room and the
kitchen of the farmhouse. That differs somewhat from the 15,000 people for whom Kimmy normally
performs, but she told me that she is now more nervous than ever before. Well, you're literally an arm's
length away from the audience.
Veronika Jong regularly organizes concerts at the farm where she usually provides a safe and normal home
for eight to ten foster children. Famous (Rieu) artists are regularly singing and playing at the farm. Her
foster children learn to play musical instruments like the violin while twenty ponies graze happily on the farm
where soprano Kimmy Skota will be singing on Sunday to contribute towards the renovation of the concert
barn. Earlier, the Brazilian opera star, Carla Maffioletti, who is famous for her performance of (opera) arias,
sang there and the farm has also hosted jazz combos, folk groups and comedians. It can all be attributed to
Jong's philosophy that music is an essential part of education. Her foster children are all allowed to take
music lessons (violin, piano). "For many it is their first encounter with live music. They have often never
owned a real instrument in the homes they come from. Here they learn about the beauty and importance of
music. Music literally makes you smart and by acting, you learn to present a group yourself." This is nice,
but the question remains as to how Jong manages to persuade reputable artists to perform at her farm?
The answer lies with her ​​own daughter, Alina-Lin Jong (40), being a violinist in the orchestra of André Rieu
and travelling around the world with him for many years. Add to this her son-in-law, Ruud Merx, musician,
composer, trombonist with Rieu and ambassador of the foundation
Muziek maakt slim
(Music makes
clever). They live in the same 'world' as Kimmy Skota and Carla Maffioletti. "And André Rieu has been a
patron of the organization
Op Herme
since the beginning of this year," Veronika says proudly. Formally a
refuge for old ponies, the farm is now also home to several abandoned young pigs, chickens and cats. "You
will not believe it but sometimes orphaned animals are literally thrown over the fence (usually chickens).
When you enter the bike shed, you suddenly encounter a previously abandoned pregnant pony.... People
think that Veronika knows what to do with these animals.
"The contact with Rieu himself dates from a few years back when he had to make recordings between
animals. Eventually the recordings for French TV were made at Jong's farm instead of at the famous Gaia
Park (zoo in Kerkrade, Limburg). The presence of the horses and other animals are not coincidental.
According to the farm's website "living with animals has proved to have positive therapeutic effects on most
children, especially those who have been damaged by a difficult past."
On Sunday, March 1st, 2014 a jubilee concert will be held at the farm (3 PM), because the foundation
Op
Herme
is 25 years old. Apart from soprano Kimmy Skota, there will also be musical moments with Alina-
Lin and Ruud Merx. The entrance fee is €10, but Veronika prefers to leave the size of their contributions to
the visitors themselves. "There is a (milk) churn at the door in which people can put their donations. Apart
from caring for the children and animals, we are planning to work with the municipality of Leudal (town in
Limburg), the provincial government and Monument Preservation, to renovate one of the barns so it can be
converted to a concert barn. It will be used for the children's music lessons, but also for the presentation of
concerts on a regular basis to enable more people to enjoy the performances of the top musicians who
perform here without charging for their services.
"The foundation
Op Herme
has been in existence for 25 years.Veronika Jong has a large foster family and
a refuge for retired horses. Concerts and performances are regularly held at the farm in Ell (Limburg).The
proceeds are devoted to, amongst other things, music lessons for the children and the renovation of the
concert barn.
February 2014, from the Limburg
paper. Translation by Entia.
She's been appearing with André
Rieu on huge stages from Buenos
Aires to Tokyo, but on Sunday the
famous South African soprano
Kimmy Skota will be singing at the
farm of Veronika Jong in Ell
(Limburg).
With a brilliant performance of Casta Diva
from the Opera "Norma" by Vincenzo Bellini.
December 2012.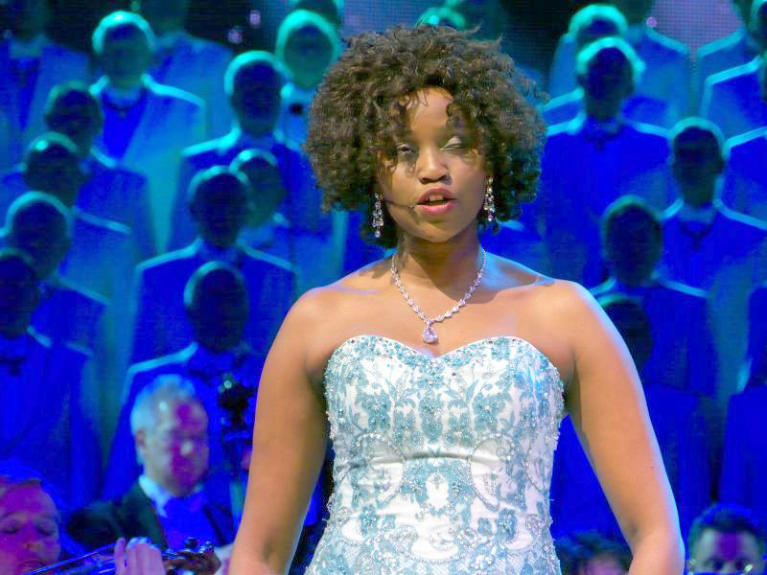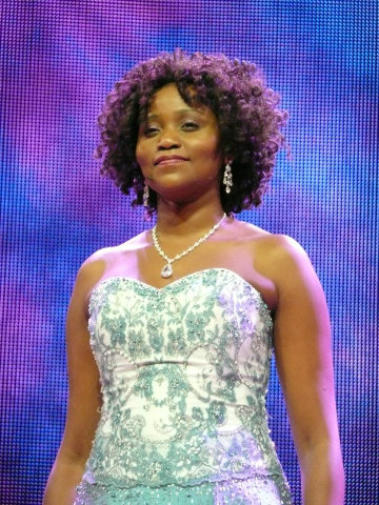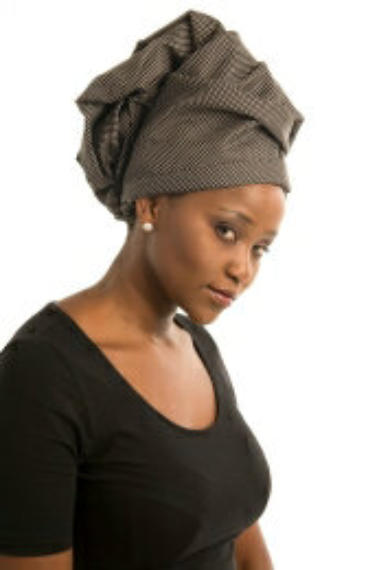 Full concentration to sing "Casta Diva"
Photo by Nino Freitag, New Year's concert
Cologne, January 1st 2013.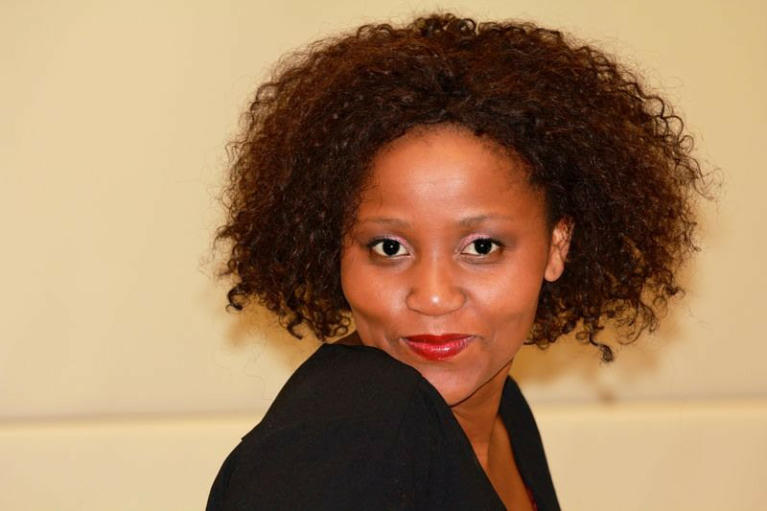 Kimmy performs in Leende.
On Saturday November 24th and Sunday November
25th 2012, a musical event will take place in the
Limburg town of Leende, titled:
Music Unlimited.
Kimmy Skota will perform there. Other JSO
members joining this event are: Bram Sniekers and
Roger Diederen.
Tickets will be for sale from the beginning of
November: € 12,50 at the Tourist Office of Leende,
or € 15,– at the box office.
June 27, 2015.
Kimmy Skota on EMMANUEL TV: "You raise me up".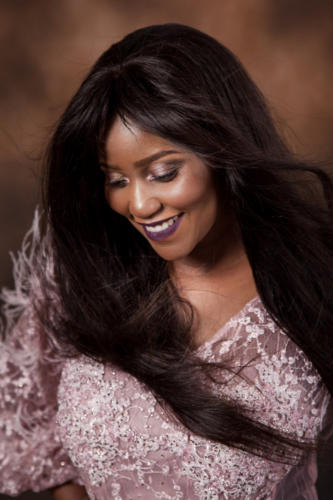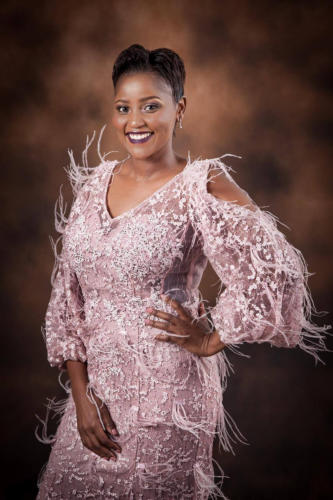 On June 18, 2019, Kimmy Skota posted new photos on Facebook and a new start in her life.
The fans had never forgotten her. They gave her a warm welcome back.
August 31, 2019 on Facebook:
The Songs of Praise 2019 at the Herformede Kerk (Church) in Nelspruit (South Africa) was a huge
success. I enjoyed sharing music with the fantastic Lowveld Orchestra under the baton of Maestra Anneke
Coetzee and I was also moved by lovely melodies demonstrated by Laudate and UJ Choirs. This was a
reminder of how my career started. Thanks Maestro Richard Cock for leading the event. Bravi tutti!!!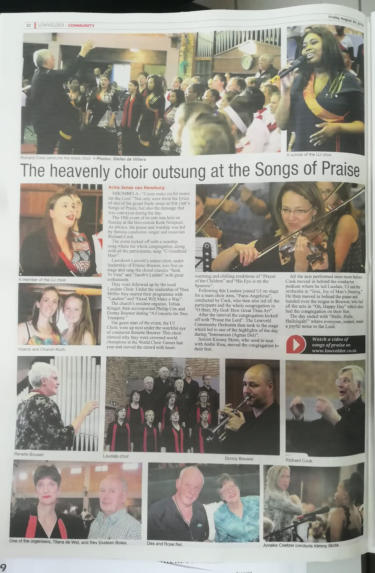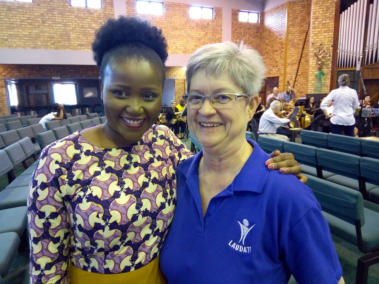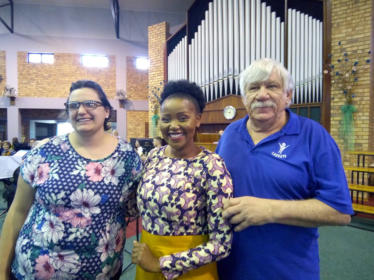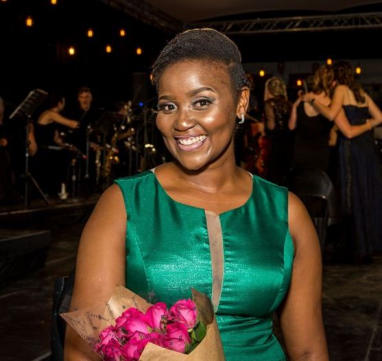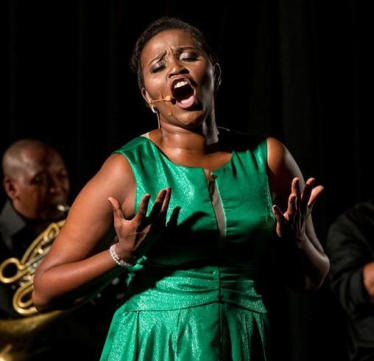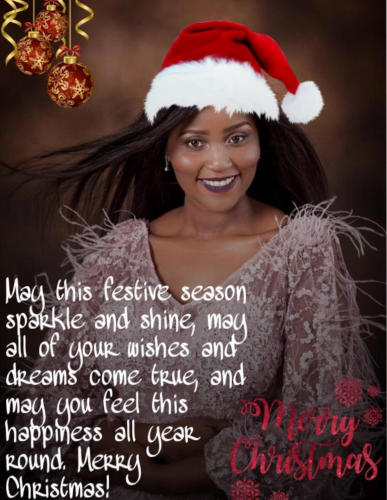 January 2020.
Kimmy Skota performed at Casterbridge Lifestyle Center in Witrivier (White River), South Africa.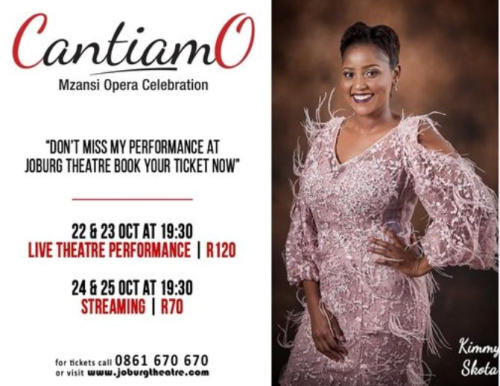 October 2020.
Kimmy Skota
performed at the
Joburg Theater,
Johannesburg,
South Africa,
October 2020.