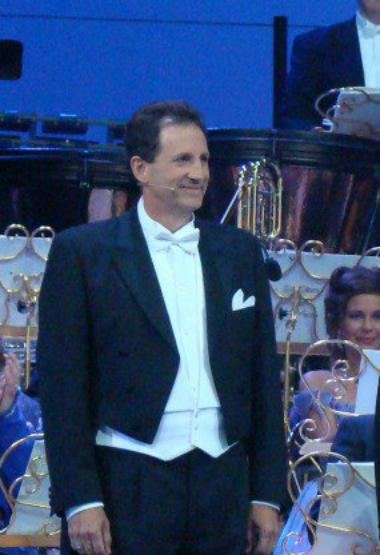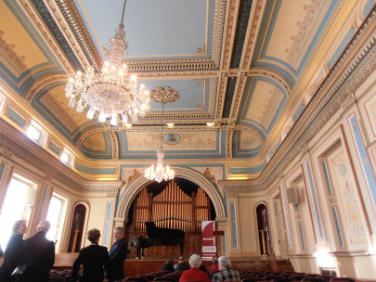 Solo concert by Gary Bennett.
On Sunday February 23rd 2014,
Gary Bennett will be the soloist in an orchestral
concert in the Düsseldorf Tonhalle in Düsseldorf
(Germany) at 11 AM.
Gary will be singing mainly Neapolitan songs
including:
"Torna a Surriento" and "O Sole Mio".
The orchestra is the Rumanian State Philharmonic
Orchestra and Franz Lamprecht is the conductor.
Lana Campbell, who lives in Hobart, Tasmania, attended Gary's concert and she sent us
her report and photos! Thank you Lana!
Gary Bennett (tenor) accompanied by Michael Allen (pianist) delivered an amazing performance on Sunday
22 July 2012 in the Hobart Town Hall (Tasmania, Australia).
It was absolutely wonderful. His voice filled the entire Hall and reverberated off the walls!!! The venue was
built in the 19th century with elaborately-decorated high ceilings and magnificent crystal chandeliers which
set the ambiance for an elegant concert.
It was very intimate with some 200 people attending and a wine bar available during the interval. The
audience included many of Gary's family members and people who had contributed to his career. Gary wore
the same outfit as appears on the cover of his CD and he looked extremely smart. It was at this time that I
briefly met with two Harmony Parlor fans from Melbourne and their husbands (I think their names were
Helen Gray and Val Thompson). We caught up again after the performance when Gary and Michael were
signing CDs and souvenir programs. On leaving the Town Hall, one of the gentlemen very kindly hailed a
taxi cab for me and I was whisked away without saying a proper goodbye, but I thoroughly enjoyed
everything about the afternoon. To maintain an element of surprise the list of songs was not printed in the
program. This was supposed to be available on-line today but I cannot find it. Just as well I scribbled the
titles down during the concert. This is what I managed to produce: Das Wandern (Schubert's Die Schöne
Müllerin) : Every Valley Shall be Exalted (Händel's Messiah) : The Holy City : Linden Tree" (Schubert's Die
Winterreise) : Flower Song (Bizet's Carmen) : Hidden Harmony (Puccini's Tosca) : You Are My Heart's
Delight (Franz Lehar's Valley of Smiles) : Piano Solo/Michael Allen "Matelot" (Noel Coward) : Take a Pair of
Sparkling Eyes (Gilbert & Sullivan's Gondoliers) : Torna a Surriento/Thankless Heart/O Sole Mio (Southern
Italian) : The Rose of Tralee/A Little Bit of Heaven (Irish) : Granada and encores La Donna e Mobile and
Danny Boy.
Two hours of sheer bliss and commentary providing a great insight into Gary's background and the hard
work he has put into his rise to fame.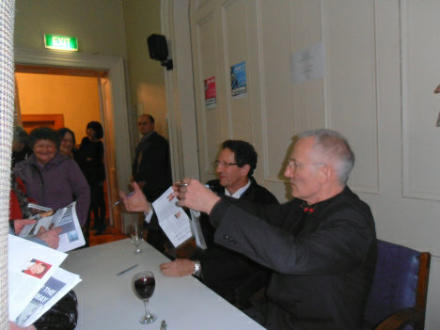 Solo concert Gary Bennett on
Sunday July 22nd 2012, in Hobart,
Australia (Tasmania).
Together with his pianist Michael Allan,
Gary will be performing a solo concert in
the Town Hall of Hobart, Tasmania at 2.30
pm on Sunday July 22nd 2012. He will sing
a mixed program including Irish songs,
English- and German Operetta arias,
Neapolitan songs and Opera arias. For all
those who are interested in attending this
concert, keep watching his web site
www.gary-bennett.de for more details as to
where tickets can be booked. Please
spread the word! All fans will be more than
welcome.
The Examiner News, December 1st 2018, by Frances Vinall.
Launceston tenor's life on the road with André Rieu.
Launceston's Gary Bennett has an enviable lifestyle.
He travels around the world, from Buenos Aires to Sydney to China. He is frequently applauded by
overwhelmed audience members numbering in their tens of thousands, standing on their feet clapping and
cheering. He has a day-to-day relationship with one of the most beloved musical figures in the world.
Bennett's voice is what scored him this gig. He's a tenor who travels with classical music star André Rieu,
and has been on the road with the Dutch violinist and conductor for fourteen years.
"It's a huge buzz, that's all I can say," he said. "It's very exciting to walk out on stage in front of that many
people. There are a lot worse ways to earn your money.
At least once every year, André Rieu's orchestra, the Johann Strauss Orchestra, performs an open-air
concert in front of 12,000 people. Bennett can recall playing for 25,000 people in Toronto, and 35,000 in
Melbourne. But he said, in all of his more than 200 concerts with Rieu, the thrill has never worn off.
"It's amazing, the number of people in the stadiums," he said. "It doesn't matter how often you've done it.
If you can walk out on stage in front of thousands of people and not feel a little bit nervous, I don't think you
should be in the job. I've always said with work experiences like that, who needs drugs?"
He said he couldn't pick the most surreal moment in his storied career. However, there is one memory that
immediately jumps to mind.
"I didn't think we'd ever go to Romania," he said. "But we went there a few years ago and did some amazing
open-air concerts in front of the second biggest building in the world, built by a mad dictator. That was pretty
spectacular. You can never rule out anything with André."
Despite doing this job for more than a decade, it's not one he actually applied for.
Bennett started off as a freelance opera singer, who eventually joined a tenor group. Their CD was sent off
to André Rieu in secret by their musical director – the first Bennett heard of it was when Rieu got in contact
to offer him a position with the orchestra.
It was a serendipitous moment that changed his life – and helped him be able to change the lives of other
people, if only for one night.
"So many people have said that they've been sick and heard the music and it has helped them get well
again... and I'm very happy to hear it. We go on stage to make all these people happy and healthy, and what
more can you ask?"​
He also said he loves coming home, so if there are any promoters out there who want to organise a
Tasmanian concert: get in touch.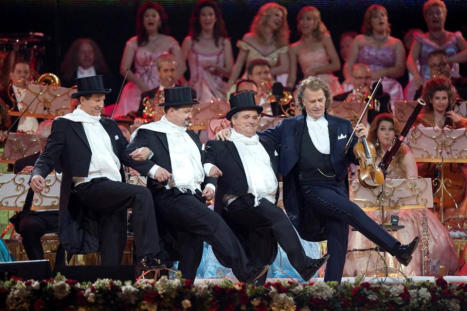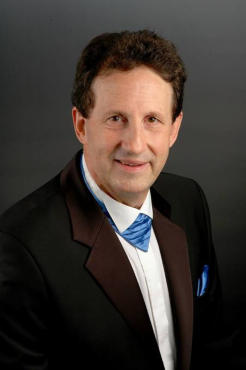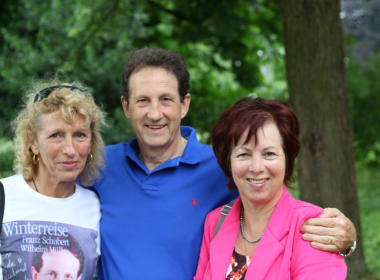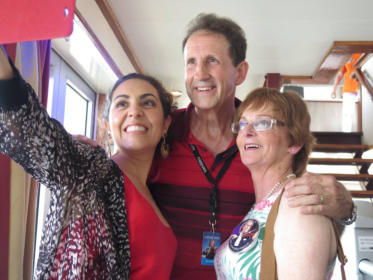 Gary likes to meet the fans and every year in July, when André performs on the Vrijthof in Maastricht,
he is present at the fan picnic in the City Park or at the fan dinner on the Stiphout Maas cruiser, to say hello
to the fans and have pictures taken with them. Gary speaks English and German.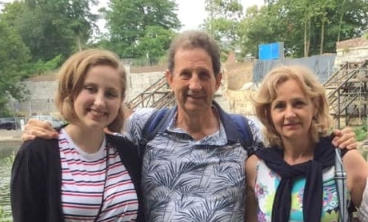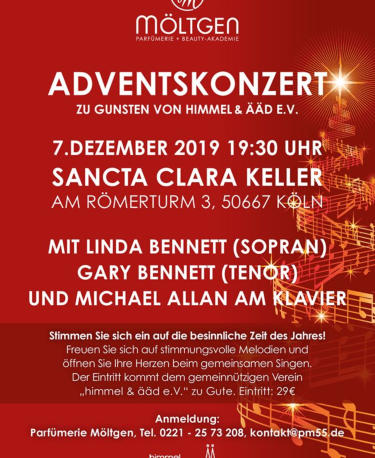 Advents concert on Saturday December 7th 2019,
at 7.30 PM in Cologne, Germany.
Linda Bennett, soprano.
Gary Bennett, tenor.
For the first time Gary will perform together with his
daughter Linda. Photo above: Linda, Gary and
Ulrike Bennett at the fan picnic in Maastricht 2019.
Ulrike is a vocal pedagogue. The family lives in
Cologne, Germany.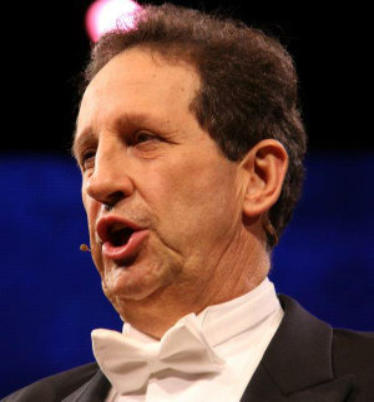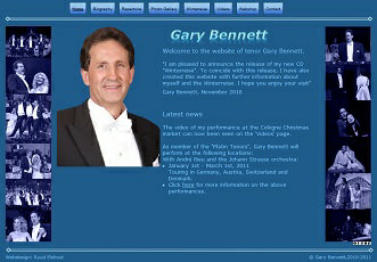 In 2010 Gary Bennett released his first CD
"Winterreise" from Franz Schubert.
This CD was recorded during the sick leave of
André.
Click on the picture below to get more information
about Gary, his CD and the possibility to order this
CD.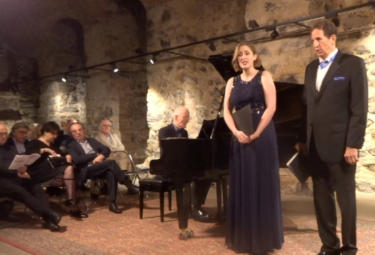 On December 7th 2019, father and daughter Bennett performed an Advents concert in a historic Roman
cellar in their hometown of Cologne, Germany. It was a great concert in an atmospheric ambience.
Linda Bennett, soprano. Gary Bennett, tenor. Michael Allan, piano. The video below is an impression of this
live concert. Published with the kind permission of Gary Bennett and Michel Allen.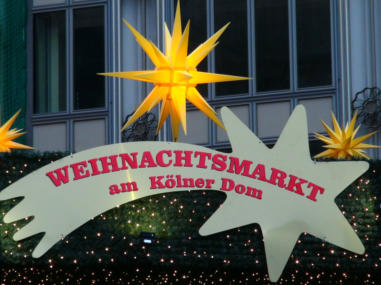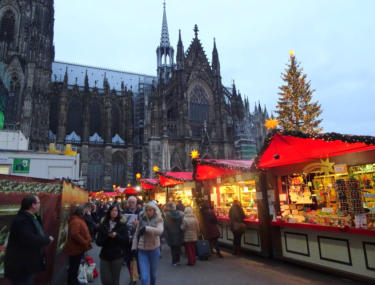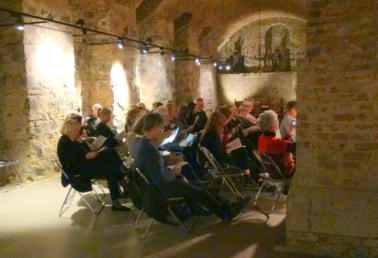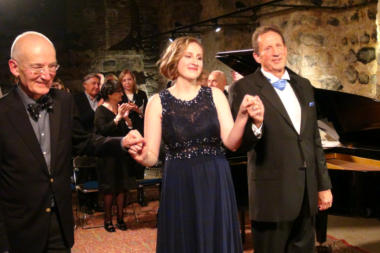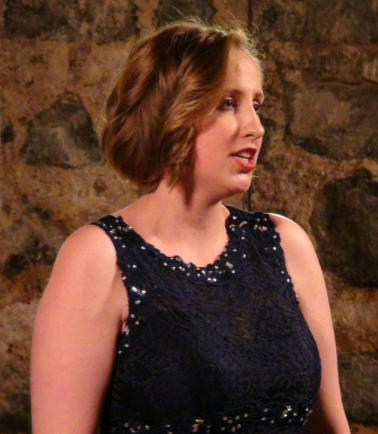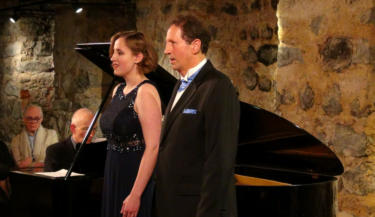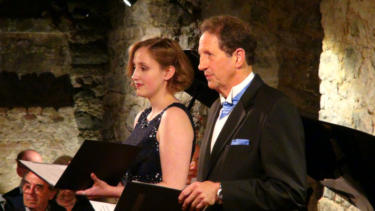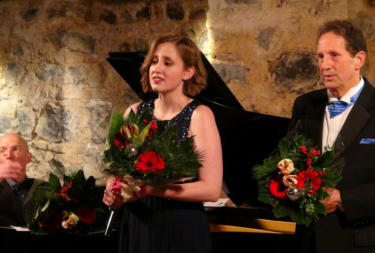 In March 2020 André Rieu and the Johann Strauss Orchestra had to return home from their American tour,
because of the world wide outbreak of COVID-19. They had only performed one concert in Tampa, Florida.
All big events world wide were canceled, also the Maastricht July concerts. In July 2020 the borders
between the Netherlands, Belgium and Germany opened up again. We were allowed to be in the open air
with a few people without face masks.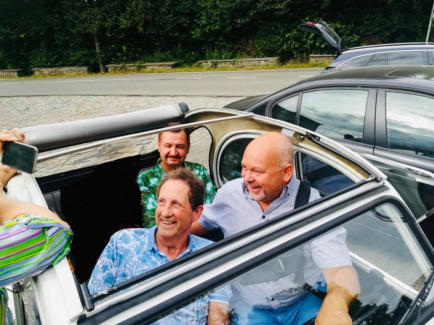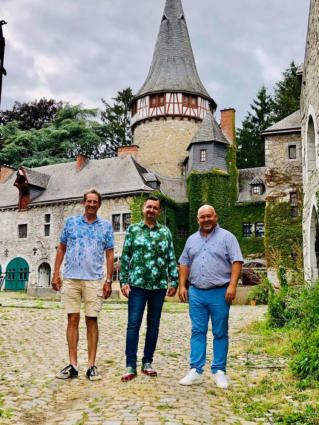 July 2020.
The three tenors with their wives, met in private in Serge's
hometown Kelmis, in Belgium.
Gary and Béla live in Cologne, Germany.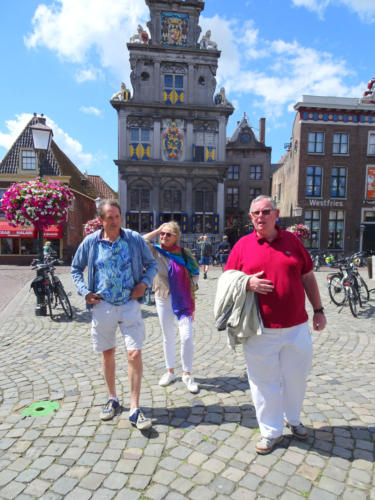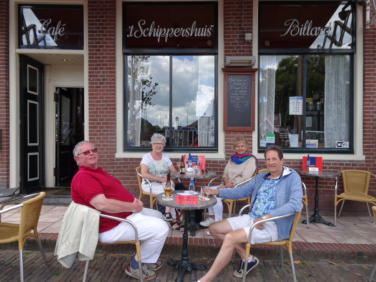 July 2020.
When we received the message that Gary and his
wife spent a few days holiday in the Netherlands,
we arranged a get together in the historic town of
Hoorn, with lunch in the original "Red Rose Café"
('t Schippershuis), well known from the famous
song, composed by the Dutch "Father Abraham".
April 2021.
Recently Gary posted a YouTube video: a live performance of his 1985 debut at the Australian Opera.
His reaction: I did not know that it existed!! So enjoy a young Gary Bennett before he joined André!!
The excellent Australian tenor, Gary Bennett, was born in Tasmania, and studied physics and mathematics
at the University of Tasmania before moving to London to further his singing studies. During this time he
won a scholarship to the National Opera Studio and then moved to Germany to join the Cologne Opera
Studio. His operatic career took saw him singing Principal roles in the USA, Canada, Columbia, the UK,
Israel, Austria, Italy and in West Germany - where he was also resident in Cologne, Düsseldorf, Bremen,
Hannover, Heidelberg, Lübeck , Saarbrücken, Nurenberg, Wiesbaden, and Wuppertal Opera, houses.
For Opera Australia, he performed a number of roles including: Almaviva, Nadir, Ramiro, Belmonte and
Ernesto. We hear him as Ernesto in the opening of Act Two of Donizetti's DON PASQUALE in performance
at the Sydney Opera House on October 12th 1985. The orchestra is conducted by David Kram.
In 2005 he was engaged by André Rieu and has been touring the world with him since then as one of the
three Platin Tenors.
Gary Bennett - "Cercherò lontana terra" DON PASQUALE (Donizetti) 1985
Die Winterreise.
24 September 2021,
Gary Bennett on Facebook:
I had my first public concert
after the lock down.
I sang Schubert's wonderful
song cycle "Die Winterreise".
Here the last song.