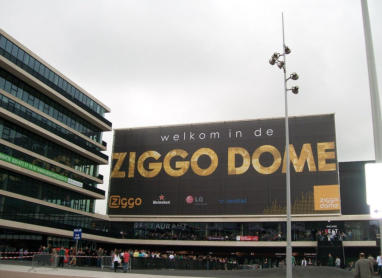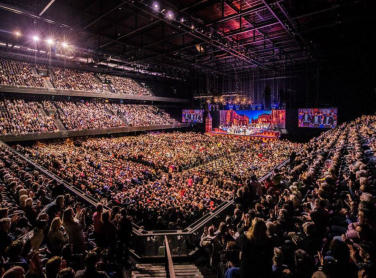 The Ziggo Dome in Amsterdam is a big concert hall with a capacity for 17.000 people. It is situated in the
Amsterdam South-East area (exit train station: "Amsterdam-Bijlmer-Arena"), far from the historic city center
(For the historic city center you need to take the train to "Amsterdam Central Station) and located next to a
big soccer stadium, named after Dutch soccer legend: the Johan Cruyff ArenA, which is the home base of
the Amsterdam soccer team: Ajax.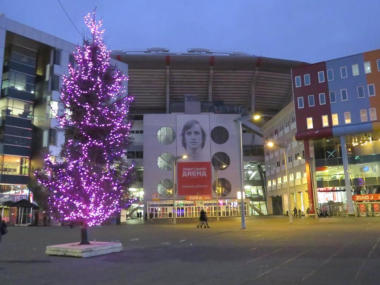 André Rieu and his Johann Strauss Orchestra performed their traditional New Year's concerts in the Ziggo
Dome on January 5, 2019 and perform in Antwerp (Belgium) on January 7, 2019. The fans stayed in
several different hotels, all within walking distance of the concert hall and for the second year we organized
a fan dinner at the Courtyard by Marriott Hotel in their Scandinavian Restaurant "GARD" room. We had 12
fans attend from 4 different nationalities, and 6 of the 12 fans came from Scandinavia (Denmark and
Sweden), is n't that funny?? The others were from England and the Netherlands. It has also become a
tradition to have a fans dinner prior to the concert and an after party somewhere around the vicinity, in a
(hotel) bar. Eating, drinking, chatting with fan friends belongs to the André music! Amigos para siempre!
(friends forever).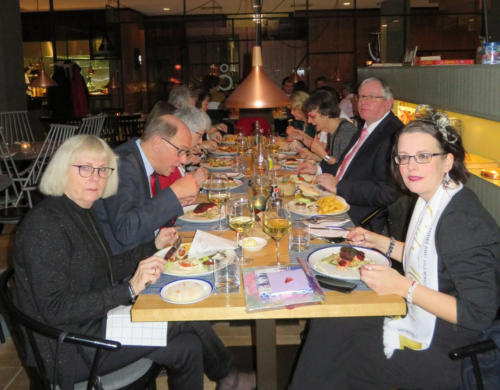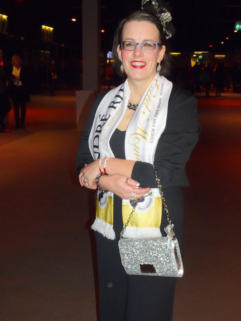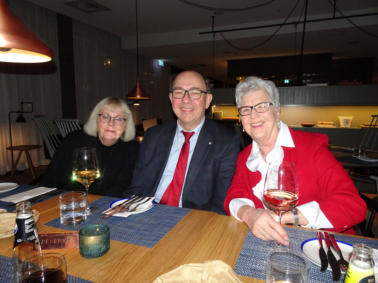 Ulrica Jönsson from Sweden.
Elegant as always.
Today was her birthday!
The Danish couple Kirsten and Torben Esbensen
celebrated their 100th concert today. They have
attended every concert in Maastricht from the very
beginning in 2005, and that is exactly how long we
have know them.
(Photo to the right: with Ineke).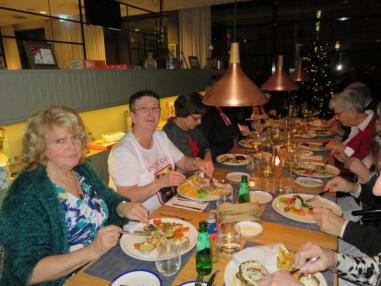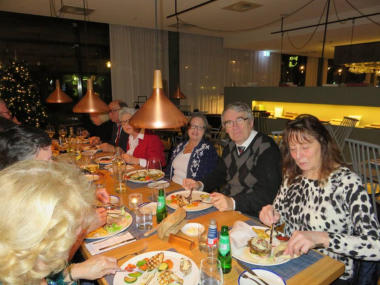 Hard core fans Jill Bagaley, Sally Hodges (UK) and
Kerstin Lundberg from Sweden.
Photo to the right: Margaret Crisp (UK), and new
fans: Gunilla Burlin and her friend (Sweden).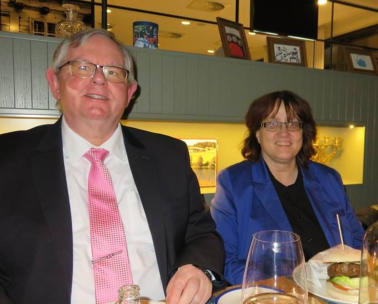 Photo to the left: Ruud and Jeanette Heijkoop (from
the Netherlands).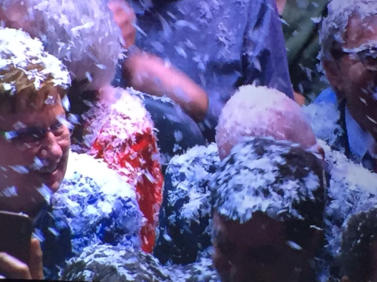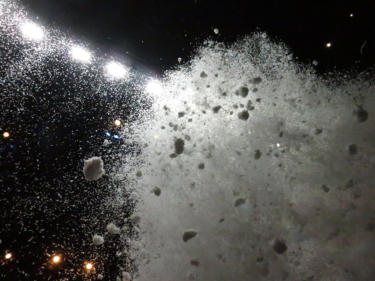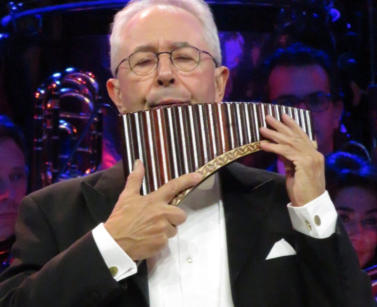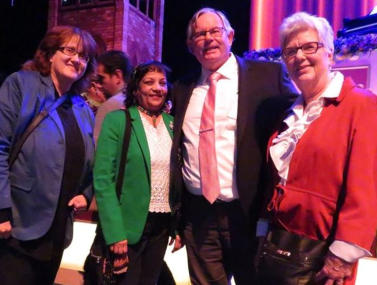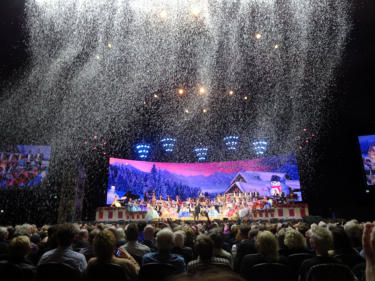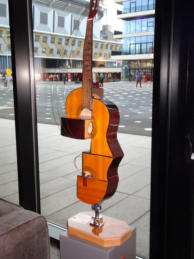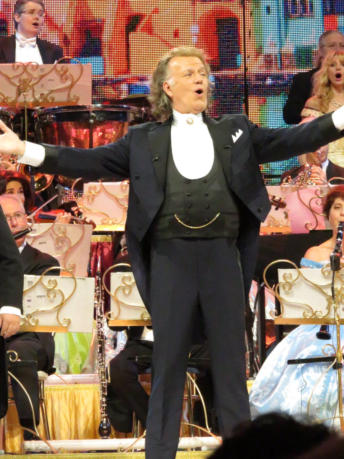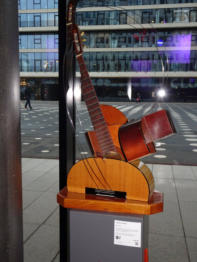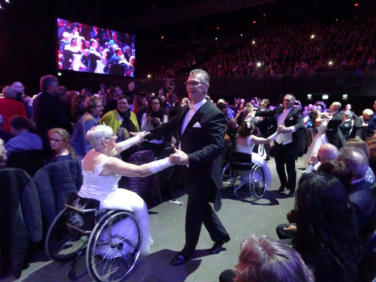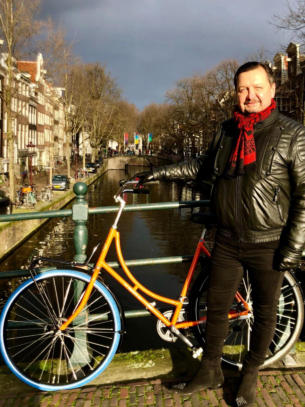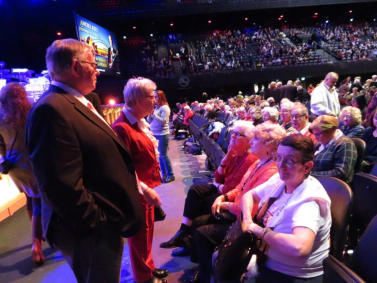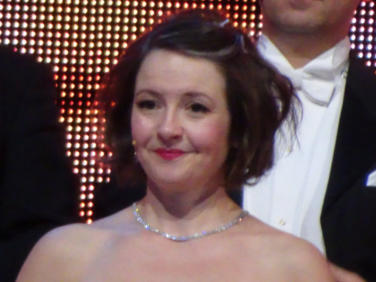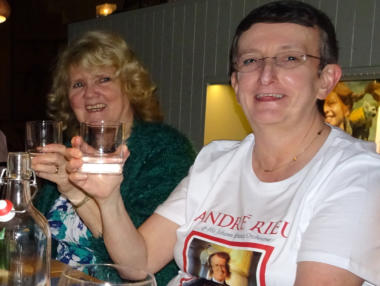 Some fans traveled on,
from Amsterdam to Antwerp.
The tracklist: Seventy six trombones - Blaze away - Volare - Tiritomba - the Holy City (was not played: the
tenors sang Nessun Dorma instead) - Concerto d'Aranjuez - Circus Renz (Frank/Marcel) - Snow waltz - the
White Horse Inn.
Intermission.
The lonely Shepard (Teun) - You raise me up (Anna) - Olé Guapa (was not played) - the sopranos sang
Halleluja instead - the dancers came in with Lara's Theme - Poliushko Polie - Kalinka (St. PetersburgTrio) -
Caro Nome (Donij) - the Blue Danube - Ode to Joy.
Snow in the hall: always hilarious!
We spotted a new face in the choir: Belinda Evans.
Above: André singing Volare…Wohohoho……
To the right: wheelchair waltzing.
Teun Ramaekers and André Rieu, friends for
over 50 years, going all the way back to the
conservatory.
Meeting more friends during the intermission! Bebe Maggiori, John and Judith Fifield, Jean Nixon, Edna
Welton (UK). We noticed that the entire Rieu family was present, including grandchildren, to celebrate the
first concert in the New Year. We love the Rieu family and for us it is natural not to disturb their private
family gathering.
André Rieu Travel posted a video of the waltzing couples, recorded from high above.
What a wonderful view!!
To finish this page we like to show you some pieces of art
from the JAZ Hotel, and a photo posted on Facebook by
Bela Mavrak during his Amsterdam walk.
Photo credits: Sally, Jeanette, Kerstin, Ulrica, Bela, Ruud,
Ineke.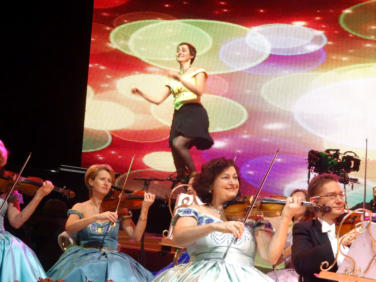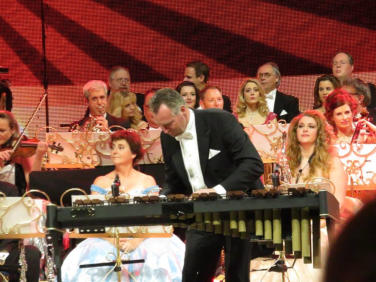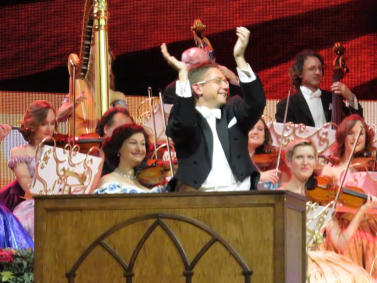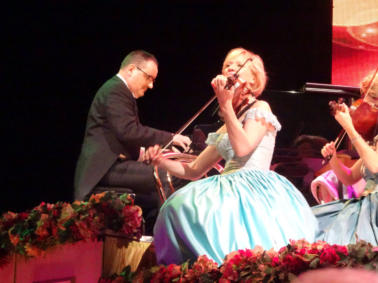 Two Dutch TV programs paid attention to the Amsterdam New Year's concert, including interviews with
André. Of course it is Dutch spoken and we'll work on a translation in English. We need time to have that
done. So in a few days the English subtitles will appear. Translation by Ineke/John.
First video: SBS Shownieuws with Koos van Plateringen.
Second video: RTL Boulevard with Ronald Molendijk, DJ and music producer.
Dear Ronald Molendijk, keep your promise…… call Bruce!!