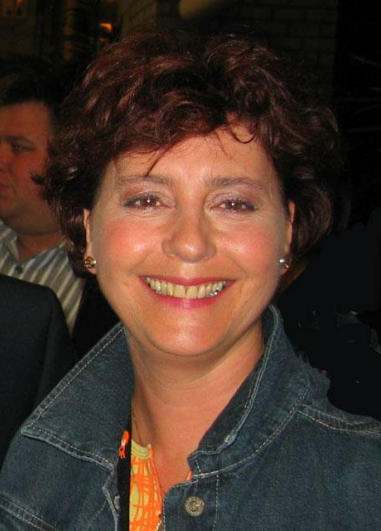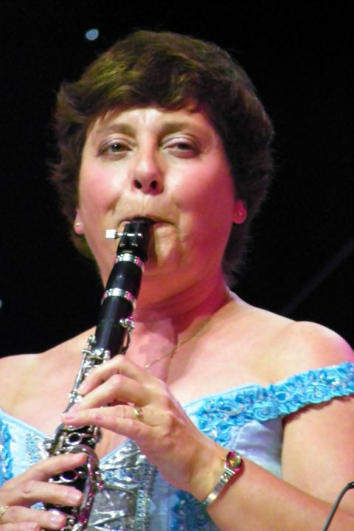 On Sunday November 9th 2014 Manoe Konings was the guest of the L1 Radio program: Classical Guests.
Interviewer: Emil Szarkowics. Language: Dutch.
Manoe Konings, clarinet player with the Johann Strauss Orchestra.
Click on the link below to listen to the interview and Manoe's music selection:
1. Second suite of Daphnis and Cloe, by Maurice Ravel (most difficult piece to play by
S-clarinet)
2. Autumn symphony, part 3, by Johannes Brahms.
3. Adagio, clarinet concert by Mozart (Johann Strauss Orchestra)
4. Tenderly, by Ella Fitzgerald and Louis Armstrong. On the piano: Oscar Peterson.
(Manoe's other (jazzy) side).
5. Four trombones.
Since this interview is in Dutch, we'll post an excerpt of the highlights here.
Translated by Ineke, edited by John.
Manoe was born on March 10th 1961 in Maastricht, in a musical family. She was an only child. Both her
parents are still alive. She inherited her musical talents from her mother's and grandfather's side. Her
grandfather was on the board of governors of the brass band "Heer Vooruit", and Manoe's father succeeded
him there. Manoe and her father have been members with this band for over 40 years. When Manoe was 6
years old she received an S-Clarinet (a smaller type than the usual clarinets, since she said she was small
then, and still is). All throughout her musical education, she received music lessons from well-known
musicians. At the age of 9, she was the first female to join the brass band. At that time only boys and men
participated and were members playing wind instruments in a brass band.
She also enjoined sports such as: judo and handball. As a child she did not know which career to choose: a
sport career or a music career. It turned out to be music. She was also interested in jazz music and studied
guitar and vocals. She also taught as a music teacher for a few years at a middle school.
As a conservatory student she joined several projects and one of them was in a project with the LSO
(Limburg Symphony Orchestra) where she traveled to Berlin as a soloist, with a piece of Leonard Bernstein.
According to Manoe, she is a musician through and through.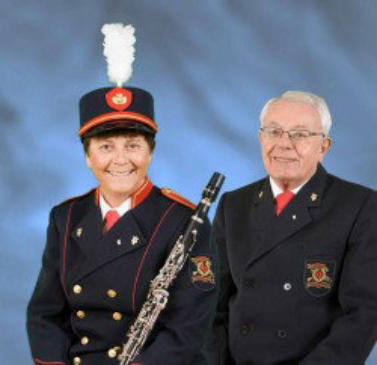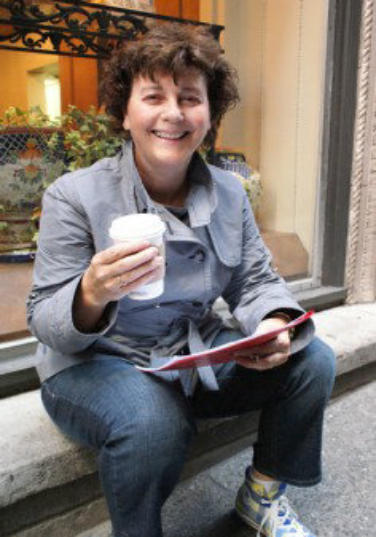 Above: Manoe and her father in 2011:
40 years members of the Limburg
brass band "Heer Vooruit".
Living in Maastricht, she was familiar with the Rieu family, since André senior was a renowned conductor.
She met André junior in person while performing with the LSO, where he played the violin. He had just
started to form his Johann Strauss Orchestra and when asked to join them; she did not hesitate for a
moment. André also discovered her organizational talents, so she worked in his office in the music
department, until 2001. During that time the JSO went on tour for the first time. Manoe stepped in for the
second tour. In the beginning they performed 50 concerts per year, which is a lot more today.
Manoe's other permanent task within the orchestra is the check-in list. She ensured that everyone is on the
bus or airplane, making sure no one is left behind, like for instance in Brazil.... She has performed this duty
for 25 years. She calls André "the boss" in a charming way. He is not a very severe conductor but he sure is
the leader and is part of the orchestra.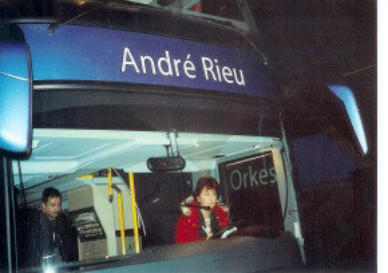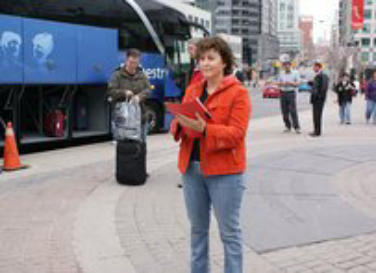 What is André Rieu's secret?
His charm, his special charisma, and his different views on classical music.
What is the power of the Johann Strauss Orchestra?
The pleasure we have in playing music. People may sway, sing and hum along.
What do you think of the never leaving so-called real critics?
In the beginning we thought them to be annoying, but not anymore. We are very successful and we tour the
world. They don't.
How do you see the future?
André is convinced in becoming 120 and I have strong genes too. My parents are still alive and my
grandmother turned 101 and is still alive. But I cannot go on playing the clarinet, when my dentures are
chattering and too loose. Then I'll go back to studying and playing the guitar again. In my spare time I
perform with the guitar/mandolin ensemble "the Strings", and I still play with the brass band "Heer Vooruit"
every now and then. I also would like to be in the management, or doing drama.
What is on the calendar the coming months?
In the month of November we'll play close to home: Antwerp, Amsterdam, Rotterdam, and Brussels. Nice to
be sleeping in my own bed.
In December we'll play our Christmas tour in the UK.
Finally, the Culture tip to read a book....
I'll recommend the books by Khaled Hosseini. Very interesting to read about all the different cultures. I read
many books on tour and devour them.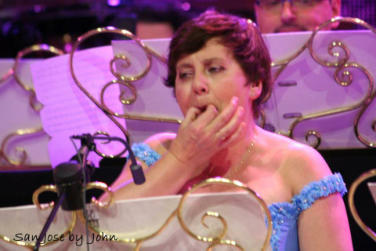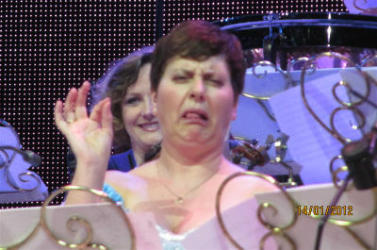 This is what André wrote about Manoe on his website under "André and JSO".
Manoe is something else! Seeing her in her black leather outfit racing through the streets of Maastricht on
her motorbike, it's hard to believe she's the same girl who looks like a fairytale princess in the evenings in
her fabulous concert dress.
Manoe is a real clown on stage. She plays the clarinet, saxophone, bagpipes, guitar, she sings, she
dances... and if I suggested she should do all of those things at once while standing on her head, I have no
doubt she would manage to do that too! We have Manoe to thank every evening when we're all present and
accounted for when on stage, because she is the one who checks every time we get on a bus or plane to
make sure everyone is there, so that no one is left behind and has to race after the bus to our next
destination.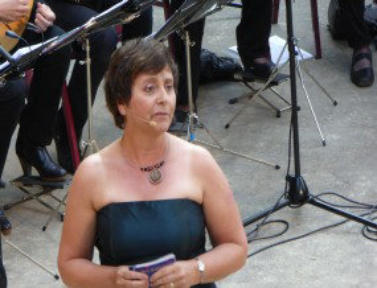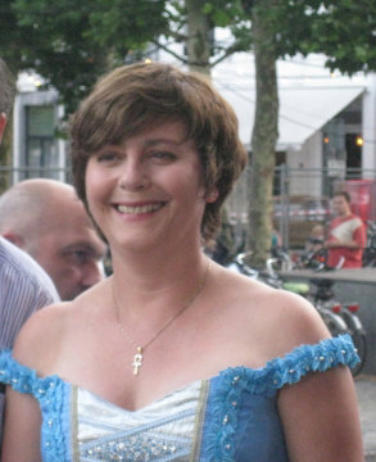 To see Manoe's drama- and presentation talent,
click on HERE.
Manoe presented the Blue Bird Serenata open air
concert by Carla Maffioletti, in Valkenburg, the
Netherlands.
June 2017.
Pierre Rieu interviews Manoe Konings
about all the fun in the Johann Strauss Orchestra. This year The Johann Strauss Orchestra celebrates its
30th birthday (1987-2017). Celebrate this special anniversary with André and the JSO to watch the live
streaming of the Maastricht 2017 concert in the cinemas.
Only two days! On 22 and 23 July in European cinemas and on 29 and 30 July in Australian cinemas.
Tickets are on sale now on line http://nl.andreincinemas.com or at your local cinema.
Limburg Magazine: March 17, 2018: Wake up with Manoe Konings. By Marlous Flier.
Photo: Michell Giebels:
Manoe Konings also has her own place at home to work out.
Translation: Ineke/John.
She is only ten Saturdays a year at home, in Maastricht. All the other Saturdays, Manoe Konings tours the
world with André Rieu.
You have to look carefully to see who is on that cross trainer. Logical, because we always see Manoe
Konings (56) in a light blue Sissi dress and with a clarinet in her hands. You know, she is the one who
knocks back a glass of champagne in every André Rieu show.
"I have already gone through about 1500 glasses. Fortunately nowadays I am given a decent Moët &
Chandon, but in the past it wasn't always as good."
That we happen to find her at home today is unique, because she is rarely home on Saturdays. Mostly she
spends the weekend in hotels, with her colleagues. Her mornings run according to a fixed pattern:
first breakfast and then with her walking group hup, hup, walking shoes on and on their way. After one hour
the counter shows six kilometers (3.12 miles). A wonderful activity, but also bitterly necessary.
"The rest of the day we primarily spend seated, and around noon we climb on the bus to the venue. Then
we do the sound check, eat, conduct a concert, have an after-snack and go back to the hotel."
The morning exercises can also consist in the form of a yoga class, conducted by a colleague, or a round of
fitness. "The facilities in Germany are limited: with one cross trainer, one treadmill and one bicycle, that
does not work when we, ten members of the orchestra, enter and all those devices crack and squeak.
No, I prefer America, in hotels there it is perfectly arranged with complete studios".
At home Manoe has her own exercise place. With a series on Netflix in front of her nose, the relaxation
comes naturally. That is the most important on her days off. Playing a bit of guitar, learning a bit of Spanish,
having a quiet breakfast, meeting girlfriends, but also deliberately being a little bit by yourself. Because that
is rarely the case for a member of the Rieu family.
April 2020.
What is Manoe doing during the self-isolation of the Corona crisis?
Doing Puzzles and Chores.
"I have no work outside the orchestra, I am at home and I keep to the virus guidelines as much as
possible. Getting through the day is no problem. There are plenty of chores in and around the house that
otherwise remain undone. And of course there are activities which I normally hardly have time for: doing
jigsaw puzzles, learning Spanish, reading books which are too heavy to take on tour. And of course
rehearsing, because making music is top sport. I also hope that we all consider things which we normally
take for granted. That we are going to put things into perspective."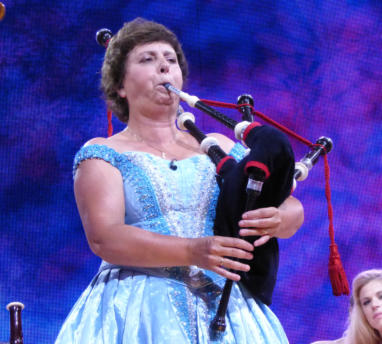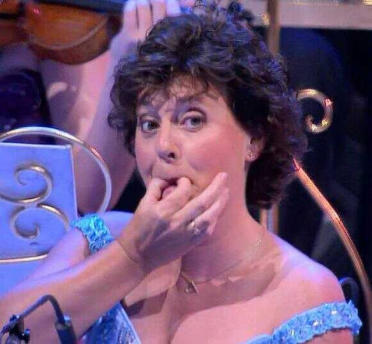 December 2020.
Interview with Manoe Konings in the Limburg Newspaper,
by Rob Cobben.
Click HERE to go to the Harmony Parlor blogspot.