In March 2020 a dangerous Influenza virus spread across the world and the people of many countries in
Europe and as well on the other continents, had been advised to go into self-isolation. A very weird
situation which has never happened before. André Rieu, his Johann Strauss Orchestra and crew (110
persons) were in Florida at the time. They had to return home after their first concert (out of 8) of the USA
tour. People have to keep their distance, are not allowed to attend events and have to stay at home as
much as possible to stop the degree of contamination. To cheer us up many initiatives originated to
encourage the fans by playing music via Radio, TV, Facebook, Twitter, Instagram. André treated us to
more free DVD concerts, and YouTube videos. Soloists and JSO members posted nice videos. We
collected a few, which we really do appreciate very much. Thanks guys, for making our empty time more
enjoyable. Music has healing powers!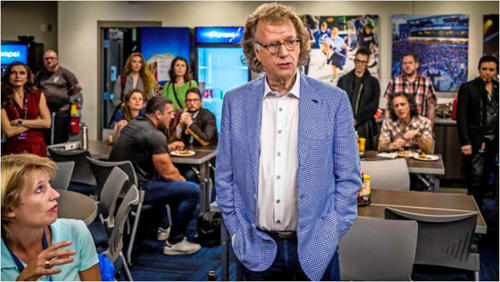 A sad André had to tell his group to go home.
The video below is taken from Ivo Niehe's TV show, March 22.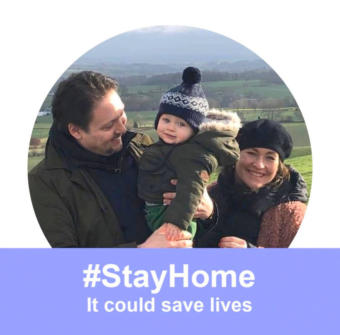 Facebook Profile photo of Laura Engel,
husband Pascal Mestrom and son Matéo.
Mrs. Annemarie Penn-te Strake, Mayor of Maastricht, initiated a Musical Challenge. On March 22,
at 6 PM, all musicians should play the "Ode to Joy" piece (All men shall be brothers) at home with open
windows or outside in front of their houses. This musical piece is considered becoming the European
anthem. Ruud put together a nice compilation, taken from Facebook and Instagram. The Dutch royal family
is applauding the healthcare workers (and…. the musicians!!). Due to this COVID-19 virus the King's
birthday celebration in Maastricht on April 27th 2020 will be postponed to 2021.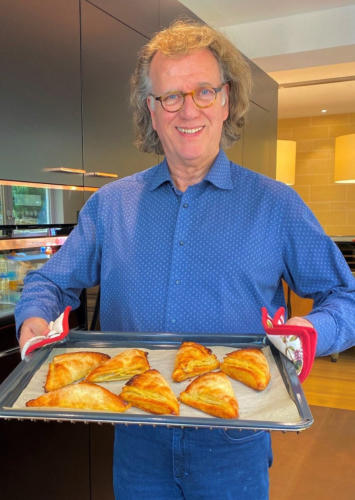 While André's staff is rescheduling the missed
concerts, André is spreading positivity by baking
apple turnovers and "Bossche Bollen" for his family
at home in Maastricht. (Currently Dutch Govern-
ment's advice is to stay at home until June 2020).
Mirusia
is at home in Australia, but at the end of May she had organized two sold out concerts in the
Netherlands, which she had to postpone, due to the government's June 1st 2020 line.
Here she sings Udo Jürgens' song: "Give me your fear, I'll give you hope in return".
March 25, 2020.
The German TV show "Leute Heute" shows André in self-isolation at home. What does he do all day??
Baking "Bossche bollen" (puffs filled with whipped cream and covered with chocolate) and other delicacies
for his grandchildren! Translation from German by Ineke, assisted by John.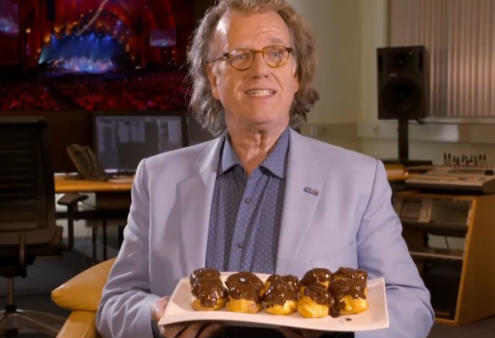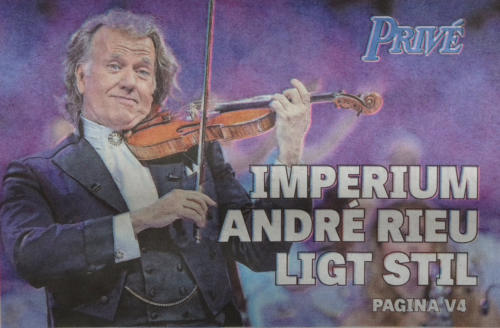 March 28, 2020.
Article from De Telegraaf / Privé. Click HERE to read it on the Harmony Parlor Website.
April 8, 2010 (from the NEWS section of André's website). Click HERE to go to the Harmony Parlor.
A message from André Rieu
Dear friends,
we sincerely hope you and your loved ones are doing fine during these difficult times!
We understand there will be a lot of questions about our upcoming concerts, including the Maastricht Open
Airs in July.
We currently hope to start touring again as soon as possible, depending on the daily developments. The
measurements by the government of the Netherlands forbid all events in our country until the1st of June.
The Maastricht Open Airs are scheduled for July. For the time being we assume they will take place as
usual. As the situation changes on a daily basis we will not take any other decision until May, unless a new
reality catches up with us first.
The well-being of our beloved fans, musicians and staff is always our top priority. Although we are very
disappointed not to be able to perform for you now, we are committed to doing our part to help protect you
at this stage. And we want to give you something to look forward to. Therefore we have rescheduled our
tours in the USA, UK & Ireland and Latin America.
Once a concert has been rescheduled, you will receive an e-mail from the venue, your point of purchase or
André Rieu Travel, if you've booked your travel package with us. We recommend checking our "Tour"
section on this website and our Facebook page for all tour updates. All tickets and travel packages will
remain valid for the new dates.
We hope that you will enjoy our music on YouTube, Facebook and TV, that it will give you some hope and
make you happy!
The orchestra, my team and my family are doing fine. We cannot wait to see all of you again. Stay safe and
take good care of yourselves!
Much love,
André.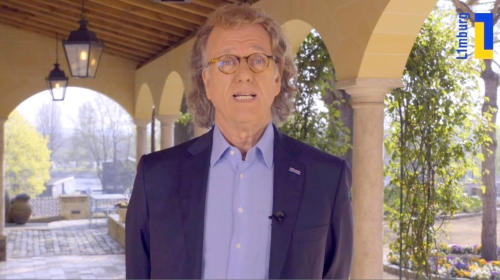 André is going through the most difficult period of his career.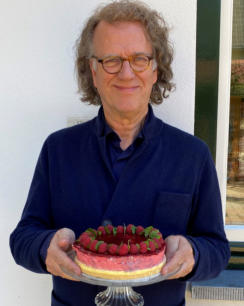 April10, 2020.
Article in the Limburger about the use of excessive free time by the Maestro and some orchestra members.
The Waltz King happily keeps on baking.
Click HERE to read the article on the Harmony Parlor web site, and to read part two,
about what Manoe, Donij and Frank are doing, click HERE.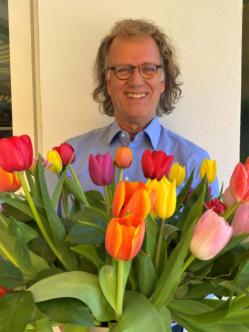 Tulips from Holland for
all my fans around the
world. Happy Easter!
Carla Maffioletti
gave Breathe and Greet Opera Singer Exercises on every Sunday afternoon during 20
minutes. Live from her living room in Limburg, the Netherlands! To make our lungs expand, calm and feel
strong! Thank you Carla!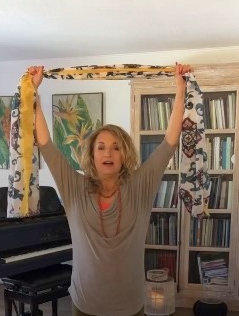 Frank Steijns and (his soon wife-to-be) Madieke Marjon
on Facebook: While all traditional
Easter Friday performances of the Matthew Passion by J.S. Bach are currently canceled worldwide, we
decided to perform it in a 'social distance' way: from the bell tower of Maastricht. This is the song "Have
Mercy" (Erbarme Dich). Stay safe everybody.
Click on the picture to hear the performance.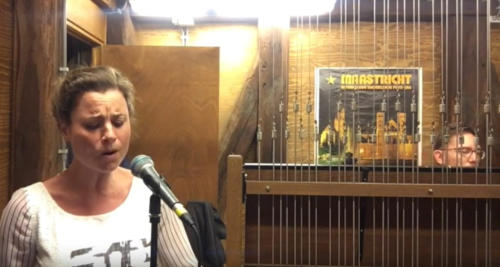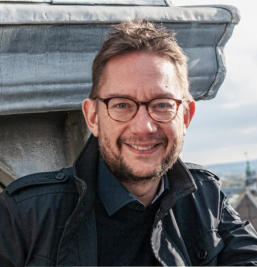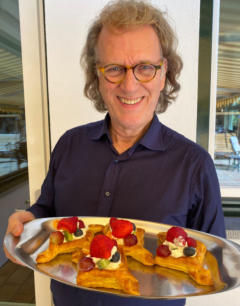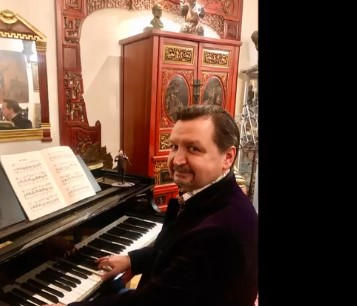 Béla Mavrak
on Facebook: For this unusual Easter I want to share a piece of music that many find
comforting and hopeful. It's a fusion of Ave Maria, by Bach/Gounod and by Astor Piazzolla. I recorded this
very special piece in Italy, with the orchestra of Gennaro Desiderio. I would like to dedicate this song to all
the victims of this sad situation in the world. Click on the picture to hear the perfomance.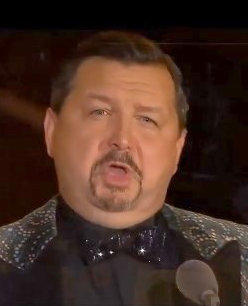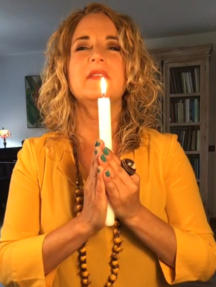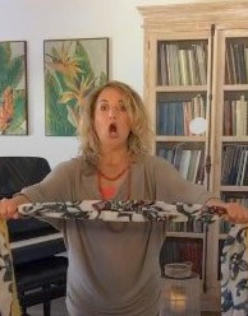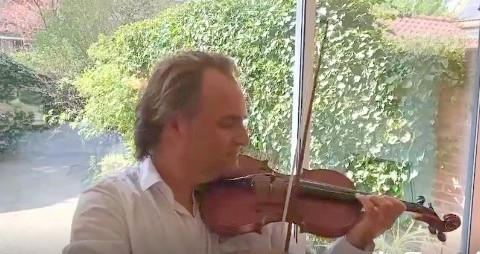 Vincenzo Viola
on Facebook:
We will rise up again!
Buona Pasqua a tutti!
Happy Easter to everybody.
Especially for the many who are
celebrating these days alone,
without the warmth of their
family and friends around them.
Click on the picture.
April 17, 2020: André-in-isolation, speaking with Richard Wilkins of the Australian Today Show.
April 2020: Every day on Dutch TV: Keeping the people at home in motion!! André together with gymnastic
teacher Olga Commandeur. Every week a new dance with movements to André's music!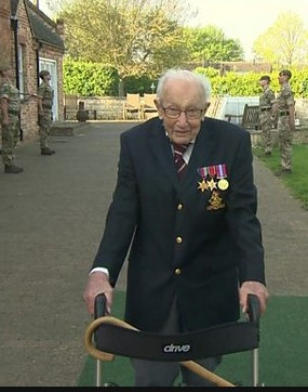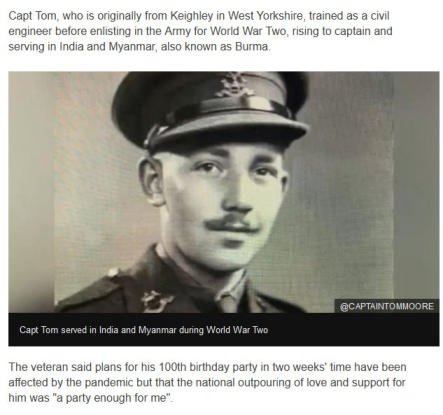 A 99 year old war veteran in the UK , Captain Tom Moore, has walked 100 laps of his garden and raised
a total of over £ 21million for NHS (National Health Service) Charities Together by completing the laps
before his 100th birthday. 800,000 people made donations to his fundraising page. Capt. Tom told the BBC
the total amount raised so far was "an absolutely fantastic sum of money. I never dreamt I would be
involved in such occasion as this".
April 18, 2020.
BBC Breakfast news.
André invited
Captain Tom and
his family
to attend one of his
concerts in the UK
after Corona has
gone.
April 18, 2020.
André is giving
tribute
to all the health care
workers in the
Maastricht / Limburg
area. He is speaking in
the Maastricht dialect.
Translation by Ineke,
assisted by John.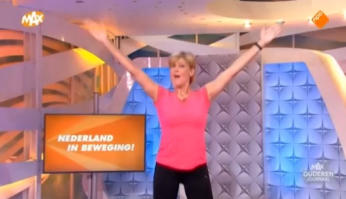 André's message on April 23rd 2020:
It is with great sadness that we have to inform you today that, following the measures taken by the
Government of the Netherlands, our traditional Open Air Concerts on the Vrijthof in Maastricht cannot take
place in July 2020. All tickets and André Rieu Travel Packages, will remain valid for our open air concerts in
July 2021. Please check https://en.vrijthof.info/vrijthof-contact for further information, dates and answers to
your questions.
1. For admission concert tickets purchased through the official sales channel SEE tickets (formerly Paylogic),
please contact the customer service department: customerservice@paylogic.com
2. Tickets for terrace packages, bought directly at one of the restaurants: You have a traditional paper ticket.
If you have any questions, please visit www.vrijthofmaastricht.nl
3. Tickets for terrace packages, bought via the website of visit Maastricht (formerly VVV): You have a digital
ticket that you have received by e-mail. For questions, please contact the customer service department of
SEE tickets (formerly Paylogic): customerservice@paylogic.com
4. For arrangements purchased through André Rieu Travel, please contact the customer service department:
cs.travel@andrerieu.com.

ALWAYS STATE YOUR BOOKING NUMBER WITH ALL COMMUNICATIONS).
I know we are all very worried about the impact that COVID-19 is having on our loved ones and daily lives.
My Johann Strauss Orchestra and I send you our very best wishes. We cannot wait to share music, joy and
fun with you again very soon! The Waltz Must Go On – and it will! Much love, André Rieu.
Click HERE to read the entire message.
Click HERE to go to the Corona virus page 2 for more interviews and information.


Click HERE to go to the Corona virus page 2 for more interviews and information.