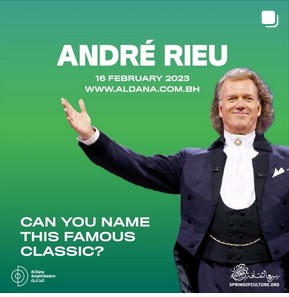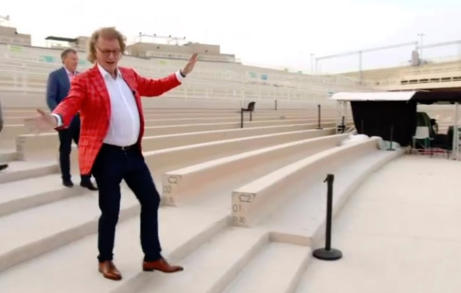 For the first time André Rieu and the Johann Strauss Orchestra will give a concert in the Kingdom of
Bahrain. The country is an island in the Persian Gulf, connected to the Arabian mainland by the King Fahd
Causeway and is a member of the United Nations. The capital city is Manama. Hamad bin Isa Al Khalifa is
the king. Salman bin Hamad Al Khalifa is the crown prince and first minister.
On the videos below André shows the venue: the Al Dana Amphitheatre and the stage construction.
Do we notice the beginning of a tympanum like the Greec Maastricht temple stage?
Below: The Dutch TV program "Shownieuws", presented by Tooske Ragas, on Febr. 14th 2023.
Translation and subtitles: Ineke/John/Ruud.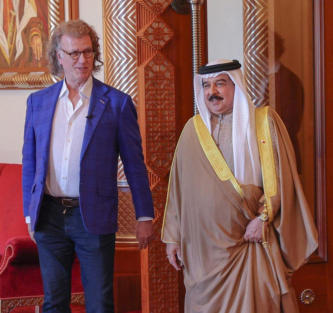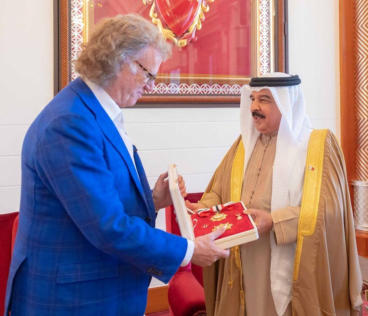 February 16, 2023: From: The daily tribune. Manama. www.newsofbahrain.com.
HM King Hamid confers Bahrain Order-First Class on André Rieu.
HM King Hamid bestowed the order of Bahrain-First Class on international musician André Rieu in
recognition to enrichting the world music through his distinguished artistic work.
This came as HM King Hamid received André Rieu and some members of the Johann Strauss Orchestra
at Safriya Palace on the occasion of their concert in the Kingdom tonight.
His Majesty wished them success. He praised the international fame achieved by Rieu who was able to
bring classical music closer to the millions of people around the world, thanks to his high artistic talent and
performances.
Rieu expressed thanks and appreciation to HM the King for conferring on him the order of Bahrain and for
the gracious welcome and hospitality.
Rehearsal of Bahrain musicians in the André Rieu studios in Maastricht.
Frank Steijns took two musicians to the tower to play and sing with the bells.
Maastricht Bells on Facebook: Two cultures connected in the tower: Dutch bells with Arabic singing and
percussion. Singer Faisal al Ansari from Bahrain was a guest with his drummer and sang a song about his
native country. And playing the carillon went well for them right away!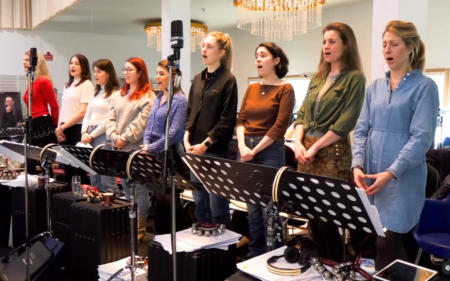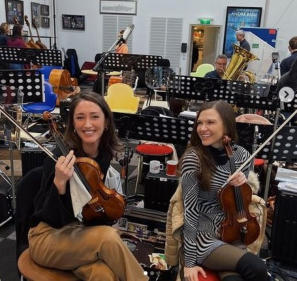 Annabelle Traves and Gosia Loboda,
during the rehearsals in the studio.
The choir. Virgenie Henket is still next to Kalki.
In between Joline and Madieke is Bibi Ortjens.
Do we recognise the Rumanian song Hop sa sa?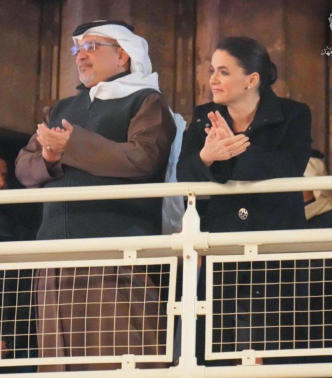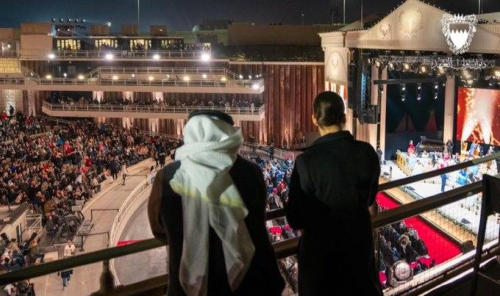 His Royal Highness the Crown
Prince and Prime Minister
Salman bin Hamad, and the
President of Hungary, Her
Excellency Katalin Novák
watched André Rieu and his
Johann Strauss Orchestra
concert from their balcony
vantage point at the Al Dana
Amphitheatre in Bahrain on
February 16, 2023.
(On this picture you can see the
sky boxes of the theater).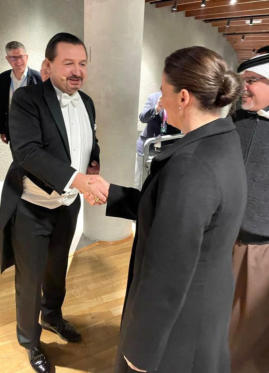 Bela on Facebook:
It was an honor to
meet and talk with
Ms Katalin Novák,
the president of
Hungary, and
Salman bin Hamad
Al Khalifa, the
crown prince of
Bahrain, during the
half time break of
the concert.
The song of Bahrain, sang by Faisal al Ansari.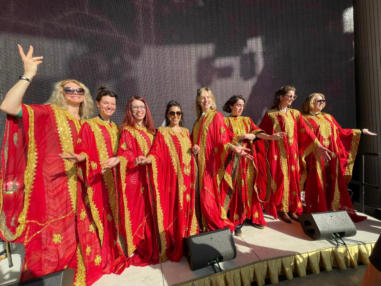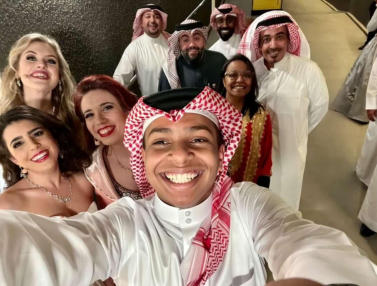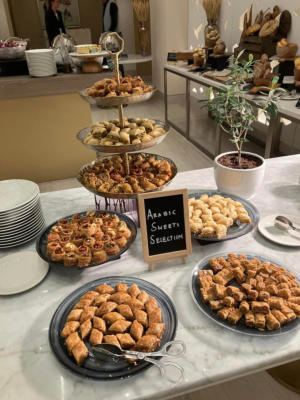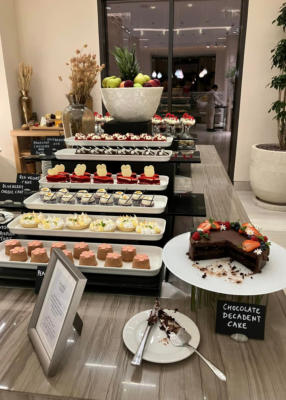 April 2023. This video was posted by André on YouTube. Duration: one hour.
We see that drinking alcohol on stage in the Drinking Song (Libiamo) has been
omitted for this special concert.