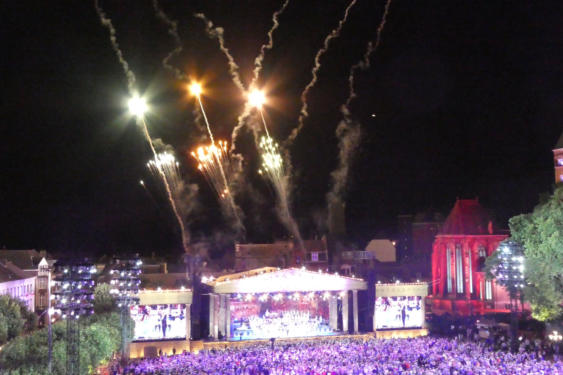 In July 2017 we enjoyed
a series of
10 concerts
on the Vrijthof in
Maastricht, between
July 6 and 23.
Click HERE.
Dress rehearsal on
July 5th, click HERE.
Fan dinner on July 7th,
click HERE.
Three fan picnics on
July 8,15 and 22,
click HERE.
Other Fan events,
click HERE.
August 29, 2017.
Official Classic FM Chart reveals
the biggest selling
international classical artist
of the last 25 years in the
UK: André Rieu!
André thanked the "incredible"
support from the British public,
adding: "I could not ask for more
enthusiastic and loyal fans and
every step of the way Classic FM
and its listeners have been with
me. I'm thrilled and honored to be
the number one international
classical artist. Thank you and
keep waltzing Britain!"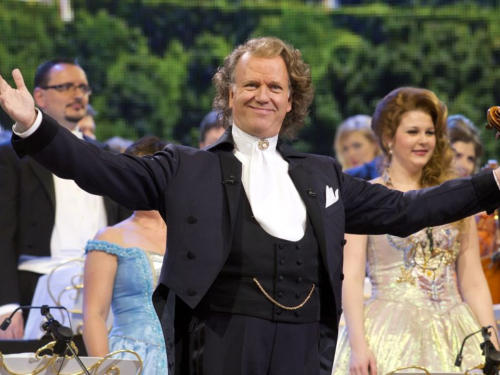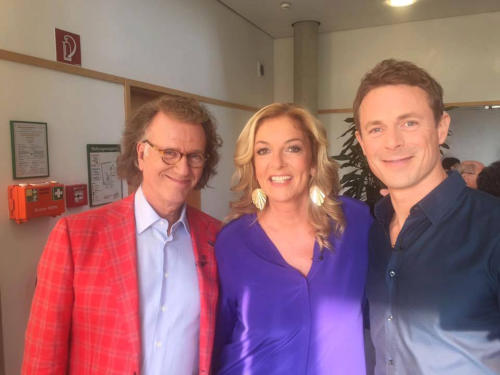 September 1st 2017.
NDR (German TV broadcast):
Tietjen and Bommes.
At the beginning of 2018 André
Rieu and his Johann Strauss
Orchestra will tour Germany
again.
Bettina Tietjen and Alexander
Bommes invited André as a
guest in their program.
Click on the picture to watch the
program.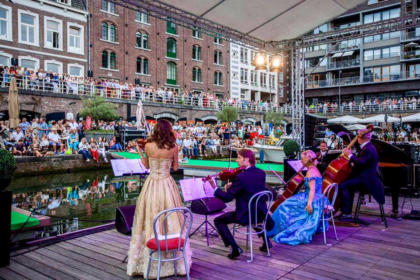 Sunday, September 10th, 2017.
For the second year in a row the
Maastrichts Salon Orchestra
will be the closing act of the PARCOURS-
Festival (Opening of the Cultural Season).
Theaters, museums and other cultural
institutions give a taste of their programs for the
coming season. At various stages in Maastricht,
amateurs and professionals will give sparkling
performances and organize a variety of
activities. The MSO performs at the historic
inner harbour of Maastricht: 't Bassin.
At 6 PM. Entrance is free.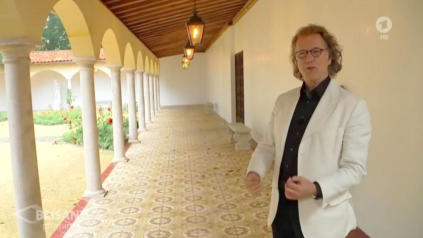 September 18, 2017.
ARD (German TV) item in
"Brisant".
Katharina von Tschurtschenthaler visited
André Rieu in his castle "De Torentjes" (the
Turrets) in Maastricht.
André shows the new cloister in his backyard.
Click on the picture.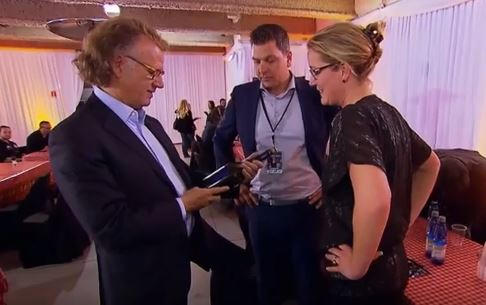 September 18, 2017.
Dutch TV program
"Helemaal het einde".
A few years ago the Dutch Pos-
family (Ilona, Stephan and 2
children) decided to leave the
Netherlands to start a new life
making wine at the Chilean
countryside.
They attended André's concert in
Santiago de Chile.
Click on the picture.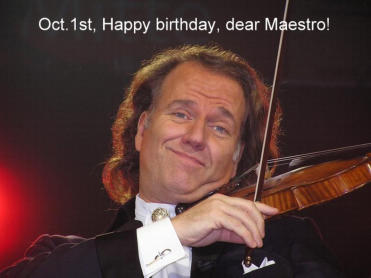 October 1st, 2017.
Dear Maestro,
Have a
wonderful birthday.
We wish you many more healthy and succesful
years to come.
Many of your fans will celebrate your 68th birthday
at home, across the world, with a nice glass of red
wine, listening to your beautiful and uplifting music.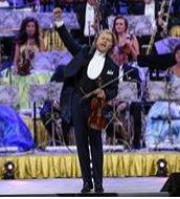 Sept. 23, 2017:
André had to postpone five sold-out concerts in Mexico City, due to the
aftermath of the earthquakes. He announced to destine the proceeds of his
newest album to the
Mexican earthquake victims.
Click on the picture to the left.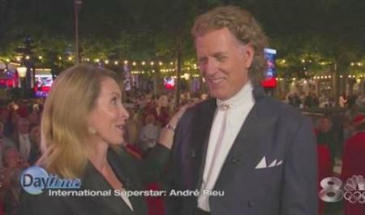 Sept. 20, 2017.
Daytime
is a show from NBC, Tampa Bay, Florida.
We recognized Al Girard (from Canada) and
Krystyna Garcia (Brasil) being interviewed in
Maastricht July 2017.
Click on the picture to the right.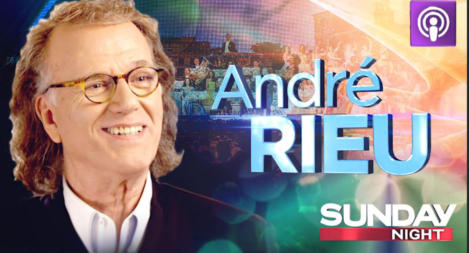 Sept. 28, 2017.
Sunday Night, radio interview.
The Australian presenter Kerri-Anne
Kennerley interviews André Rieu in his
castle in the Netherlands. André talks
candidly about his childhood, his family
and his music.
It's a radio interview, so no live images.
Duration: 33 minutes.
Click on the picture.
October 2nd 2017.
A live audio registration of a very old sketch by
André and the JSO.
André tells the fairy Tale Story
of Snow White.
A Golden Oldie from 1996.
Margreeth van der Veen created a very funny video
and she gave us permission to post it on our
website under the "Golden Oldies".
Click on the picture.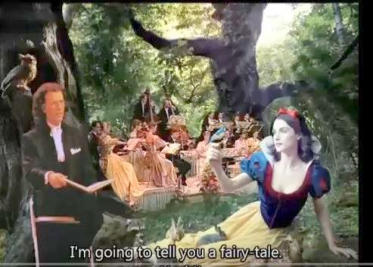 October 2nd 2017:
Live streaming of
Questions and Answers
for the "Shall we dance" fans.
André Rieu answers questions from fans,
posted on his Face book page.
"Shall we dance" is the title of his new
album, to be released in the USA in October
2017.
Click on the picture.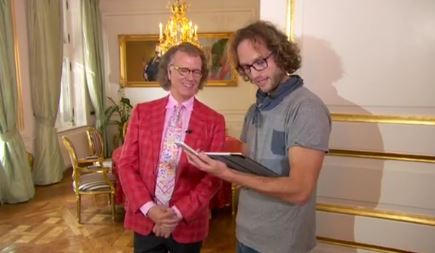 October 29th, 2017.
André Rieu and the Johann
Strauss Orchestra
tour the USA
in October and November 2017.
Here a report of the concerts
on the West Coast.
In November they'll tour Florida.
Click on the picture.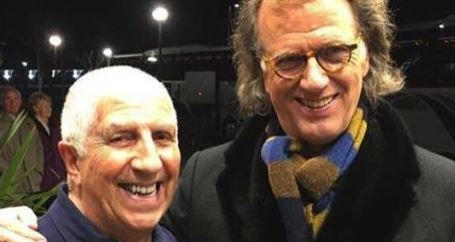 October 16, 2017.
To promote his UK tour in
December 2017,
André Rieu gave a
Radio Interview to Pete Price
of the British Radio City 2
and Radio City Talk.
Click on the picture.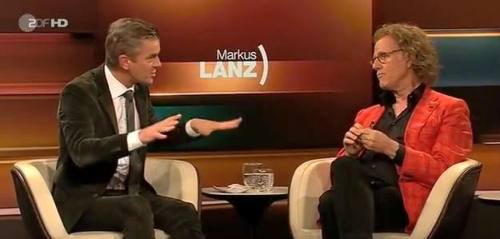 November 18, 2017:
In January 2018
André Rieu will tour Germany.
Markus Lanz
(German ZDF channel)
invited André Rieu to be his
guest in his talk show.
Click on the picture.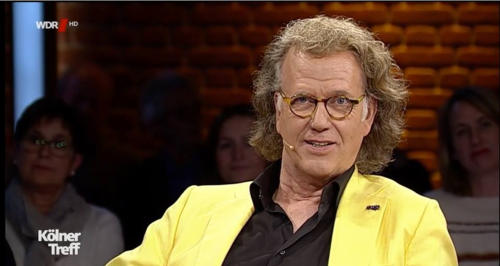 November 16, 2017:
To promote his German tour
André was one of the guests
in
Kölner Treff.
Hostess: Bettina Böttinger.
Click on the picture.
Released: November 24, 2017:
AMORE.
Natasha's Waltz:
when my wife Marjorie
was pregnant with our second baby, we saw the
world famous movie: "War and Peace". One of
the main roles, played by Henri Fonda, was the
very sympathetic Pierre, who cannot understand
why people have to make war. Suddenly both of
us knew the name for our new baby: Pierre! So
funnily enough Pierre was named after Henri
Fonda! And then some time ago our eldest son
Marc, who is a great admirer of film scores,
suggested I play the beau

tiful

Natasha's Waltz
from this movie.
Highland Cathedral:
This year we celebrate our 30 years of the Joh. Strauss Orchestra. For three decades we've
been making music and traveling the whole world together like one big family. We share our thoughts and feelings, the
happy as well as the sad ones. Sixteen years ago our clarinettist Manoe Konings became very ill, she had breast cancer.
Her will to survive and to continue making music together with all of us gave her the courage and strength to overcome
this illness. The magnificent song "Highland Cathedral" in which Manoe plays the solo bagpipe, is a tribute to my
orchestra and the love we all feel for one another.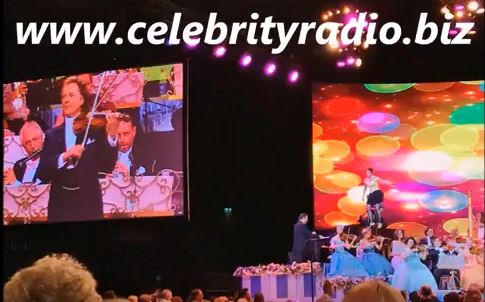 November 26, 2017.
Life Radio Interview with
André Rieu
by Alex Belfield,
Celebrity Radio, UK.
Click on the picture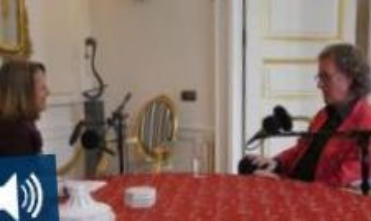 November 18, 2017
WRD 5 German Radio Interview
Tisch Gespräch (Table talk).
Interviewer: Gisela Steinhauer.
Click on the picture
and scroll down the page..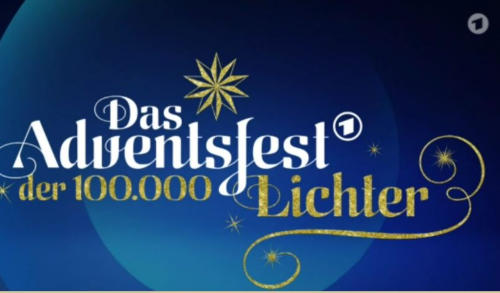 December 2, 2017
On ARD, German TV:
The Advent Party
of 100.000 lights.
Host: Florian Silbereisen.
Click on the picture.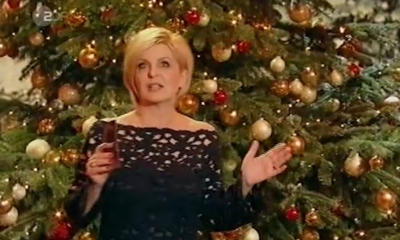 December 24, 2017.
German TV channel ZDF.
It is an annual tradition:
André Rieu is a guest in the
Carmen Nebel show
on Christmas Eve.
Click on the picture to watch
this performance.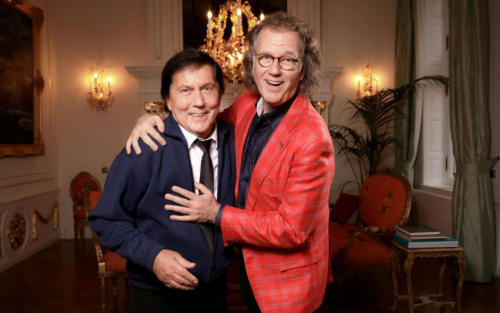 December 28, 2017.
Two record companies arranged
a meeting in André's castle in
Maastricht, between two top
salesmen of Christmas albums,
who had never met before:
Andr
é Rieu and the Belgian
singer Frank Michael.
Click on the picture to watch the
interview.