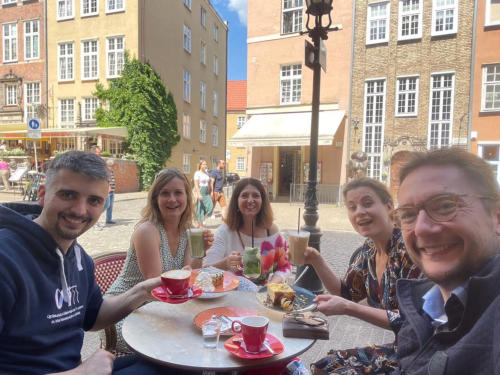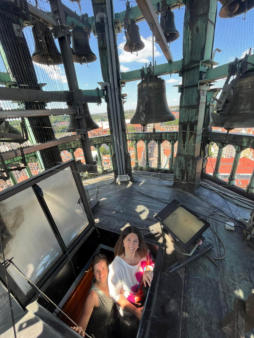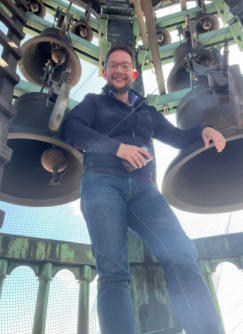 June 11, 2022
Gdansk is the only city in
Poland with two carillons.
During the Poland tour
(June 2022) Frank played
one of these carillons.
Three collegues from the
Johann Strauss Orchestra,
Vera Kool (harp), Nathalie
Bolle (flute), Madieke
Marjon Schoots (choir, and
his wife), were allowed to
join him into the tower.
Relaxed pictures from
Poland.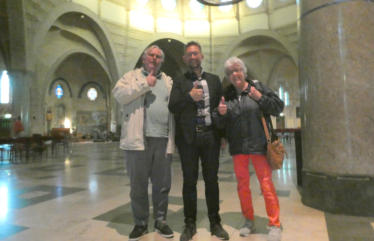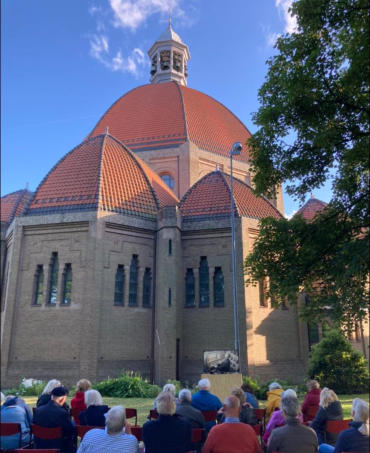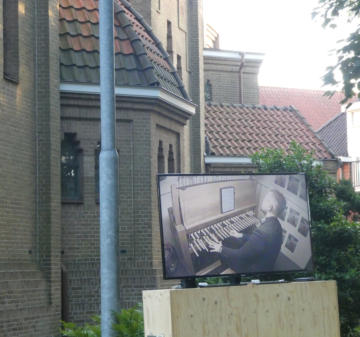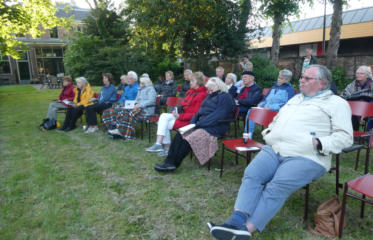 June 13, 2022.
Klezmer (traditional Jewish folk music) on carillon.
Mathieu Polak and Frank Steijns.
St. Agatha Church in the Dutch city of Beverwijk.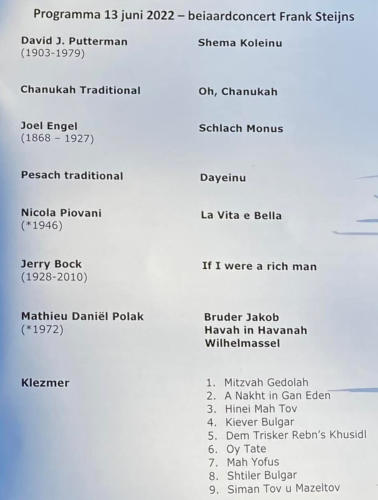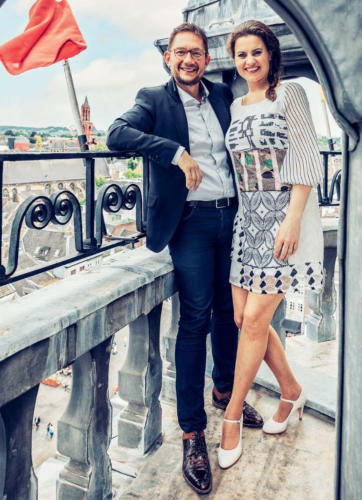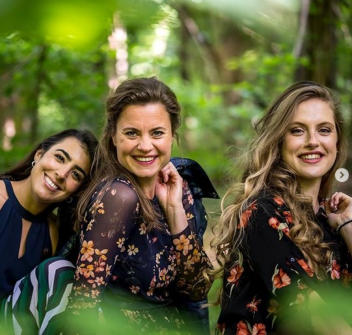 Article from the Chapeau of July 2022.
Author: Richard Stark. Photo credits: Kris Nemeth.
Interview with Frank and Madieke.
Translation: Ineke/John.
Not only musically but also socially, the Johann Strauss Orchestra is known as a close-knit company. In
some cases, LOVE even plays a game. First violinist Frank Steijns (51) and mezzo-soprano Madieke
Schoots (40) have been in the 'couples of the orchestra' category for two years now.
Madieke Schoots arrives a little later in the town hall because she still had to pick up the wedding album at
home. Because of that I meet the multi-instrumentalist and city carillonneur of Maastricht first in the
seventeenth-century town hall, his part-time workplace and their prior wedding location. "We are one of
the many couples in the orchestra, but we are the couple that was married last," says Frank Steijns. When
the two sit next to each other, just then you notice how their eyes shine and how they complement each
other seamlessly. It wasn't immediately love at first sight when they met at a rehearsal of the Johann
Strauss Orchestra in Maastricht.
"I hail from Tiel, studied in Utrecht, but was working in Amsterdam at the time," says Madieke. "With André
Rieu I could sing along as a substitute for a singer on maternity leave." Frank adds: "I was not really open
for love because my work with André means that I am on concert tour all over the world 150 days a year,
and then it often turned out to be difficult to enter into a relationship." Although the two did not immediately
fly around each other's neck, a time did come for them in which they always had nice conversations with
each other about everything and anything. "We also visited each other's concerts and – coincidentely or
not – when we made a date, there was always one table free on a crowded Vrijthof terrace and always
exactly the same", Madieke remembers in the very beginning.
In the fall of 2015, the musicians went on tour with André Rieu to Chile. "We were somewhat awkwardly
around each other, while other orchestra members probably saw our infatuation a kilometer away", says
Frank. After the tour, Schoots resumed her work as a singer in the Randstad. Steijns went on tour with the
orchestra. At the baggage claim at the Dublin airport it happened, he reconstructs. "André tapped me on
the shoulder and asked: 'You don't look very happy Frank, is it because of me?'. I replied: 'Somewhat
because it is getting serious with Madieke and I am dreading the fact being on tour so frequently. That is
not going to be the case." Then André said: "Madieke, I know her from my concerts… Call her right away
and tell her I'm offering her a one-year contract!" Well, since then we've been happily together for six years
now ", which he briefly summarizes the couple's love story. "We are together on tour from morning till night
and that is going well, perhaps also because we are both Capricorns, just like, by the way, thirteen other
musicians in the orchestra." While Madieke is looking for an explanation. "The other orchestra members
have also embraced us as a couple and we ourselves too like the fact that you share the same
experiences as partners. You experience the same concert from a different perspective as a singer or
violinist. You sometimes talk about that before going to sleep, but that's only fun." Frank, laughing: "For
observant visitors to the Vrijthof concerts in Maastricht: when the orchestra starts "Falling in love" by Elvis
Presley, we always look at each other in love."
Violinist FRANK STEIJNS and singer MADIEKE SCHOOTS have been a couple
for six years already.
Prior to André Rieu's concerts on the Vrijthof, the Maastricht Salon Orchestra will play a private concert for
VIP guests of Andre Rieu Travel, with Frank Steijns on the piano.
"VerrasSing" (Surprise) performs in the Cellebroederskapel in Maastricht on 10, 14 and 24 July.
(Click on the picture and send an e-mail to purchase tickets).
During the past corona period, an ensemble arose in which the two participate: "VerrasSing", a company
consisting of Madieke Schoots and two other vocalists from Rieu's orchestra, with Frank Steijns behind the
piano. "During that period, we also gave a concert together in Washington on the carillon that the
Netherlands donated as a gift to America after the war," says Frank. Something similar also happened in
the Maastricht city hall when we got married. "Our wedding took place in the middle of corona period and
for that reason only five people were allowed into the tower. I alone was allowed to play the Wedding Bells
of the carillon and Madieke sang along." "We also gave each other our rings there," says Madieke as she
along with her husband browse through the wedding album. "Our family received the ceremony via a video
link. When we looked at the Markt through the reverberation holes, a big surprise came to us," says Frank.
"Due to Corona, the entire orchestra of André Rieu was spread all across the square, but as

one

big
family, was with champagne at their fingertips applauding and enjoying the event."
I heard the bell and now I know where the clapper hangs!
The last meeting of our writing club before the summer. Our teacher is expecting us at the Market Square in
Maastricht. There we will meet someone who will tell us something about which we can, or rather have to
write a story. While we wait for him at the base of Minckelers', (statue of the discoverer of gas lighting),
I travel back to my youth. Here at this Market is my birth house. I grew up here and as the daughter of a
catering entrepreneur, I was formed here for life. When I feel the warmth of the cobblestones, I am again
sitting there as a toddler on the same warm ground. I suddenly see my grandmother, who stumbled in front
of this statue and broke her knee, when she was trying to catch up with "Sinterklaas" with me on her hand.
Again I hear the car coming to a stop with a loud bang against the iron fence protecting the terraces from
the busy road. That morning I had been swinging on the chain.
The Market, my market, the market of my father and his father, who once was a market master, has
changed radically and there again not. Who are we going to meet? What is this person going to tell us?
About what? About whom? It can no longer be Minckelers himself, nor can it be the Mooswief (sculpture of
vegetable woman). Most of the striking entrepreneurs on this beautiful square, the most beautiful in the city,
are no longer there. The crazy Dries, my father and many others are now rocking in heaven. Who then?
Emile arrives punctually and begins his introduction as only a writer and journalist can. The whole group
feels the tension rising. We will shortly visit the most beautiful office in the city. An office with only one
employee. Who is rarely seen, but whose work has a major impact on the city and beyond. That's it, I think
and when I ask if we sometimes have to wait until 7.30 pm, I see that I'm in the right place.
We meet

Frank Steijns,

who succeeded his father Mathieu in 1997 and thus became the 13th city
carillonneur of Maastricht. He opens for us the now abandoned town hall, after all it is 7.30 pm. As he tells
us the history of this beautiful building, we climb higher and higher to the top, each staircase becoming
steeper and narrower. Then suddenly we are under the carillon, the view quiets us. Maastricht is at our feet.
And Frank? He just keeps on talking. About the history of our city, the beautiful carillon (people: pay
attention, one "R", two LL's), the original purpose of the bells, the battle between Servaas and the City Hall,
why we are not Belgians after all and Sterre Der Zee (Star of the Sea) earlier used to be along the canal.
And much more. Then suddenly, out of nowhere, he strikes a note and there, right above my head but
visible to the entire city, the o-so-recognizable sound from my childhood. 'Which song do we want to hear?'
Everyone looks at me, but I give the credit to Hans, a real 'Dutchman' but in many ways more a Maastricht
resident than I. He chooses the Maastricht Anthem. This is followed by "Nothing Else Matters". And when
Frank plays, then indeed nothing else matters. He is completely absorbed in his playing, his body moves
with the intensity of the music. Then his hands fly fierce and robust again, and then light and airy over the
keys. For us, for me, for Maastricht. Frank Steijns, city carillonneur. A professional. Someone who has
turned his passion into his job. Poured in at an early age. With one foot firmly planted in the past through his
attention and respect for this cultural heritage. His other leg firmly planted in the future. Upkeep aimed at
preserving, automating and modernizing the repertoire. A man who does everything to be able to play, to be
allowed to play. Fortunately, his other employer (a certain André Rieu) is flexible so that Frank can play here
every Saturday. Only with his carillon, thoughts and memories does Frank make the bells do the work for
what they are designed to do. For an audience that may not even know he is there. But we know. We bow
deeply. How nice is it to see someone speak so passionately about their profession. Frank IS his
profession. I really wish that for everyone. He is allowed and 'must' stay in this job for a while and jokes that
follow-up is being worked on. Fortunately; the carillon is never allowed to be silent. Should you happen to
walk through Maastricht on Saturday around half past one and hear the carillon? Look up and give a
"thumbs up."!
Thank you Gabriela for this very nice story.

9 June 2022, from Facebook: assignment for a writing club.
By Gabriela van Gemert-Gunther.
Translated and posted here with her permission.
Translation: Ineke, edited by John.
Gabriela van Gemert-Gunther is at Maastricht City Hall.
September 1st 2022.
Frank Steijns Jubilee concert Canto Ostinato.
Anyone who wants to experience something special and also - in these busy times - soothing;
Tonight you can listen to Frank Steijn's anniversary concert Canto Ostinato in the Pandhof of the
St. Servaas Basilica. The well-known city carillonneur took over this position from his father Mathieu
25 years ago.
The concert given by the global carillon authority is a typical performance by the Maastricht musician.
Carillon music is not the most well-known and accessible type of music for many. In addition to being a
carillonneur, the Maastricht resident (and André Rieu's right-hand man) is also a gifted violinist, pianist
and, last but not least, an arranger, who has a reputation for making this classical tower musical
instrument accessible to a wide audience with surprising arrangements and combinations.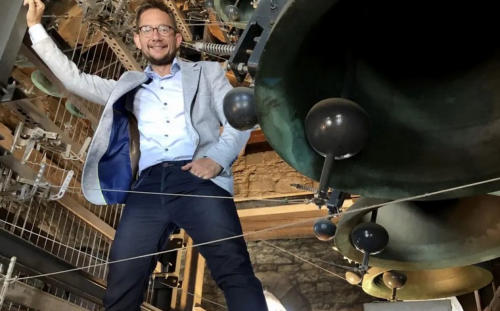 Chapeau Nov. 30, 2022.
Author: Maarten van Laarhoven. Translation: Ineke/John.
Maastricht native Frank Steijns (52) will be Maastricht's very first city-composer. This has been announced
by the Maastricht Composers Foundation, the initiator of the new musical function.
The Maastricht Composers Foundation aims to bring music written by composers who have a relationship
with the city of Maastricht and its surroundings to the attention of a wide audience.
One of the ways to do that is to appoint a city-composer. The latter is given the task of writing compositions
for current themes or important events. The appointment is for two years.
Frank Steijns is city carillonneur of Maastricht, Weert and Heerlen. He is best known to the general public
as violinist in André Rieu's Johann Strauss Orchestra. Over the next two years, together with the
foundation, he will develop a number of groundbreaking musical activities, in which connection plays an
important role.
The first city-composer will be presented to the public on Sunday 4 December at 3 p.m. This happens
during a mini-concert at the statue of the Mestreechter Geis (Spirit), on the square near the Kleine
Stokstraat. Among other things, a festive trumpet solo is performed, which was composed by the brand new
city-composer. At 4 p.m. Steijns climbs the stairs of the Basilica of Saint Servatius on the Vrijthof to play the
carillon.
October 1, 2023. L1. (Limburg TV).
Frank Steijns, carillonneur, violinist and pianist, is the last guest in this season of Rob Mennen's program:
"Op verzeuk op bezeuk" (Visit upon request). In Rob's special van they both drove to the St. Pietersberg"
where the grand piano and the carillon will be played simultaneously.
After the camping chairs have been unfolded and there has been some pleasant chatting, of course music
will follow. Special versions of two songs about clocks / bells: "Clocks" (Coldplay) and "Loeënde Klokken"
(Ringing bells) form worthy endings in this last extra episode of this postseason.
Duration video below: 15 minutes.
Translation Ruud, John. Subtitles Ruud.