August 4, 2020.
Corona campaign Limburg.
"It's good that you follow the rules",
that is the message of the new campaign
of the South Limburg Safety Region,
in which André Rieu is the first known
citizen of Limburg to cooperate.
August 7, 2020.
Article in
"Algemeen Dagblad"
Dutch newspaper.
Very interesting.
Read the full article in the
Harmony Parlor Blogspot.
Click on the picture.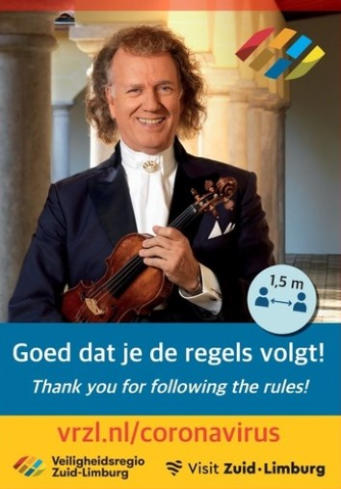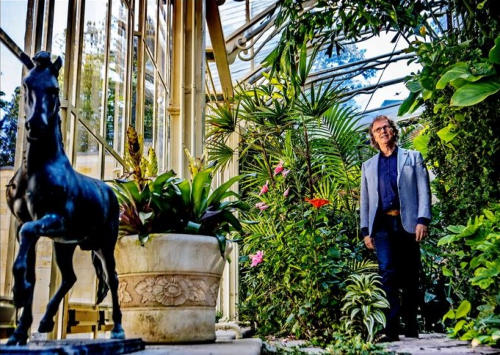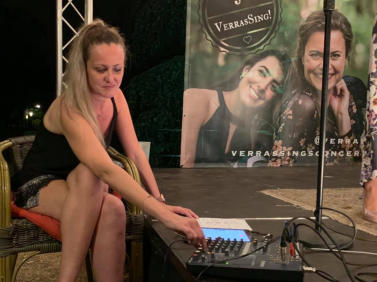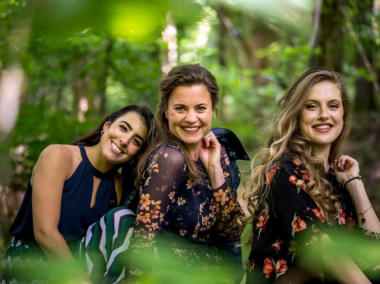 August 12, 2020: The sopranos Christina Petrou, Madieke Marjon and Joline Soomers are giving small
corona proof concerts in care centers and open air terraces with the name "VerrasSing". We see them
here perform at "D'n Hiemel" in Maastricht and Agnes Fizzano takes care of the sound.
The fans who have been to
Maastricht know where this is:
Close to the Father Vink tower.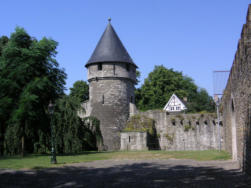 August 22, 2020.
Click HERE (or on the picture)
to read an article from the "Telegraaf":
(Dutch newspaper).
RIEU'S MAASTRICHT.
posted at the Harmony Parlor blogspot.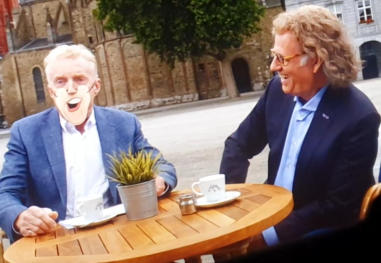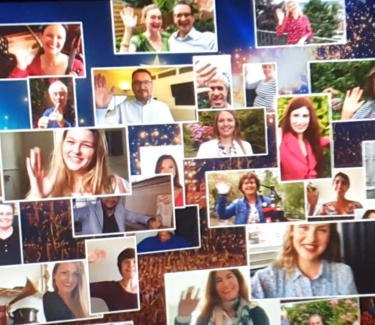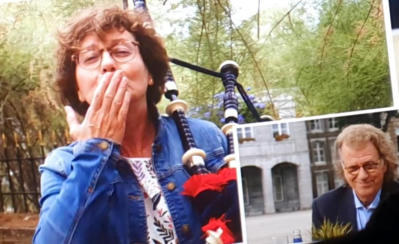 August 20, 2020. In Dutch cinemas: the movie "Magical Maastricht" with an emotional introduction of all the
members of the Johann Strauss Orchestra wishing him well, to keep up the spirits in this crazy time of the
corona pandemic. The interviewer and commentator André van Duin makes André laugh with his self
created face mask. Photo credits: Jeanette Heijkoop.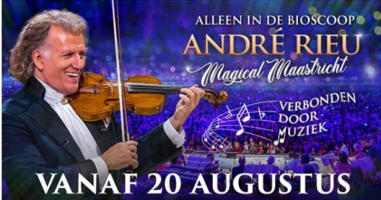 September 29 2020. From a Belgian paper:
Madieke Marjon Schoots.
GLO-ART is an art exhibition in Lanaken, Belgium, just across the Maastricht border.
On September 28th 2020 Madieke Marjon Schoots (mezzo soprano) and Linda Scherp (international
dancer) performed a show at GLO-ART.
About Madieke: When Madieke saw her first musical as a six-year-old girl, she already knew for sure:
"I want to be a singer." No wonder she chose to study singing at the conservatory. With her warm, powerful
mezzo-soprano voice she has since sung roles in countless operas. For several years now she has also
been singing with André Rieu's Johann Strauss Orchestra, where, in addition to the opera, she can once
again indulge her passion for musical and theater. Wherever Madieke is in the world, she always finds out if
there is a yoga school somewhere to practice her other great passion.
About Linda Scherp: She is a professional dancer who already performed many international shows.
Photo: Edgard Bronckaers/EB Media.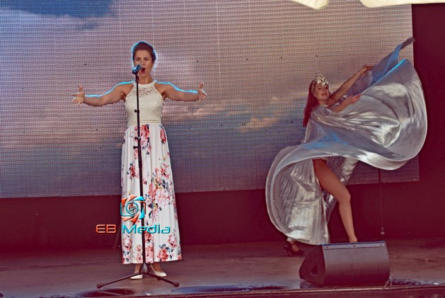 October 8, 2020.
"The Maastricht Edition".
Interview with Christina Petrou, soprano.
"The Maastricht Edition" is a magazine radio and internet show, focusing on international and expat
interests and issues in the Maastricht region. This week in the limelight: Christina Petrou!
Duration of the video: 17 minutes.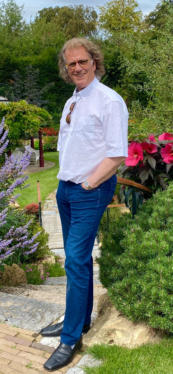 September 2020.
André posted photos on his Facebook
account. The fans feel happy that he is
still looking so good during this difficult
time. "Haw pin", André, you are a survivor.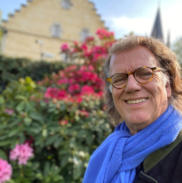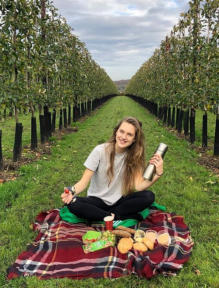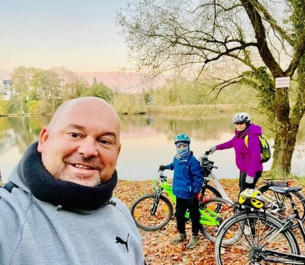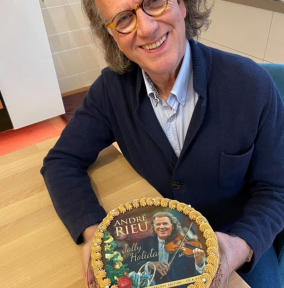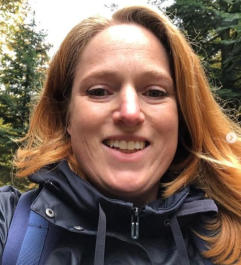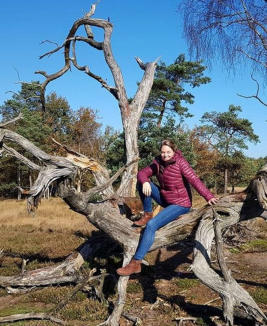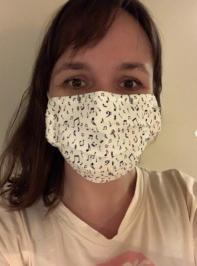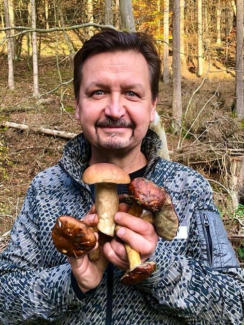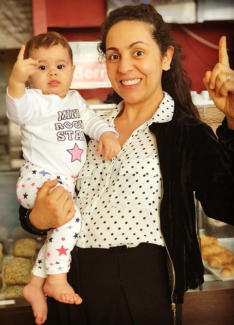 November 2020.
COVID-19 is still going on. Big events, like André's concerts are still forbidden. What are the orchestra
members and André doing in the meantime?? André released a CD with Bonus DVD: Jolly Holiday and
Pierre surprised him with a cake. One of their companies: "Piece of Steel" launched the idea to erect big
metal Christmas trees out of their stored scaffolding, for malls of companies. Click HERE to read the article
from a Dutch newspaper, in the Harmony Parlor. On Instagram we found pictures of forest-walks and biking
tours. But their biggest wish is to perform again and travel the world. That is also the biggest wish of the
fans! Stay safe and keep healthy.
Roger Diederen and his wife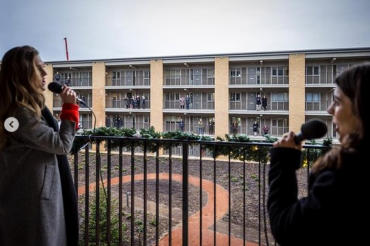 December 20, 2020.
VerrasSing (Madieke, Christina, Joline) sing Christmas carols for Evida St. Gerlachus in Maastricht.
December 23, 2020.
The lovely ladies of
VerrasSING
will give a great concert on Facebook
Live on Christmas Eve (Dec.24,
2020) at 07:00 PM. Dutch time. You
can purchase a ticket on:
https://web.facebook.com/events/398
250108123160
This concert will be full of holiday
cheer, and familiar songs to sing-
along and listen to.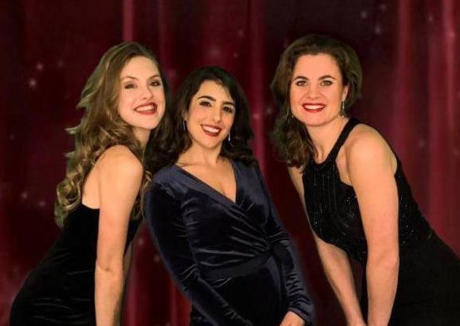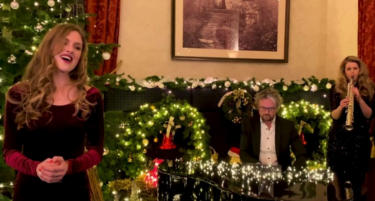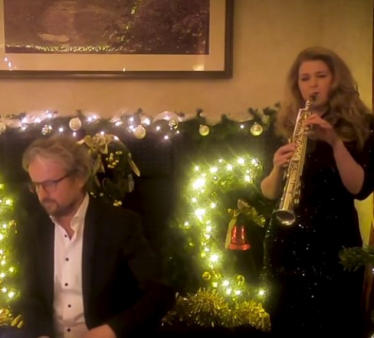 December 24, 2020. YouTube.
Have yourself a merry little Christmas.
with Joline Soomers, Rob Mennen, Sanne Mestrom.
More on Sanne's own page on this website.
Click on the picture.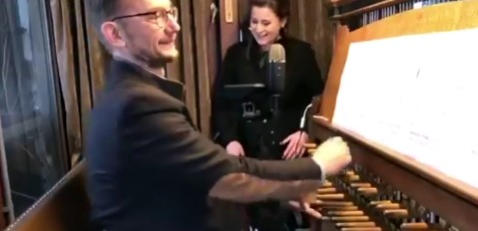 January 1st, 2021.
Happy New Year!
cLockdown concert.
Frank and Madieke from the
tower of the St. Martin's
church in Weert.
Click on the picture.
March 2021
Corona Covid-9 restrictions are still being
extended in the Netherlands.
That means that the virus is spreading over the world for
over a year now. Only recently they largely started the
vaccinations in the Netherlands.
It means that we are still living in isolation, wearing
mouth/nose masks all the time, keep at 1,5 distance,
washing hands all the time, only supermarkets are open,
no shops, restaurants, cafés, terraces, theaters. cinemas.
No big events expected to be allowed in 2021.
It must be a nightmare for André. We are surprised to see
the photo he posted in March 2021 on his Facebook
account. We feel happy that he is looking so well after this
disaster for him.
Pierre had a radio interview on L1 Radio, and the Limburg
paper published a resume.
Click HERE to read the resume in the Harmony Parlor
blogspot, by Sue Berry and John de Jong.