For all fans arriving at Amsterdam Schiphol Airport and elect to travel by train to Maastricht, please find
some useful information below:
If your flight originates at an airport OUTSIDE of Europe, you will enter the arrival hall through arrival gates
3 & 4 (left on picture below). If your flight originates in Europe, or if you had a transfer within Europe, you will
enter the arrival hall through gates 1 & 2.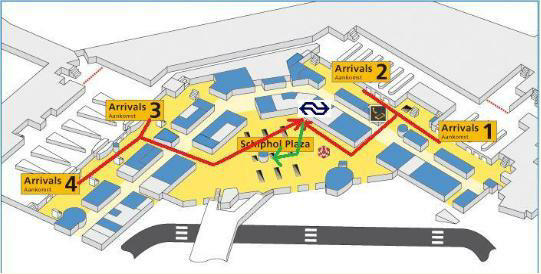 To buy tickets for the train, you can use the ticket vending machines in the
arrival hall.
These vending machines accept Mastercard and Visa credit cards.
You can also buy tickets at the ticket booths (indicated by the red arrows
above). They will also accept credit cards, but only with a build-in chip in
combination with a PIN code. Price of a single ticket to Maastricht is: € 29,40
(second class) or € 49,98 (first class).
Travel time: 2 hours 42 minutes.
Suggestion: if you travel with a lot of luggage or you have to take a train
before 9:30 AM (rush hour), I suggest purchasing a first class ticket.
Less crowded and more space.
At the airport all signs are in English.
Note: As of July 1st, 2014, the ticket dispenser will issue
'electronic' tickets. Once you purchased your ticket(s), please
swipe your tickets at Schiphol and in Maastricht using the "OV
Chip" validation boxes at the railway stations. At Schiphol, these
boxes can be found in the arrival hall, just before you take the
escalator/elevator down to the platforms. In Maastricht they are at
the end of the platform. Swipe your ticket both at Schiphol (to
check in) and in Maastricht (to check out).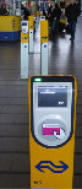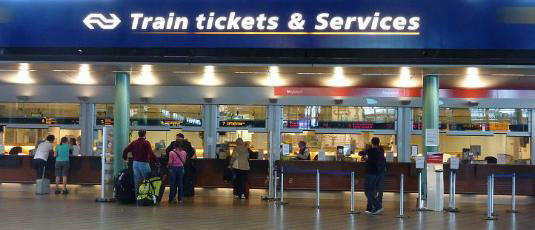 When you have purchased your ticket(s), use the escalator to go down to

PLATFORM 1-2

(which is
downstairs on your right side). The escalators/elevators are located in the middle of the arrival hall and
cannot be missed. The train you need to take, departs at XX.15 and XX.45 minutes past the hour. Trains are
punctual. This train has a final destination of "

VENLO

". In Eindhoven Central station you need to change
trains. You will arrive on platform 2. Just wait 14 minutes on platform 2 and board the train for Maastricht.
Some fans arrive at the
airport of Eindhoven.
At the Airport Busplatform they take Hermes Bus 401 on
Platform C to the Eindhoven central railway station. Duration of the busride: 30 minutes. From the railway
station they can take the Intercity train with the final destination: Maastricht from platform 2.
Other possibility is to take the Intercity with final destination "Heerlen". Be aware to change the train at
"Sittard" for the Arriva stop train to Maastricht, otherwise you end up in Heerlen. A 2nd class ticket one
way costs € 19,60 and a first class ticket € 33,32. Trains depart every 30 minutes, duration of the trip is one
hour and 3 minutes.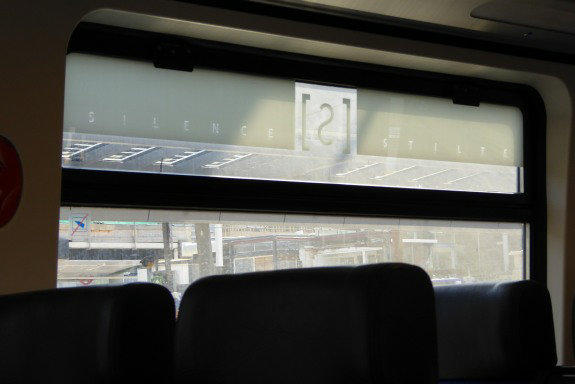 Another nice thing to know:
In some parts of the Dutch trains you may see the words: "silence S stilte" on the windows. The intention
there for you is to be quiet. People using this part of the train like to study, read or work on their laptops, in
a quiet atmosphere. If you are there with your family / fan friends, being excited and talking about the
André concerts, please select a different part of the train and have fun!
New is an option to travel from Schiphol to Maastricht and vice versa by
People arriving at Schiphol with a KLM flight, may take a free shuttlebus from either Schiphol- or
Eindhoven airport to Maastricht railway station. This bus runs twice a day only, so check the schedule
below if this service is of interest. Please talk to your travel agency about this service, you need to reserve
a seat when you book your flight. Just book a second flight with the flight numbers indicated below. Click
on the picture above to see all details. Expand the "KLM Bus: Maastricht/Eindhoven to or from Schiphol"
section.
FLIXBUS
We found out that it is possible to travel by Flixbus directly from Amsterdam Airport Schiphol to Maastricht
(Maasboulevard) and back. Duration of the trip is 3,5 hours and the price is about € 12.-- one way.
You have to reserve seats on line. For the dates and the timetable, click on the picture below.
It is also possible to book a Flixbus trip from Eindhoven to Maastricht and v.v.
We have no experience with these Flixbus connections.
So ask your information online from the bus company.
Click on the picture of the Flixbus to find the information site in English.