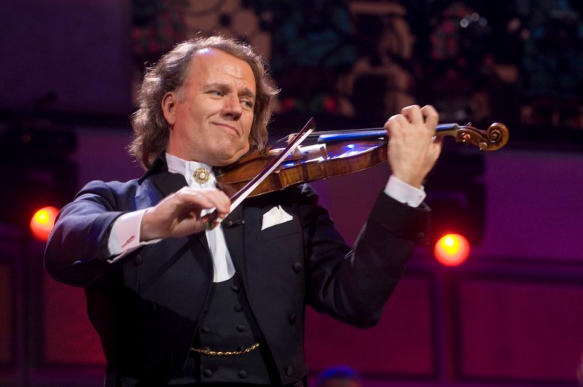 De Telegraaf/Privé: December 1st 2022.
By Harry Nijen Twilhaar. Translation: Ineke/John.
Waltzking shed tears…
It was a year full of emotions for André Rieu, who after a long period of time was finally able to perform
again in his beloved Maastricht. This year even three times: on King's Day (April 27th), the big Summer
concerts at the Vrijthof (July) and later, in December, during the Christmas concerts in the MECC
(Conference Hall in Maastricht).
"A year to never forget." We are completely back after the pandemic. How we enjoyed it again, especially
in the Netherlands this summer," says the waltz king in an exclusive interview with Privé, in which he looks
back on an exciting 2022.
After more than three years, André Rieu, the 'King of the Waltz', returned back to the Vrijthof last summer.
He was deeply touched emotionally when he was allowed to perform for the first with the Johann Strauss
Orchestra on his beloved square on the premiere evening. Every now and then he couldn't hold back his
tears. In April it was already a big party when the world-famous violinist was allowed to perform for the
Royal Family during King's Day. Together with his orchestra, André played a number of songs for, among
others, the birthday of King Willem-Alexander, Queen Máxima, and the princesses Amalia, Alexia and
Ariane. The "Oranges" (Royal Family) hooked arms and swayed along between the crowd and sang along
at the top of their voices.
Today André takes stock. "It has been an impressive year and we are closing it with fantastic Christmas
concerts in December." Preparations are now in full swing. "This year it will be even bigger than ever. With
my show "Kerst met André" (Christmas with André), I am going to serve my fans unforgettable evenings."
Not only in the Netherlands does the popularity of André seems to be growing. Worldwide the Maastricht
resident is and remains a phenomenon. His latest music album "Silver Bells" recently entered the top 4 of
the British pop charts in the United Kingdom.
Looking back at 2022, you've had an impressive year.
It was indeed a very special year, which mainly consisted of catch-up concerts. Unbelievable that more
than half a million fans had saved their ticket! Of course it was fantastic to be back at the Vrijthof.
I enjoyed that tremendously. Everyone was happy to see us again."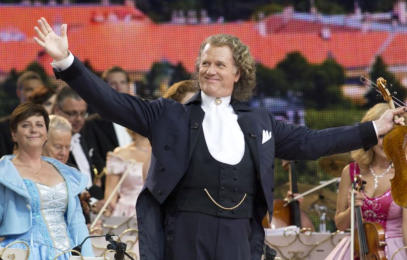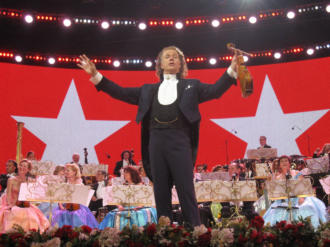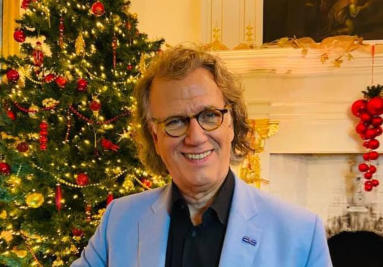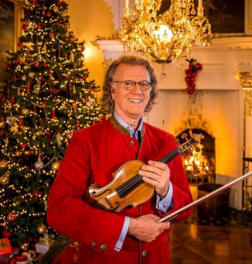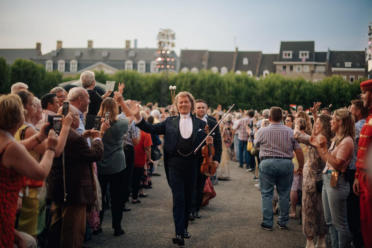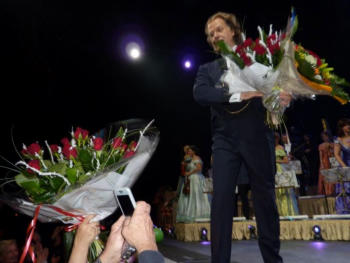 The summer concerts on the Vrijthof did a lot to you emotionally.
"Quite a bit. The Vrijthof concerts are always very special, but this time it was of course much more
emotional than usual. People had to wait for them so long. Because I thought it was very special to be back
at the Vrijthof after the pandemic, we went the extra mile. Every evening we performed it was a big party on
the square. It touched me enormously when I saw all those happy faces in front of me in Maastricht on the
first night."
You hosted a huge choir on stage.
"I had invited the Mastreechter Staar male choir to participate, and this in itself a beautiful choir, which I
supplemented with seventy professional singers from the operas of Amsterdam, Aachen, Cologne and
Liège. As a result, we really had a fantastic choir on stage: "the great European men's choir." Especially for
this choir I had the stage enlarged, so that all 150 men and the orchestra could fit on it."
Was the public even more enthusiastic last summer?
"The people participated even more exuberantly than usual. They were very happy and grateful that they
could finally enjoy so much beautiful music again. I also noticed that there was clearly an exuberant
atmosphere."
Have you learned from the pandemic to survive?
"I was convinced from the start that it would be all right again. When corona broke out worldwide, I started
reading a lot about the history of pandemics. I found that they generally lasted two years. So I immediately
assumed that and adjusted to that."
What did you do after your last Vrijthof concert in Maastricht? Vacation?
"Yes, after the concerts in Maastricht, the orchestra always has a five-week holiday. For the rest of the year
we are almost always on tour. We give about a hundred concerts a year all over the world. Then it is also
important to take a rest in between."
The music defines your life? Or is that a cliche?
"Music certainly plays a very important role in our lives. I deliberately say "us", because it applies to my wife
Marjorie as much as it does to me. We are always working on it together, making programs together,
coming up with texts and other ideas together. It's a wonderful life."
Do you have the feeling that André Rieu has become even more popular in the last five years?
"Yes, I believe that our fame is still growing. We are coming to more and more countries. We were in
Uruguay for the first time this year and had a lot of success there. Really fantastic! Next year we will go to
Malta. I was there recently for a press conference, and I almost felt like a pop star, haha! It seemed as if the
whole island had come out to receive me. Very nice!"
In December you will give the Winter Concerts in the MECC. Do you prepare that differently?
"Yes, that is very different from all other concerts. The MECC itself is an ordinary gray boring concrete and
steel congress building. But for our concerts it is transformed into a beautiful winter palace, with lots of gold,
red plush, crystal chandeliers, golden Venetian candlesticks… Beautiful!"
Can you tell us something about what the decor will be like? An ice rink?
"Yes, there are definitely ice rinks again, and there will be two great groups of figure skaters. I'm already
looking forward to it. I believe thaat skating to waltz music is even more beautiful than dancing! There is a
beautiful brass ensemble and people are greeted by actors in beautiful costumes in Charles Dickens-style.
There will be about three hundred dancers and sixty skaters for extra atmosphere."
I

s there a theme? Will there be well-known guest artists?
"The theme is… Christmas, haha! But not exclusively. There are beautiful waltzes, beautiful arias, sung by
the Platin Tenors and fantastic sopranos. And the Golden Voices of Gospel will join in and make sure that
the roof of the MECC will come down. That's all I wat to give away, but it will be more beautiful than ever!"
How are you going to celebrate Christmas yourself?
"Yes, of course! I am really looking forward to that. With Marjorie, our sons and daughters-in-law and five
grandchildren around the Christmas tree and at the big table. I'm definitely going to make a delicious dinner,
but I still have to think about that.
A fan giving him red roses…….
The fans, all over the world, just love him.