April 2016.
This is in a program booklet of the Theater Hotel in Almelo on Friday January 27th 2017.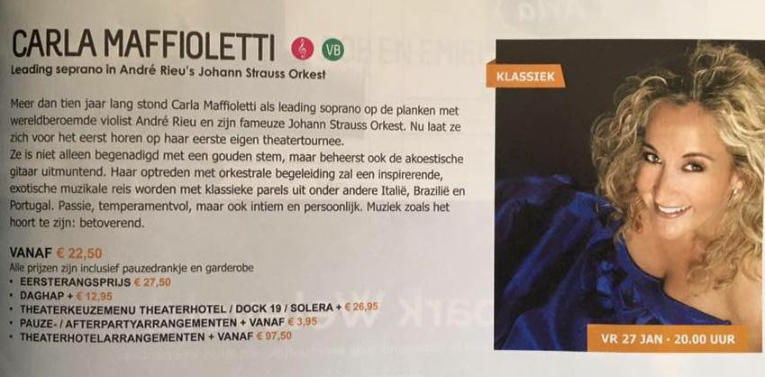 Thais Pedroso in Brazil is the leading lady of the Carla Maffioletti Appreciation Society
.
Fans who like to follow Carla's career with the Opera House in Lucerne,
Please click HERE to go to the Carla Maffioletti fans group on Facebook.
During the series of Maastricht concerts in July 2014 André announced that Carla would leave him and his
orchestra to start a new career with the Opera House in Lucerne, Switzerland. She said goodbye with an
aria from the opera Rigoletto: Caro Nome. Carla joined the Johann Strauss Orchestra as a soloist from
2004 - 2014. We wish Carla all the best in her personal life and career.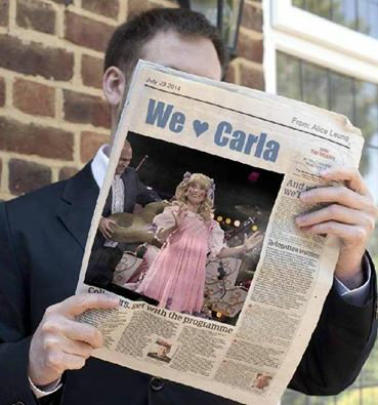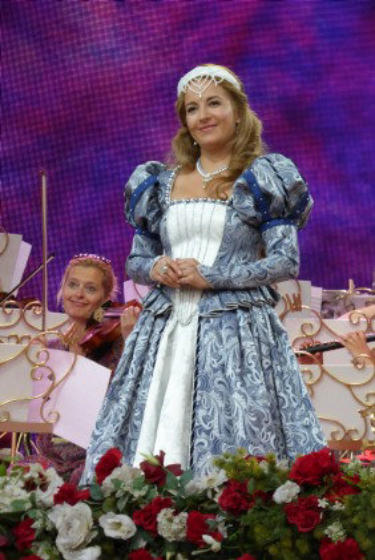 Photo above: photo shopped by Alice Leung
(Canada) with her words on Facebook
(we like to adjust):
"Carla, you will always be our dearest doll. We wish
you all the success and happiness. We will miss you
but look forward to seeing you again"….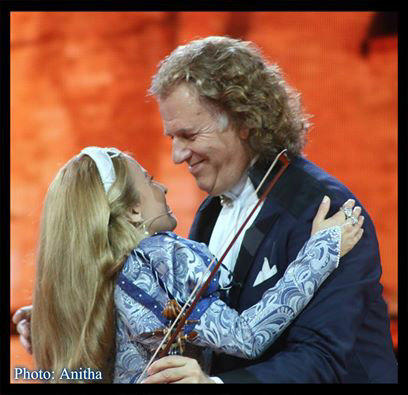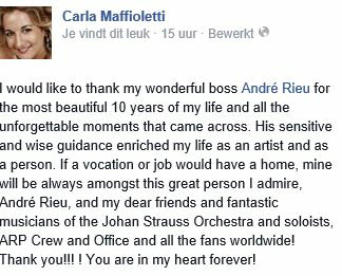 Yes!! This is THE photo of the year!
Thank you Anitha Andersen from
Denmark!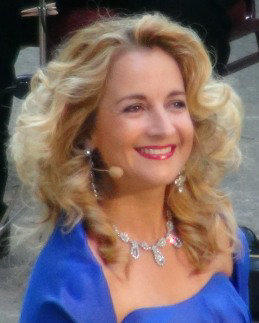 June 12th 2014.
Carla Maffioletti on Facebook:
It was a magical evening! Thank you my dear Mandoline Ensemble
The Strings, Manoe Konings, Ludo Mariën, Leoniek Hermans,
Annemie Hermans, Jo Smeets for such an extraordinary
performance, the great fun and emotion we've shared on stage!
Thank you Openluchttheater Valkenburg, Jos Frusch and staff for
such a warm welcome and care!
Such an enthusiastic audience, thank you for your presence...
Fantastic! We are forever grateful!
See below an impression of Ruud and Ineke's day in Valkenburg
with more photos and videos of this wonderful performance.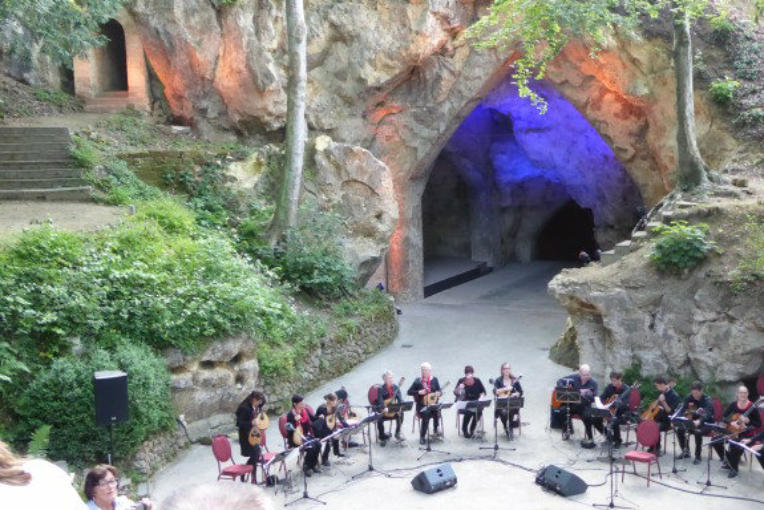 On June 12th 2014 Ruud and I went to the Limburg town of Valkenburg to attend the Blue Bird Serenata
concert by Carla Maffioletti. The open air grotto theater was like a fairy tale.
We had never been there before. Even the weather was perfect.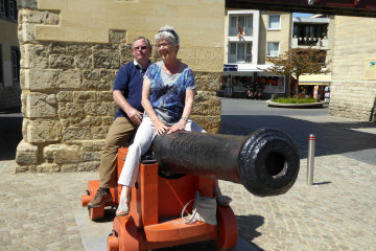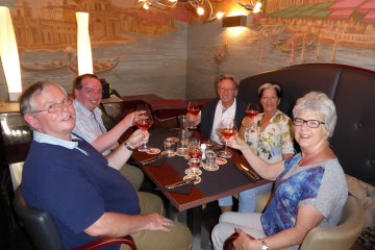 Ruud and I booked a nice small hotel, Italian style, named "Montagna del Monde" in the center of
Valkenburg. Clean affordable rooms, good coffee, nice food, a friendly Italian owner and staff. Here we met
with Elke and Nino Freitag from Germany and Thomas Dormer from England. The open air theater was a
10 minute walk from our hotel. Of course we explored Valkenburg first. Every concert we attend is always a
reunion with friends.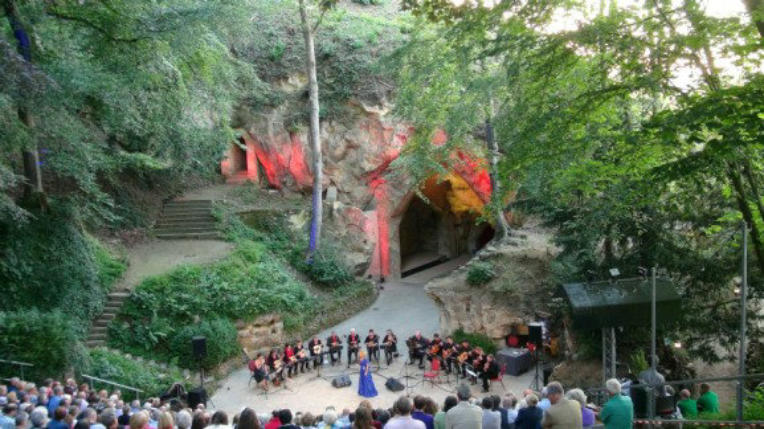 The venue was magical! We spent a pleasant summer evening under the trees in front of the beautifully
spotlighted 100 year old grottos with wonderful music.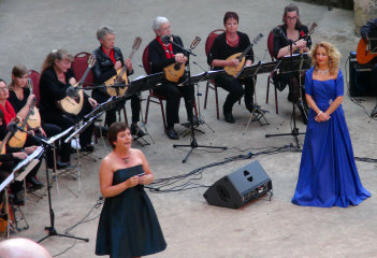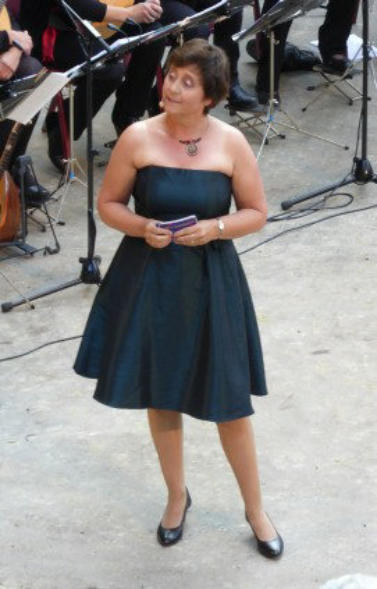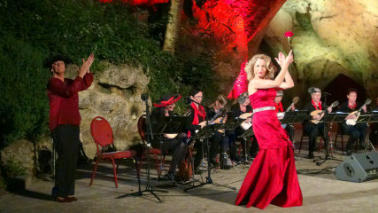 Manoe Konings was an enjoyable entertainer and
presenter, and we loved the sound of the mandolins
of "The Strings".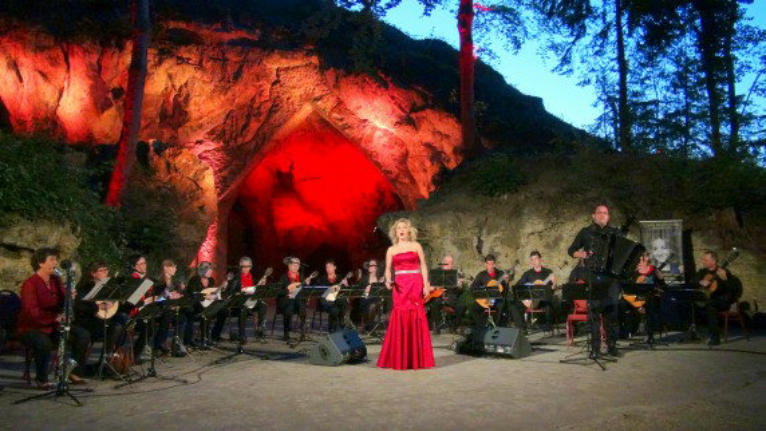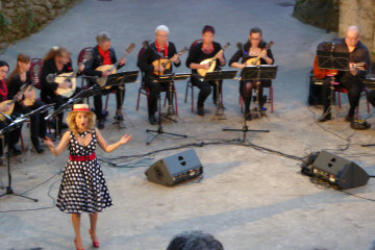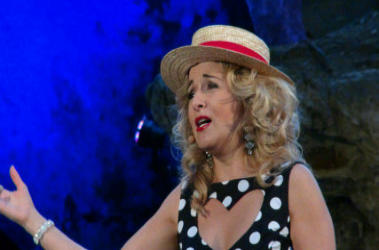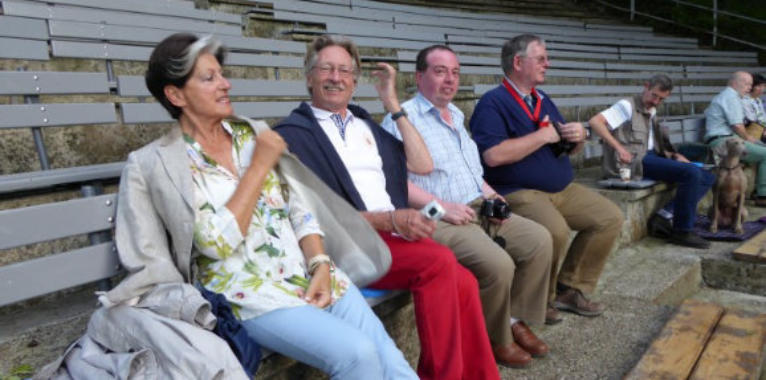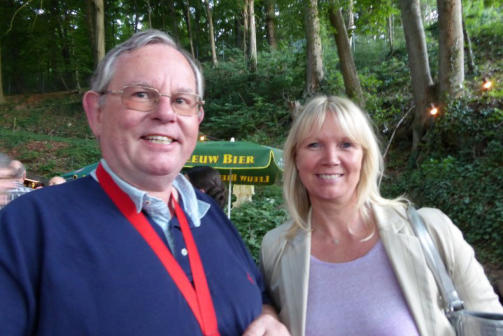 During the break we were happy
to meet with
Kerstin Cornelis.
She is now the manager of the
former Heidberg Convent (from
1698), which was recently
renovated and is now available for
meetings, workshops and events.
It is in Eupen, in the German
speaking part of Belgium, not far
from Maastricht. We were also
pleased to see that many of the
J.S.O. colleagues were there. We
spotted: Tanja, Roos, Els,
Hanneke, Diana, Vera, Kremi,
Agnes, Boris.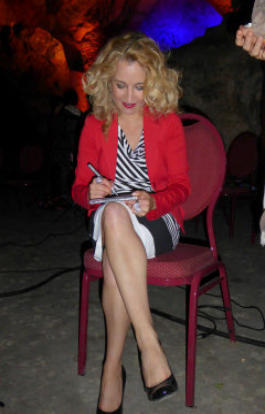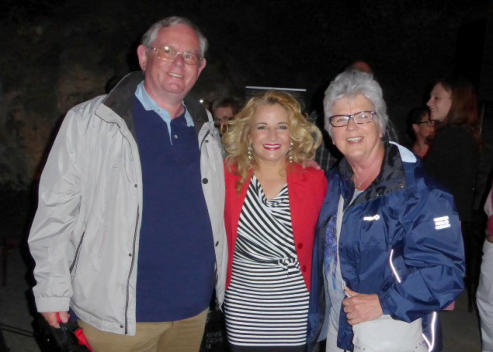 When the concert was finished, Carla signed CDs and the usual
photos were taken. We had an unforgettable night. Please watch
the videos and enjoy!
Note: This is a recording in the Open Air Theatre of Valkenburg. Hence there will be some natural
background noises. The birds were singing along…….
When Ruud had finished these two parts of the concert, where he had focused on Carla and Manoe, we
thought that we could not leave out the beautiful music pieces performed by the Strings orchestra and the
guest solo players Leoniek Hermans (mandolin) and Ludo Mariën (accordion). So Ruud created a third
video, for you to enjoy!
As always: Thanks to John de Jong for his corrections to our English language!