Kyle's birthday celebration
On July 6, 2023, Kyle Craft celebrated his 30th birthday in Maastricht, with a lot of friends in restaurant
"La Chine" on the market square. Tenor Gary Bennett came along to sing for him. What a surprise!!
Another surprise was the presence of our dear Facebook (group: 23.000 members) administrator:
Chris Fowler from the UK, who was in Maastricht for the first time.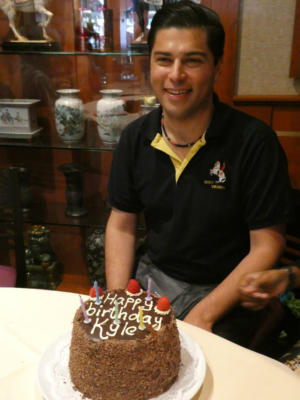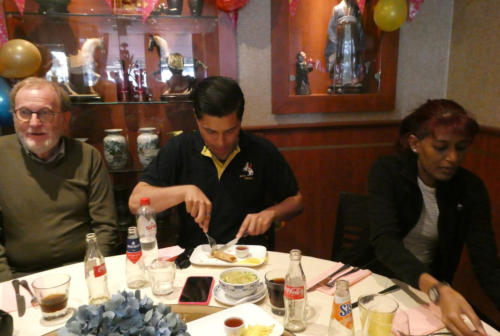 Kyle Kraft from California, USA, Chris Fowler from the UK,
Isabel Sabastian from Singapore.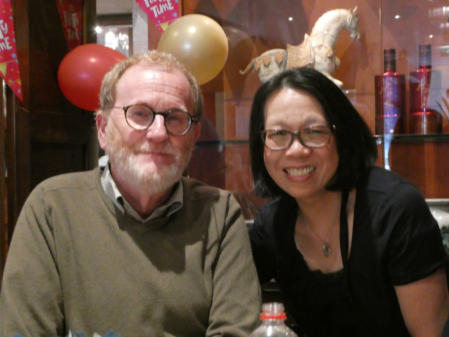 Chris Fowler and Lily Choy.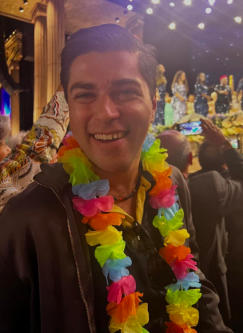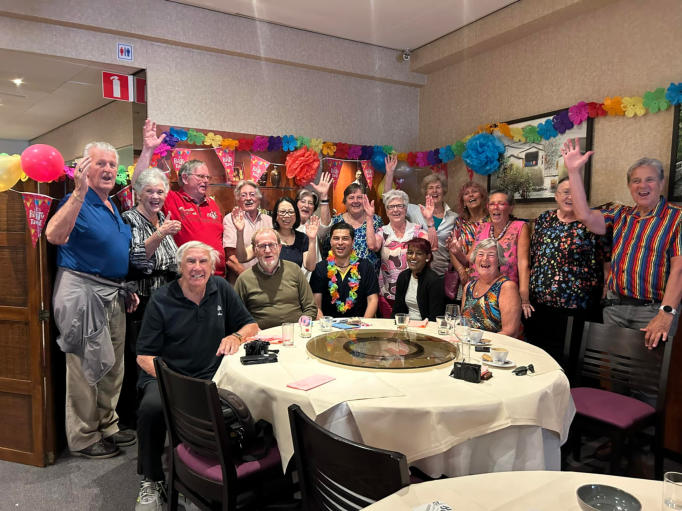 Gary's birthday gift to Kyle.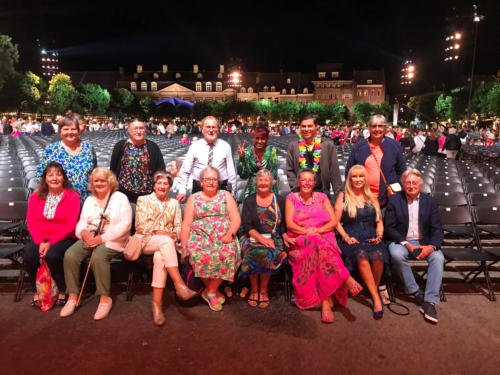 Members of the Harmony Parlor after the first concert on July 6th 2023.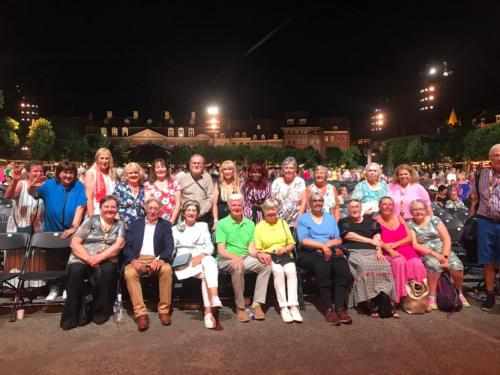 Members of the Harmony Parlor after the 3rd concert on July 8th 2023.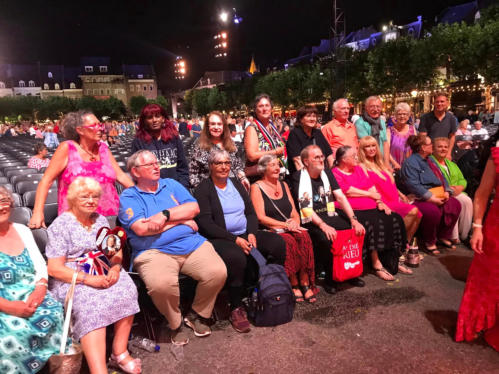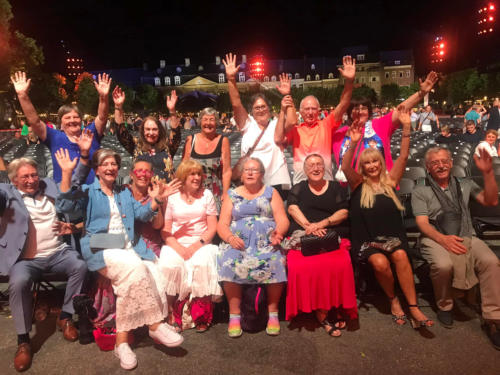 Group photo after the 2nd concert on July 7th 2023.
Group photo after the 4th concert on July 9th 2023.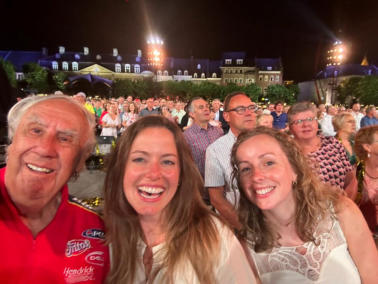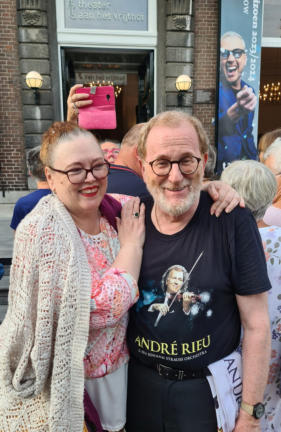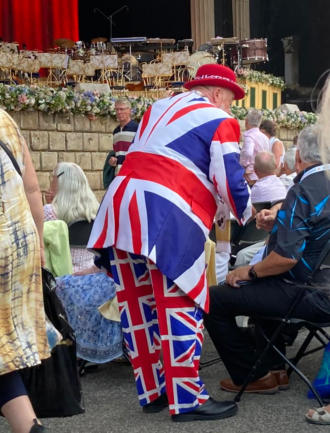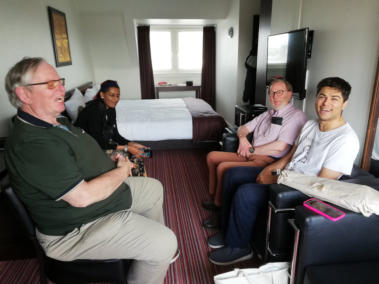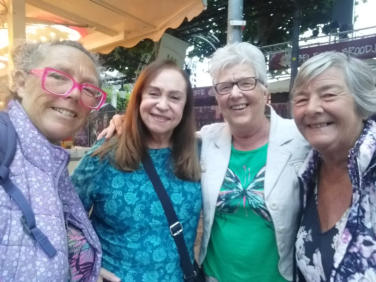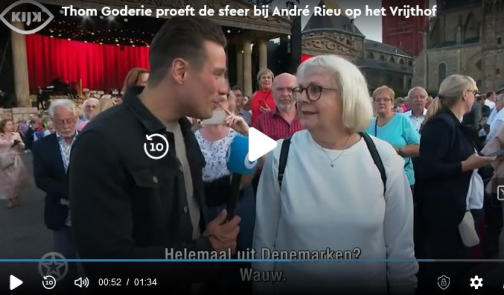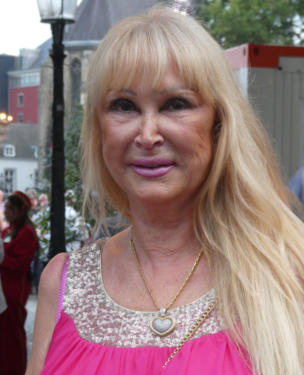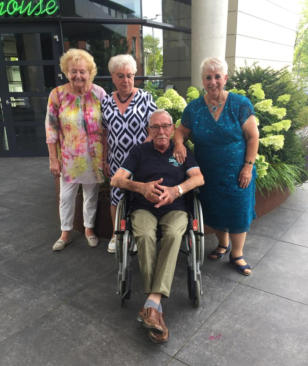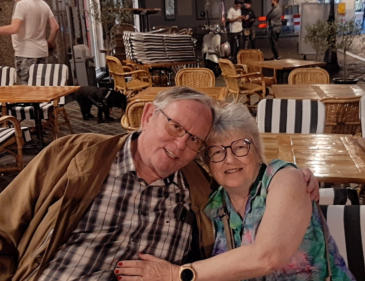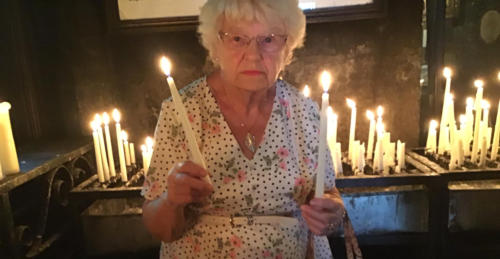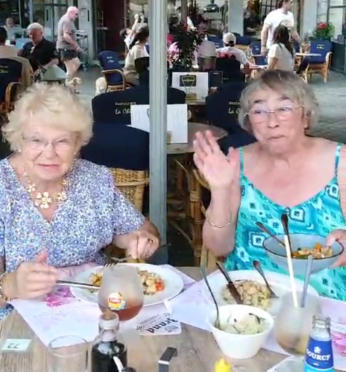 Part of the VIP tour. Thanks to Gunilla Burlin (Sw).
Chris waltzing with Rhonda.
Thanks to Isabel (Singapore).
June Shute lit a candle for Malcolm, who passed away 8 years ago. The second candle is for her
friends Barbara and Harold Johnson, whose ashes were scattered here in Maastricht.
June Shute and Elaine, UK
Where would he come from??
Martine Calvinhac (Fr) and Chris Fowler (UK)
Al Girard (Can) and fans from Amsterdam.
Julia, Marlene (Brasil), Ineke, Kathy
Interview: all the way from Denmark?
Wow!
Visitors in Ruud and Ineke's room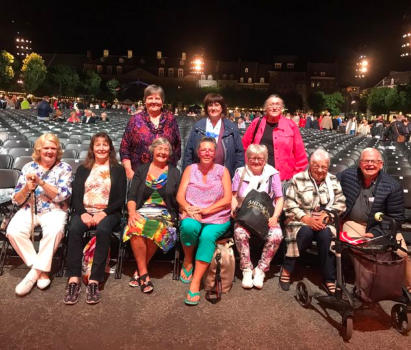 Harmony Parlor group photo after the 5th concert on
Thursday 13th.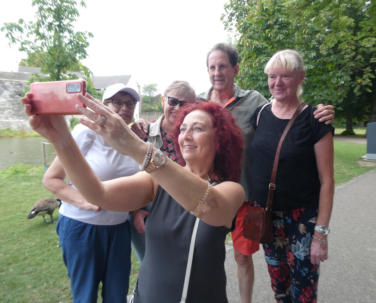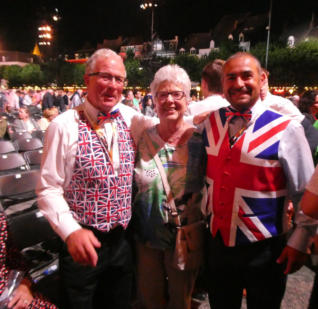 Polish fans Marlena, Joanna, Arletta, Joanna.
To finish the 6th concert: a treat (??) from the Harmony Parlor choir
to sing "Amen". Conducted by Adele Geritzen.
At the end of the 7th concert The Harmony Parlor Choir said "Adieu",
led by Adele (it was her last concert before heading home to Italy.)
Thanks Adele for the fun!!
Saturday July 15th, the start of a rainy 7th concert, but at last it stayed dry!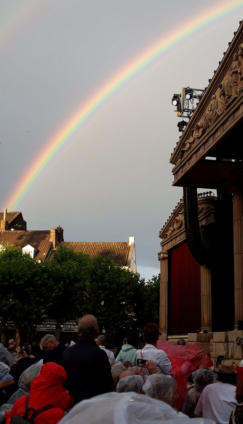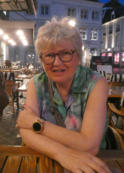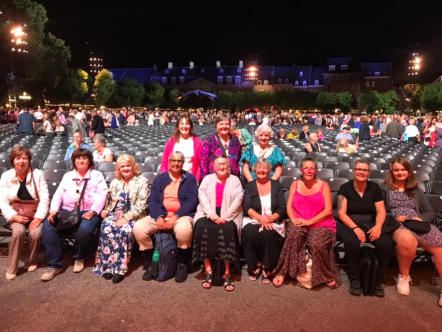 Harmony Parlor fans after the 8th concert on July 16th.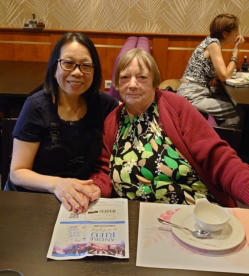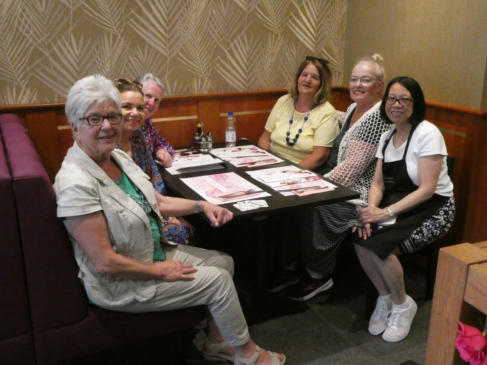 La Chine! Ulla Rasmussen (DK),
Anne, Vivienne, Bernadette
(Ireland), Jennifer Dawson (USA),
Lily and I.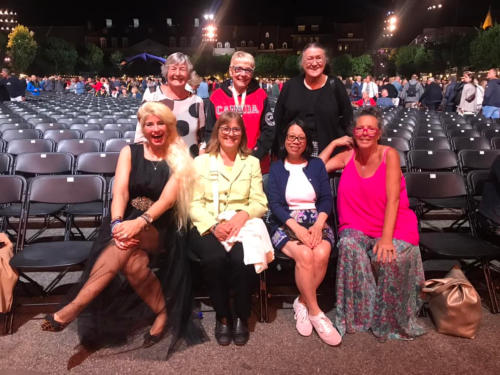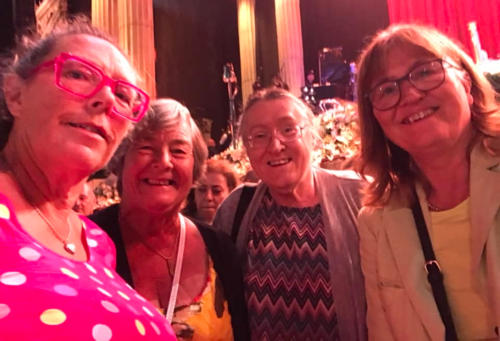 Selfie of the wet 9th concert.
Apparently no one else
wanted to wait for the group
photo after the concert!
Julia, Kathy, Carolyn (NZ),
Hanne (De).
Below: at the end of the 10th
concert:
Kathy, Valerie Harvey (Can),
Carolyn, Charisa-Elisa (Nl),
Hanne Jäger, (De), Lily Choy,
Julia.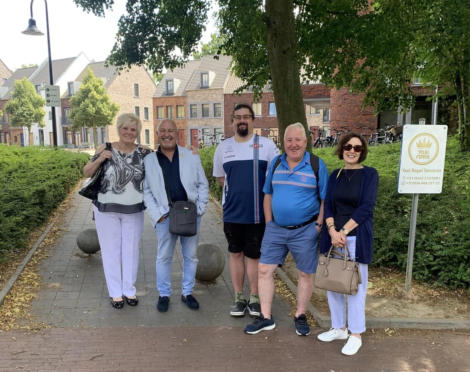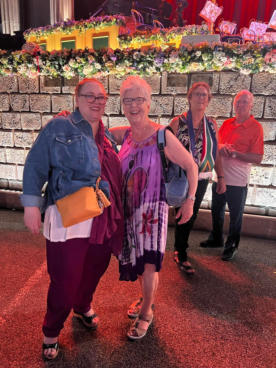 During the 10th concert André
was hit by pigeon poo.
During the intermission we heard
a shot. No, they did not shoot the
pigeon! It seemed that one of the
goldstreamers canons had gone
off too early. It could not
wait until the Radetzky March!
The Johnson family (UK): Lynn Orme, Kevin, Ned, Rob, Elaine.
Martine Calvinhac (Fr) and Ineke.
Jenny and Jac Fourie (SA)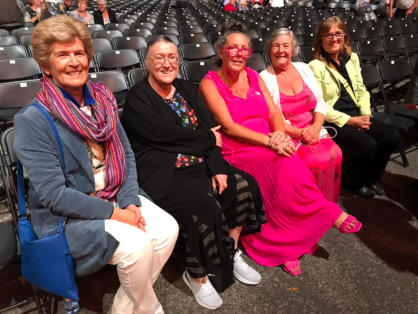 The 11th concert: Tonia (Be), Carolyn, Julia, Kathy, (NZ)
Hanne (Germany).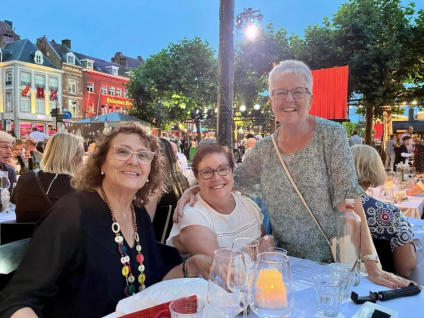 Adoración, Montserrat and Maite Funtanet, from Spain.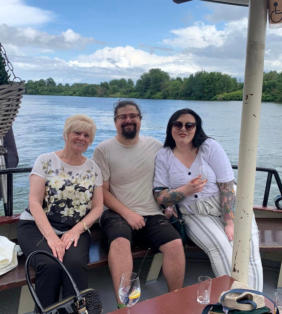 Lynn, Ned Johnson, Jessica Jane, UK.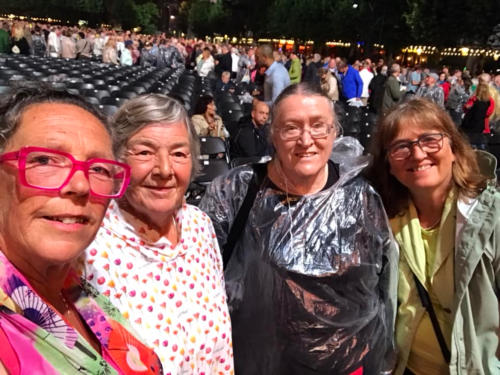 Final Harmony Parlor group photo from Maastricht this year,
on a wet but happy Sunday evening, July 23rd 2023. 12th concert.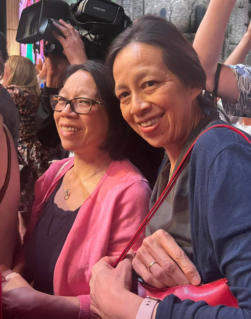 Lily and Jane Choy. (La Chine).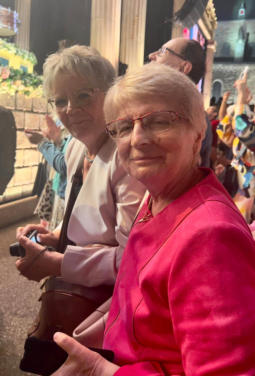 Martine Rapin and Michelle
Flament (Fr).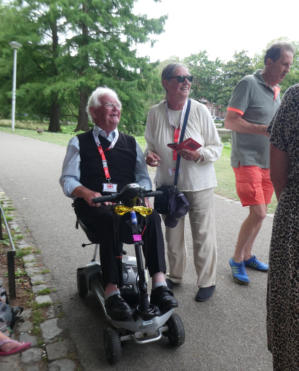 Richard and Sue Dawnay, UK. And Gary.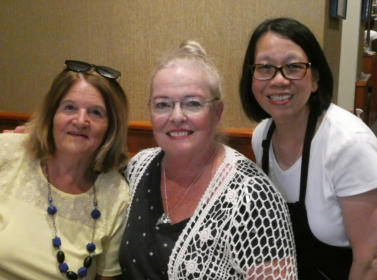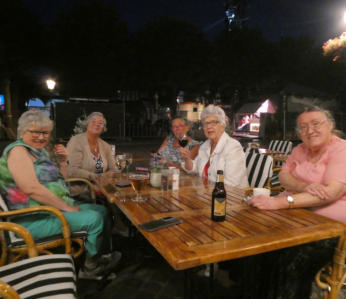 Bernadette, Jennifer Dawson, Lily.
Al Girard, John and Sue Casimir, at Hotel de la Bourse.
Adele, Kathy, Julia, Ineke, Carolyn.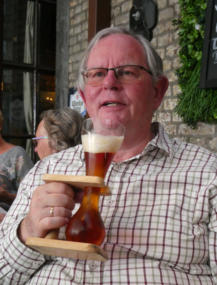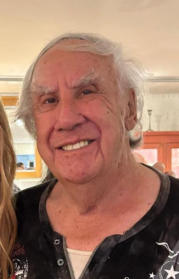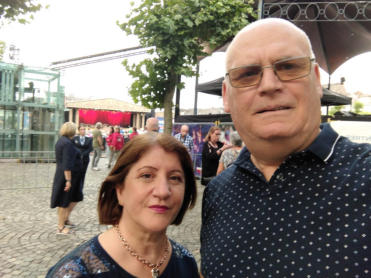 Mary, Brendon O'Halloran (Ireland)
and Béla.
A present (photos) from Julia and Kathy for Roland
Lafosse, who retires after the 2023 Maastricht
concert series.
The Fouries (SA) and Calvinhacs (Fr).