September 18, 2022.
We are very sad to announce that on September 18, 2022, Marie's
husband Joël suddenly passed away by a heart attack. Marie and
Joël Guilmand were André Rieu fans from the beginning. Since 1997
they attended concerts all over France, Cortona (Italy), Cologne
(Germany), Vienna (Austria) and almost every year in Maastricht.
The last time we met them was in July 2022 in Maastricht. They
were great friends, very generous, with lots of humor. They enjoyed
the concerts, the fan dinners, the fan picnics and always loved to
dance to the Blue Danube.
Our thoughts and sympathy go out to Marie and their family. We wish
them lots of strength to bear this immense loss. Joël will be missed
very much by the fans.
With the French speaking fan friends Mireille Jourdan, Francine Frère and Martine Calvinhac.
October 21, 2022
With great sadness we let you know
that we have lost another André Rieu fan.
Three years after the death of her beloved husband
Tony Wilkinson (January 2019), Jenny has passed
away. They lived in the UK on the Isle of Wight and
attended several years the Maastricht concerts.
Our thoughts go out to the family.
May she rest in peace.
To read Tony's "In Memoriam" on this fan website, click HERE and scroll down the page.
Jenny's funeral ceremony is on November 9th 2022 at 12.45 pm, Isle of Wight Crematorium.
The link to the online service is: https//Vimeo.com/766022836. Password 6962Z7ttK
November 3rd, 2022.
Helen and Richard Gray joined the lively Victorian
André Rieu fan group, led by Val Goodman, from the
beginning.
They also attended concerts in Australia, (the
Christmas concert in Melbourne) and in Maastricht
(2010).
Her son Peter let us know about her passing away.
Our deepest condolences go to Richard and the
family.
Nov.4, Messenger: "Hi, this is Peter Gray, Helen's
son. We wanted to let you know that mum passed
away, peacefully last night. She had a fall two weeks
ago and developed numerous complications as a
result. The funeral for Helen Gray will be held at St
Paul's Anglican Church, 2 Margaret St, Canterbury
on Monday November 14th at 11am.".
André Rieu was very popular in Australia and toured this
continent for the first time in 2007. Jann Trevaud started an
Australian fan website with warm connections to the Harmony
Parlor and the Movies Site. She also initiated the start of
FOUR
Australian fan groups and one was the Victorian fan
group, led by Val Goodman, with Helen and Richard as
members. (Jann passed away in 2012, click HERE.)
Helen and Richard Gray in Maastricht.
Anna Gray (UK) and Helen Gray met in Australia!
A few of the FB comments on the Harmony Parlor fan group:
Kathy Prater (NZ)
Such very sad news.I met Helen and Richard when I attended a couple of the Victorian André Rieu
friendship group gatherings and at several Melbourne concerts. Helen and I became FB friends because of
André and I treasured her friendship. She will be missed by many. Sending condolences to Richard and to
all her family and friends.
Edwina Morgan
I'm so terribly sad to hear this news this morning! Helen was just a wonderful, beautiful lady and I will
never forget all the happy times with her and Richard with the Victorian André group!!! Condolences to
Richard and all of her family & friends!
Chris Mellor
I was so sorry to receive this very sad news this morning. Helen was a lovely person, very sincere &
caring, & my heart goes out to Richard & all her family. Our friendship was formed through our many years
with the Andre Rieu Friendship Group, so there are many happy memories to hold dear. Helen always had
a kind word & gentle smile. She will be sadly missed by many. With love.
Berys McEvoy
Such sad news to hear today. Helen was a lovely genuine friend. I will miss her very much. Our André
Friendship group will never be the same!!! Rest In Peace my dear friend!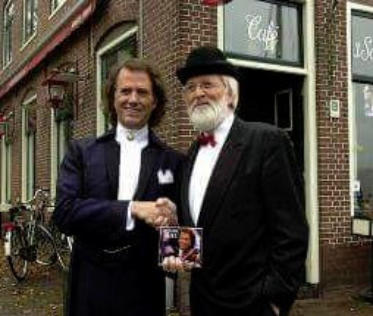 November 8, 2022.
In Memoriam: Pierre Kartner, 87. NL.
Pierre Kartner (artist name: Father Abraham)
passed away on Nov.8th and was privately buried
on Nov.11th. His life was completely devoted to
music. He was a singer, (formerly) bassist, lyric
and music writer and producer. He scored his
greatest hits with "The Red Rose Café" (1975) and
"The Smurf song"(1977). "The Red Rose Café"
was recapped more than 250 times by other
artists. With "The Smurf Song" he topped the
charts worldwide. In addition, he gained fame with
a large number of carnival songs.
Click on the picture for more information.
December 19, 2022.
In Memoriam: Angela Quy (Sydney, Australia)
From Facebook by Angela's daughter Danielle Pfitzner:
"It is with great sadness that we share the loss of our beloved mum and
Nonna, Angela Quy. Mum passed away peacefully on Saturday afternoon
December 17th 2022, in the presence of Steven and I after COVID took its toll
on her journey of living with dementia. There are 487,500 Australians living with
dementia and in lieu of flowers, we know Mum would prefer people to donate
to dementia research. Thank you to everyone who has supported us and mum,
particularly the wonderful and caring staff of The Gracewood and Dementia
Australia. Funeral details will be posted in due course. RIP mum, your spirit will
live on in our hearts forever".
Margaret Sansom, leading lady of the NSW fangroup:
"I was saddened to hear the news that Angela (the Princess) has passed away. Although we have not had
contact for a number of years, I have fond memories of Angela. I met her back in 2008.
She enjoyed attending concerts in Sydney and Melbourne, and other André Rieu related events including
the Red Carpet Event and Blacktown shopping centre appearance, with us as part of the New South Wales
André Rieu Friendship Group. She was so vibrant and fun-loving and always had a smile. For those of us
who remember "aussiefansforandrerieu," the Australian blog run by Jann Treyvaud (rest in peace), she was
known as the Princess and was happy to be part of the fictional story about the Princess, Count Istvan
(Steve Russ) and Mitzi.
Thoughts and prayers are with her family and friends at this time".
Click HERE to go to
In Memoriam 7.
Click HERE to go to
In Memoriam 9.