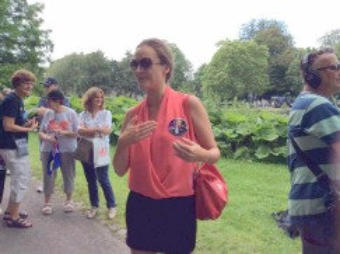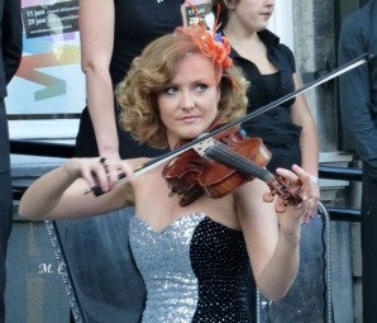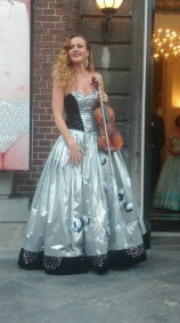 July 2016.
Agnes designed a lovely ear
decoration for Ineke.
She attended both of the fan
picnics in the Maastricht City
Park in July 2016. Thank you
Agnes, the fans loved to meet
you in person.
June 2016:
Agnes Fizzano-Walter,
the charming violinist of the JSO, likes to offer
something special to the fans. She created
red and
white hairpieces
(in the colors of Maastricht),
which will be exhibited and on sale at Atelier Pauline,
Cortenstraat 1 A, (that is close to the Onze Lieve
Vrouwe Plein / Our Dear Lady Square). If you are in
Maastricht during the Vrijthof concerts, have a look
there and maybe you'll meet Agnes in person.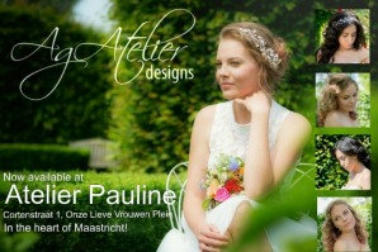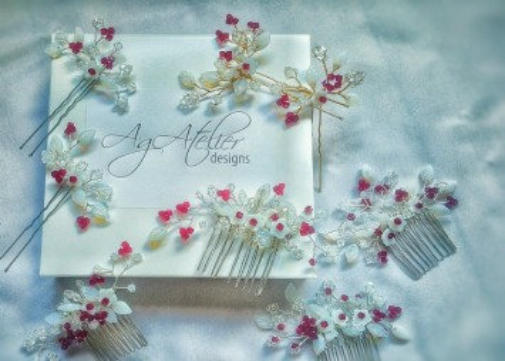 Red and white hair pieces,
exclusively designed by Agnes for
the Maastricht concerts.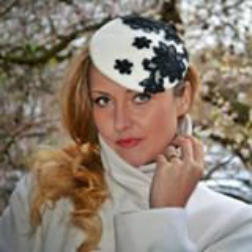 December 11, 2015.
One of the surprises in Andre Rieu's advent calendar
is a video clip of
Agnes Fizzano-Walter.
She shows us her personal atelier, where she creates handmade
fascinators and head pieces.
See the video below.
Do you like to purchase such a lovely fascinator?
Go to Agnes' website www.agatelier.com and visit the shop.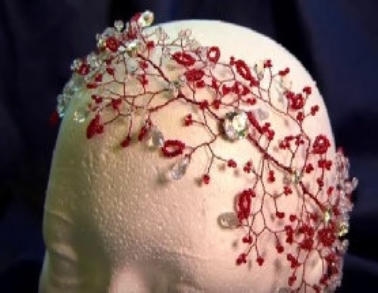 Exclusively for our website: Agnes personally authorized us to post a preview of her latest photo shoot
(December 2015) with Gosia Loboda.
Location: An old coal mine in Genk, Belgium. Photographer: Erwin Deckers.
Thank you Agnes, we feel so proud and honored having received your permission to post the premiere!!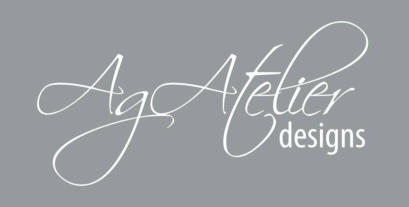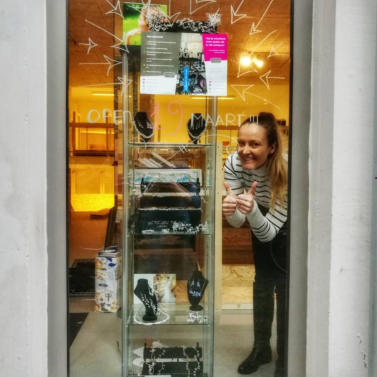 On March 19, 2017, Agnes Fizzano-Walter, opened
her little shop in an indoor market at the Jodenstraat
32 (next to the Tourist Office) in Maastricht.
We wish her lots of success!!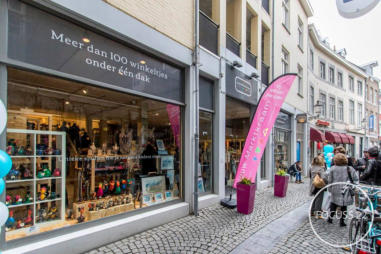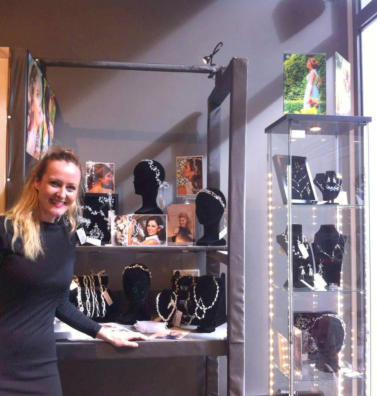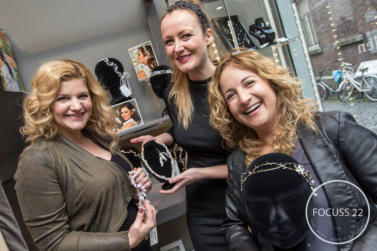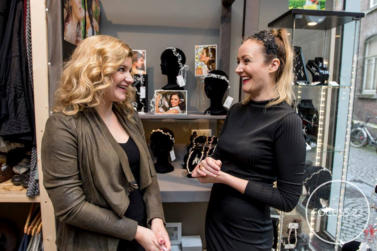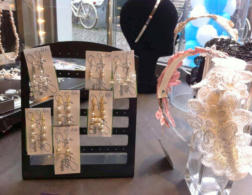 Photos: Thanks to Focuss 22 and Lidia Surówka.
From: Hashtag Maastricht, July 24th 2017. By Denis Kurris.
The 2017 Vrijthof concerts came to an end.
Unfortunately they are over, the annual Vrijthof Square concerts of André Rieu, but we are eagerly awaiting
the announcement of the next concerts which will undoubtedly be organized during the Summer of 2018.
Year after year these concerts are a huge success, so a next range of concerts is more of a certainty above
anything else. A concert of Rieu is not all about the bigger picture, such as the music, the spectacular guest
performance(s) or the great setting of these grand concerts on the most beautiful square of the
Netherlands, which the Vrijthof is, but it is also in the details, like the clothing of the Johann Strauss
Orchestra and thus the headpieces of the ladies in the orchestra. These headpieces are designed and
made by Aga Fizzano-Walter, a multi-talented violinst of the Johann Strauss Orchestra; a fair Polish lady
who makes sure that she is not the only diamond that sparkles during the concerts of André Rieu all over
the world, but she makes sure that the rest of the orchestra also gets that extra pazzazz.
Do you also want to sparkle and glow during special occasions, and do you want to give your outfits a
certain 'je ne sais quoi'? This is possible, because Agatelier's special and exclusive designs are available
for purchase in two sales points in Maestricht (the "Jouw Marktkraam" store and Atelier Pauline), but also
online.
Why choose Agatelier?
The designer of the products of Agatelier has always been a great fan of accesories, because a well-
chosen accesory can always transcend an outfit, for men and women alike. This phenomenon has inspired
Aga Fizzano-Walter to start designing and making her own type of (hair) jewellery. Her first point of
reference were the designs of 'fascinators', headpieces in the most chique way possible, fascinators are
somewhere in between a small head and jewellery, and this principle is beautifully conveyed by the
products of Agatelier, they really make an outfit and the person wearing it pop. During a visit to Melbourne
(Australia) Aga learned the skill of making her own headpieces, and this only made her love for fascinators
grow. Soon Aga's passion for headpieces and (hair) jewellery became contacious, and even her own
wedding became a parade of the most beautiful and dreamy fascinators ever made. Not only weddings call
for amazing (head) jewellery, but also other occasions, e.g. birthday parties and cocktail parties get that
extra 'thing' when headpieces become part of the outfits of the people involved. In short, Agatelier is a
welcome presence whenever there is a need for a celebration. Needless to say that all the designs of
Agatelier are exclusive, unique, and on special demand, personalized.
More information?
The products of Agatelier are available for purchase online and in two psyhical shops in Maastricht's city-
center.
Online
Agatelier: https://www.agatelier.com/
Etsy: https://www.agatelier.com/etsy-shop
Physical
Jouw Marktkraam store Maastricht: Jodenstraat 32
Atelier Pauline: Cortenstraat 1, Maastricht.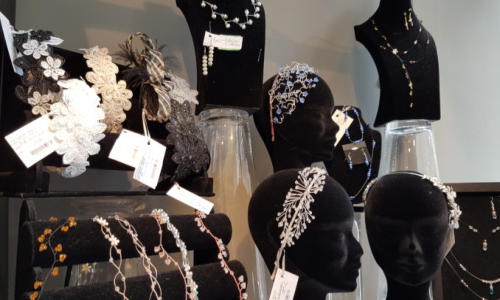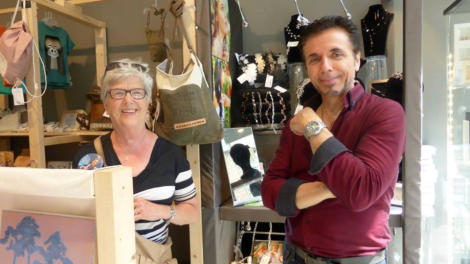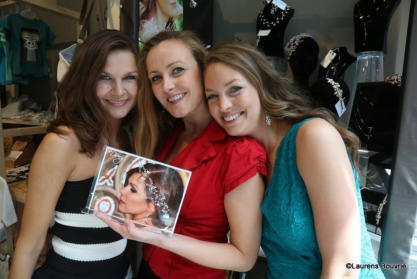 Photo left:
Laurens Bouvrie.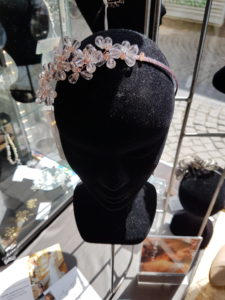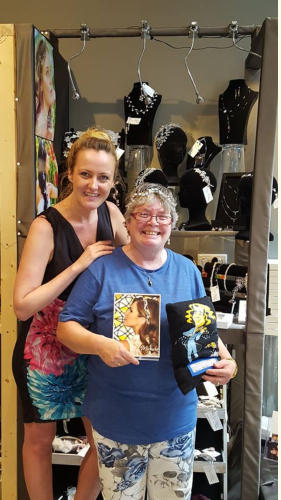 Australia, February 15, 2018
Hat Academy posted an interview with Agnes Fizzano
about her passion for Millinery.
Click HERE to read the article.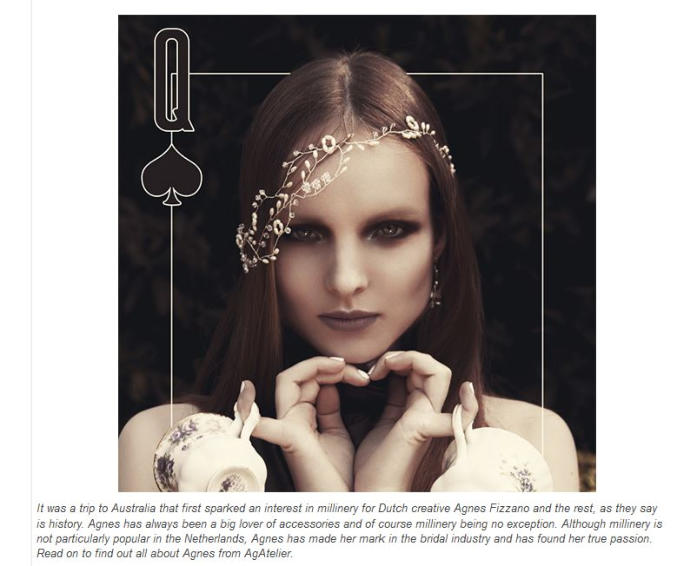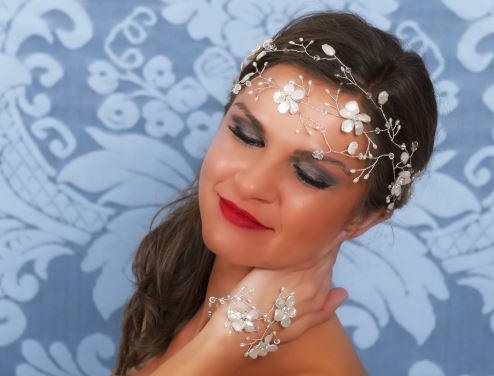 Photography: Christine Mooijer and Edwin Deckers.
On Pentecost Monday, May 21st 2018, between 11 AM and 6 PM,
The Gracenotes will perform
during a country fair at the 16th century castle d'Aspremont-Lynden in the beautiful Belgian village of
Oud-Rekem (Lanaken), close to the Dutch border.
Art exhibitions, fashion shows, among them head fascinators, hair ornaments and hats by
AgAtelier (Agnes Fizzano) and Atelier Pauline (hats).
Regional products, crafts market, music, art and live demonstrations.
Below a video impression of the fashion show, with Agnes Fizzano.
Click HERE to watch the performance of the Gracenotes.
Click HERE to go to
Agnes Fizzano, page 2.
This is what André Rieu wrote on his official website about Agnes.
Agnes Fizzano - Walter.
Agnes has a real talent for languages. She was born in Poland and besides her Polish mother-tongue she
speaks fluent German, English, French and Dutch. That's always handy in an orchestra like mine, where we
travel all over the world!
Besides playing the violin, her great passion is saunas. Wherever we go, the first thing she does is to look
around the hotel for a sauna where she can relax for hours at a time. But as relaxed as she gets in the
sauna, she can be equally lively and tireless on the dance floor. Dancing salsa is a particular hobby of hers,
and once she's found her rhythm she is simply unstoppable!
On tour our concerts are shown on big screens, so that everyone can see all the details. The filming is done
by Michel Fizzano. At some stage it became rather noticeable that the camera lingered a lot on Agnes, and
then that she was spending a lot of time with Michel backstage. Together they enjoyed romantic walks
through night-time Sydney and New York and in due course, and how could it be otherwise, their wedding
was straight out of a fairy tale!