April 23, 2021
Duration: 12 minutes. Translation Ineke/John.
Thanks to Jean Raemaekers from Maastricht, who brought the video to our attention.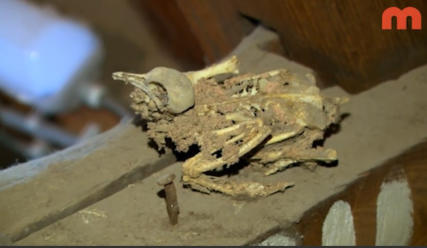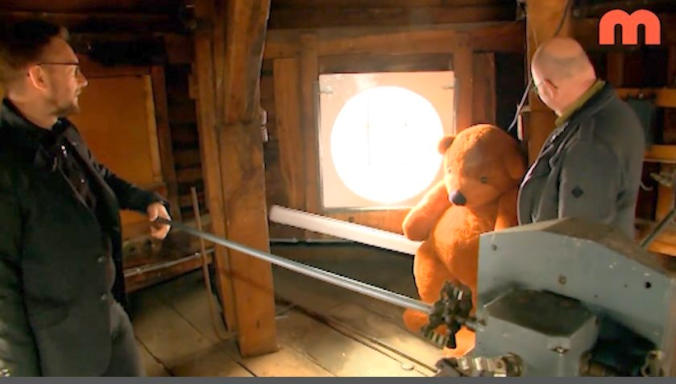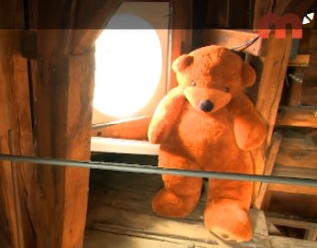 Click HERE to go back to
Frank Steijns, page 8.
Are you interested to read more about the little bells event of 2012, as a promotional kick-off for the
competition of Cultural City 2018? Click HERE.
July 1, 2021.
Tower festival in Weert.
One violin against 20.000 kilos of bronze. From the Martinus tower in Weert (Limburg).
Listen to this beautiful arrangement of the Gypsy Song, played by Alina-Lin Merx-Jong and Frank Steijns.
Video: Eric Kessels AV.
July 13, 2021.
Tower festival in Weert.
This performance is truly amazing! It gave us goosebumps. Frank invented a totally new dimension in
playing the carillon. Corona proof from the tower to the audience in the city below. Huub van der Lubbe is
the lead singer of the Dutch pop band "De Dijk" (The Dike). The song is about rippling waters, which gave
us mixed feelings because currently the South of Limburg is badly flooding….
(It was performed prior to the flood).
August 7, 2021:
Frank: Out of my comfort zone!!
City carillonneur goes viral with a
heavy metal song by the British band
Motörhead, performed from a church
tower by bells and guitar.
Click on the picture to go to
the Harmony Parlor to read the
article which appeared with the video.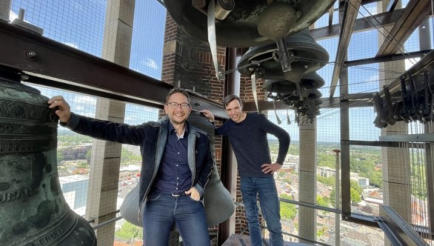 August 9, 2021, by: Classic FM.
Proof that bellringers are the original metalheads.
Sitting before a carillon's baton keyboard, musician Frank Steijns was preparing to unleash some
thundering church bells onto the unsuspecting people below.
His music of choice? 'Ace of Spades' by '70s hard rock band Motörhead.
Steijns' magnificent carillon treatment of the heavy metal hit was part of this year's Torenfestival (Tower
festival) in Weert, a city in southeastern Netherlands.
Watch below as he expertly strikes the hefty bells, and fills the streets below with an unforgettable cover of
the 1980 single. Steijns wasn't alone during his rendition, as Jitse Zonneveld joined him in the city's gothic
Sint Martinuskerk (Saint Martin's Church) on his electric guitar.
The marriage of church bells and heavy metal has caused quite a stir on the Internet. (It went viral!
today: 422.000 views on YouTube. The British rock band has even watched the performance, tweeting:
"Here's one we really like", with a link to watch the video.
August 9, 2021:
A review by the world's biggest pop magazine "Rolling Stone":
Now another act of irrefutable celestial grace has offered more proof that the late Lemmy Kilmister, he of
the blessed warts and the snaggletooth, is indeed a deity worthy of worship.
Last month, church bells in Weert, Holland, rang out the whole of Motörhead's iconic "Ace of Spades."
At 3 p.m. on the afternoon of July 17th, a crowd of confused grannies stared up at a belltower in the city
center to hear guitarist Jitse Zonneveld and organist Frank Steijns bash out a raucous, chiming rendition of
the song. It's cacophonous, a little out of tune, and wholly holy as Steijn uses his fists to find all of
Kilmister's anti-melodies on his keyboard (actually a "carillon," for those versed in ecclesiastical
instrumentation).
The best part, of course, is the breakdown when Kilmister would typically sing: "You know I'm born to lose
and gambling's for fools, but that's the way I like it, baby, I don't wanna live forever," because Steijn plays it
in a janky diatonic harmony. The fact that there are improbably drums in the recording on YouTube is
another example of divine provenance. When they finish, the gathered café dwellers and tourists in Weert
for the annual Torenfestival applaud and holler gleeful hallelujahs in the tongues of Motörhead.