André Rieu and the Johann Strauss Orchestra were not allowed to perform during almost two years, due to
the worldwide corona (Covid-19) pandemic. On 1,2,3,4, December 2021 he started the first four sold out
concerts in Lisbon, Portugal. The year 2022 started with two more sold out concerts in Spain: in Madrid and
Barcelona. The audience was still obliged to wear face masks. For the year to come we all hope that he can
continue to tour the world. On this page we show some impressions and Facebook pictures of the concerts
in Spain.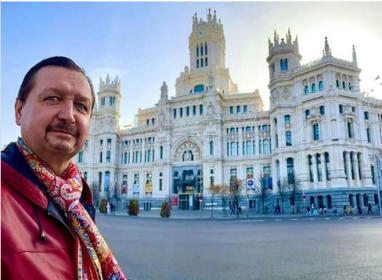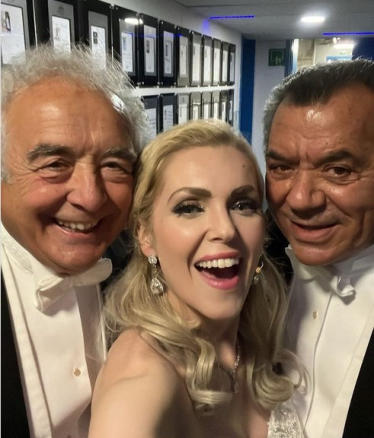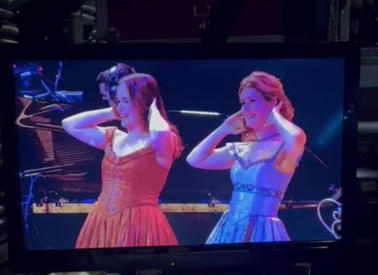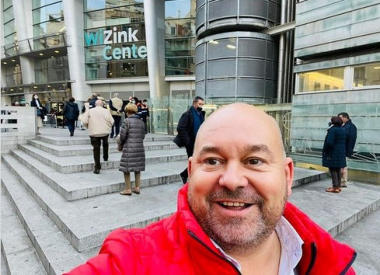 Béla Mavrak (tenor) is sightseeing Madrid (Cybele
Palace). Serge Bosch (tenor) in front of the venue:
WiZink Center. Micaëla Oeste (new soprano) having
fun with the guys of Los Del Rio. Susanne Hardick
(new piano player) and Vera Kool (harp) are dancing
the Macarena.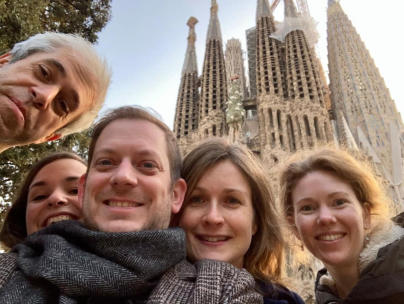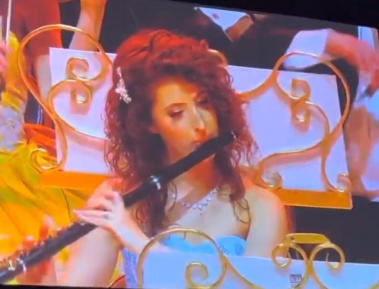 Below: Maja Jasinska, the new flute player and
the sopranos Ellie Moran, Micaëla Oeste and Anna
Majchrzak.
Gaudi's unfinished "Sagrada Familia", Barcelona.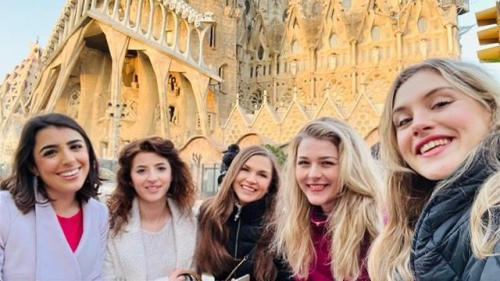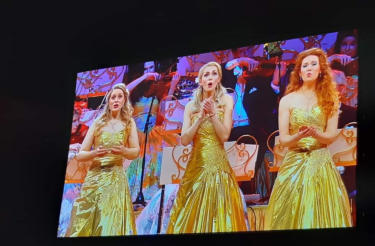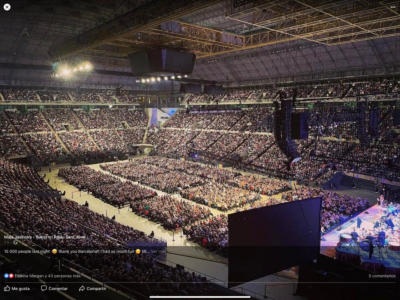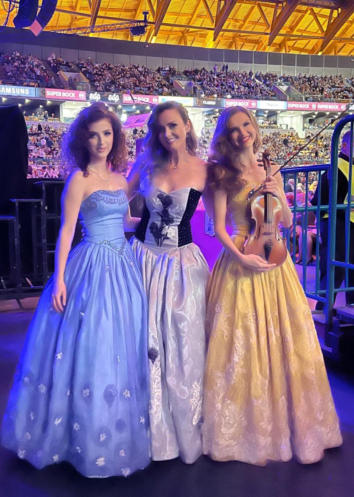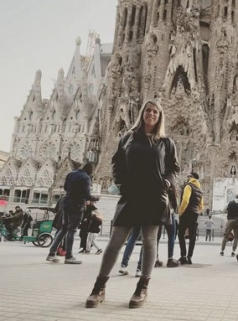 Three Polish beauties: Maja, Agnes, Gosia Loboda.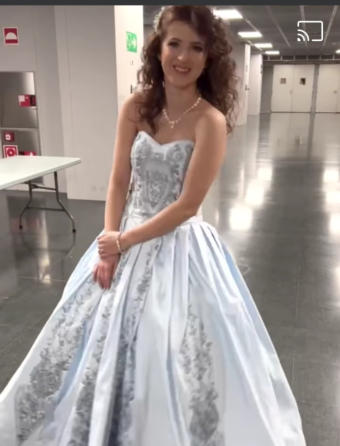 Maja presents her new dress, made
by Gosia Tarnowski.
Palau Sant Jordi, Barcelona, 15,000 people.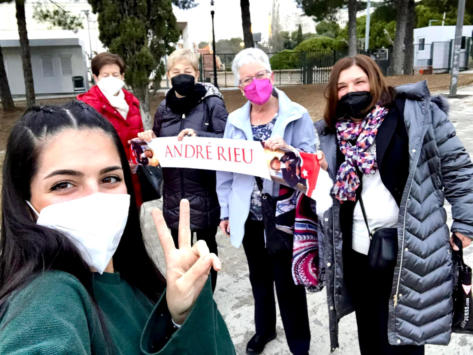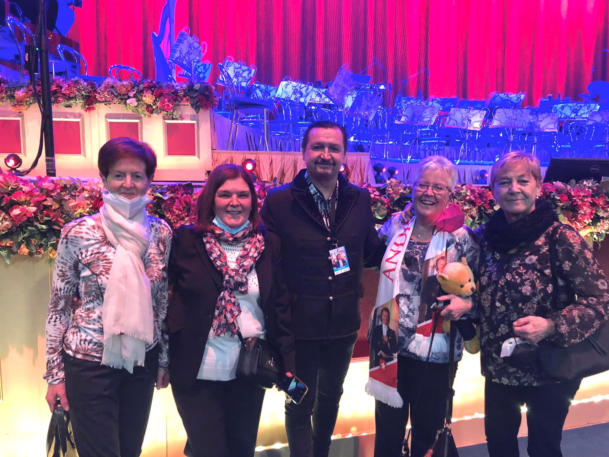 Very happy Spanish fans!!
From left to right: Itziar, Isabel, Béla, Maite, Maria.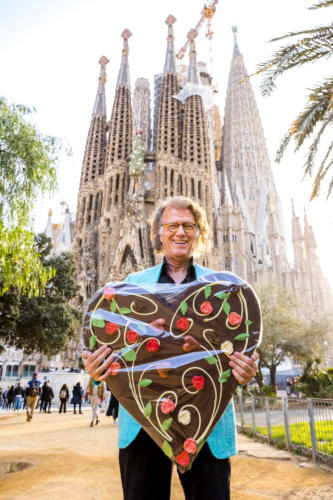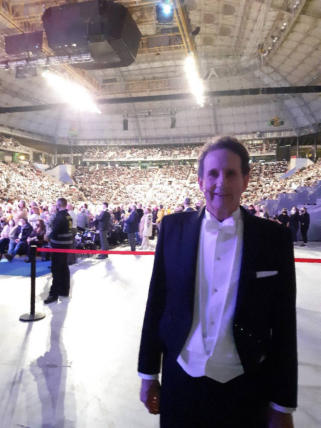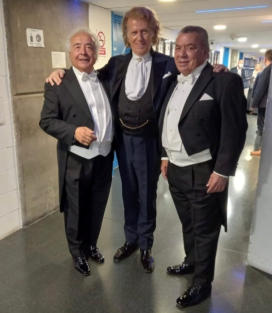 The Berlin Comedian Harmonists.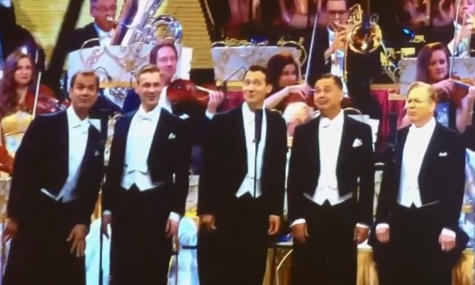 Telegraaf: Febr.14, 2022. By Harrie Nijen Twilhaar.
Photo credits: Marcel van Hoorn. Translation: John.
Especially for Valentine's Day, the world-famous violinist
and orchestra leader André Rieu had himself
photographed in sunny Barcelona in front of the imposing
basilica Sagrada Familia with a huge heart in his hands.
It was a busy week for André Rieu in Spain. The "Waltz
King" played for two sold-out concerts in Madrid and
Barcelona. No less than 27,000 concert goers were
treated to romantic sounds because of Valentine's Day.
The fans reacted exuberantly to the return of the Dutch
orchestra leader.
Being pampered
According to the violinist and orchestra leader of the
Johann Strauss Orchestra, today it is the day when lovers
can pamper each other somewhat extra. The maestro is
also shining again after a difficult period. After countless
cancellations over the past two years, including his recent
Christmas concerts in the MECC, it l looked bleak for all.
"I have always remained optimistic and knew that one day
we would perform again," he emphasized earlier to
Telegraaf/Privé.
In the meantime, the iconic Limburger longs for the
concerts on his Maastricht Vrijthof which will be held this
summer and where amongst others, he can also meet his
Dutch fans again.
Summer.
This year it will be happening again. After two years of absence, he will perform fifteen concerts from 7 to
30 July 2022 on the famous square in the heart of Maastricht. "I am so happy that we can play on the
Vrijthof again this summer. My orchestra, our choir, all the soloists and myself, are all so very happy that
we can finally celebrate the return of music on stage again", says the proud Maastricht native.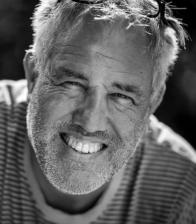 Who is Marcel van Hoorn??
We see so many wonderful pictures of André Rieu and the Orchestra
members, photographed by Marcel van Hoorn.
Marcel is a freelance photographer who lives in Heerlen, Limburg, NL.
He works for, among others, the Limburg- and National Dutch newspapers.
He made many price winning photos. Very often he travels the world
together with André, making the most beautiful photos.
The fans love them. Thank you Marcel!